Posted September 11, 2012 on AP on Fox
PLAYERS:
Aaron Rodgers
,
Frank Gore
,
Jim Harbaugh
,
Alex Smith
,
Navorro Bowman
,
Patrick Willis
,
David Akers
,
Randy Moss
,
Vernon Davis
,
Delanie Walker
,
Michael Crabtree
TEAMS:
Green Bay Packers
,
San Francisco 49ers
,
Detroit Lions
(Eds: Updates. With AP Photos.) By JANIE McCAULEY AP Sports Writer The San Francisco 49ers showed all the same poise and big playmaking ability - not to mention dominant defense against NFL MVP Aaron Rodgers - in a season-opening statement victory at Green Bay as they did in coming so close to a Super Bowl last season. Who said the reigning NFC West champions couldn't do it all again even with a far more daunting schedule? ''It's a big win,'' three-time Pro Bowl running back Frank Gore said Monday, a day after rushing for a key 23-yard touchdown with 8:41 left at Lambeau Field. ''We've got to keep going, keep working.'' The Niners snapped an eight-game losing streak in Green Bay dating to 1990. More than that, they showed they are a legitimate NFC contender for the second straight season. From the day the schedule came out, many looked at San Francisco's games and saw the list as much more challenging than a year ago - starting in Week 1 on the road against the Packers. Even coach Jim Harbaugh acknowledged his team might not have as many wins in 2012. Now, the Niners are 7-2 on the road since he took over before last season and became NFL Coach of the Year. That road mark ranks second in team history to George Seifert, who won his first 16 road games. ''Poise comes from confidence. You'd be darn surprised if they didn't have confidence, they work extremely hard, they prepare so well and that's something that we need to keep doing,'' Harbaugh said Monday. ''The way we work, the way we prepare is one of the best things we've got going for us. You want to see that continue.'' Alex Smith was an impressive 20 of 26 for 211 yards and two touchdowns for a 125.6 quarterback rating despite being sacked four times. He has thrown 185 straight passes without an interception to break Hall of Famer Steve Young's franchise mark of 184. Smith, the 2005 No. 1 overall draft pick, tossed only five interceptions all of last season. He rallied his team from behind five times, including a 36-32 victory against the favored Saints in the NFC divisional playoffs. The defense that impressed each week during the 2011 resurgence didn't back down from Rodgers all day, either, capitalizing with NaVorro Bowman's fourth-quarter interception to set up Gore's touchdown run. ''You turn on the TV or you hear people say, `No, the Packers are going to beat them by two or three touchdowns' and you hear everybody saying all this and that,'' linebacker Patrick Willis said. ''But we know what we have and we have complete confidence in one another here across the board - offense, defense and special teams. As long as we have that and we're still together, I think we're capable of doing anything.'' And All-Pro kicker David Akers did it yet again, nailing a 63-yarder for one of his three field goals on the day - all from at least 40 yards. Akers set the NFL single-season record for made field goals with 44 in 2011, his first season with San Francisco. The 63-yarder hit the crossbar and went through the uprights, tying an NFL record. It came 18 seconds before halftime to give Harbaugh's group some momentum in a hostile environment. ''You know you don't get the opportunity too often, so we went out there and we were like, `All right, let's see what we can do,''' Akers said. ''I didn't want to over kick it.'' Randy Moss certainly left his mark on the game, too. Moss scored San Francisco's first touchdown early in the second quarter on a 14-yard pass from Smith. He has played some of his best games at Lambeau Field. Even at age 35. Even after a year out of the NFL. Moss, playing in an NFL regular-season game for the first time since Jan. 2, 2011, for Tennessee, added another touchdown to his remarkable list of them in front of the Wisconsin Cheeseheads. Moss has 14 career TDs in the regular season against the Packers and 16 total - nine of those at Lambeau. ''Terrific performance by Randy and all the receivers,'' Harbaugh said. ''Randy was outstanding coming off the ball, good speed, etc.'' Just stepping onto the field, he takes pressure off Gore, and tight ends Vernon Davis and Delanie Walker. ''I'm happy for Moss, first game to get a touchdown,'' Gore said. ''He helps our team out a lot.'' Moss was hardly the only one earning praise from the coach Monday, when players had the day off before returning to work Tuesday to prepare for another key NFC matchup: against the 1-0 Detroit Lions in prime time Sunday night at Candlestick Park. ''Just got to start back, keep going, keep working,'' Gore said, ''try to get better and try to get a victory this week.'' A balanced offense is what the 49ers are hoping for every Sunday, with Gore leading the way in the running game and a more wide-open passing game with Moss and Michael Crabtree, Davis and Walker. It sure worked Sunday. Upgrading the receiving corps was a top priority this offseason after the unit managed only one catch for 3 yards in a 20-17 overtime loss in the NFC title game to the eventual Super Bowl champion Giants. ''We came into it with a will-to-win attitude,'' Davis said. ''As you can see, we ran the ball, we passed when we needed to and we made the plays - made it happen.'' Harbaugh said he's a ''big believer'' in the strides a team can make between the first and second games, and that's a focus moving ahead with this week's preparations for Detroit. ''You always feel like you're either getting better or you're getting worse,'' he said. ''You never stay the same. We've talked about that.''
Original Story:
http://msn.foxsports.com/nfl/story/49...
THE BACKYARD
BEST OF MAXIM
RELATED ARTICLES
Another day, another player unhappy with the replacement officials for the way they called a game over the weekend. While I'm sure many of you have already grown tired of hearing the whining, Aaron Rodgers at least kept it unique with his complaints during an interview Jason Wilde on ESPN Radio in Wisconsin. Unlike some players who have blamed the officials for their lack of production...
By all indications, Green Bay Packers quarterback Aaron Rodgers appears to be an affable fellow with a pretty good sense of humor. In fact, I imagine much like Mitt Romey, Rodgers lives for laughter, but that's another story altogether. During his Tuesday appearance with Jason Wilde on ESPN Radio Milwaukee, Rodgers discussed a multitude of topics, including Green [...]
GREEN BAY, Wis. -- If Packers quarterback Aaron Rodgers did lose a bet with the members of Boyz II Men, the NFL's Most Valuable Player isn't ready to make it public or pay up quite yet. According to a report by TMZ, Rodgers was able to convince the legendary R&B group to sing the National Anthem before Green Bay's season-opening game against the San Francisco 49ers...
TELLIN' IT LIKE IT IS
Packers QB Aaron Rodgers, commenting on the replacement refs working the game against the 49ers, noted that there were "some bizarre calls on both sides."
Packers In Search Of First Win As Bears Visit By SBRForum.com The Green Bay Packers explosive offense was muzzled in their season-opener and that's exactly what the Chicago Bears want to hear. The two division rivals will meet up on Thursday night at Lambeau Field. People making their NFL picks were surprised to see the Packers score just 22 points their Week 1 loss to San Francisco...
GREEN BAY, Wis. -- Aaron Rodgers met with the media Tuesday, moving up his weekly appearance by one day as the Packers adjust to a very shortened time frame in between games.For only the second time in the past year, Rodgers is coming off a regular-season loss and answered more questions about areas of improvement than the NFL's Most Valuable Player is used to.With the Chicago...
For all the times that we've talked about how likable Green Bay Packers quarterback Aaron Rodgers seems, this sure hasn't been his best week. It started off playfully enough, with Rodgers and Nathan Morris of Boyz II Men making a bet that if the Packers lost to the San Francisco 49ers last weekend, Rodgers would have to wear an Alex Smith jersey. The Packers, of course, lost...
TMZ is reporting that Aaron Rodgers is welching on his bet he made with Boyz II Men. Here is what TMZ reported. Aaron Rodgers doesn't seem to understand the way bets work — because even though he LOST a wager to Boyz II Men … he's now trying to weasel his way out of paying up … by throwing TMZ under the bus. We broke the story … the Green Bay Packers star agreed to a...
  At 3:25 central time the Green Bay Packers will kick off the 2012 NFL season against the San Francisco 49ers.   Some things to watch after the ball is put into play today include; Will the Green Bay Packer offense continue to put points on the board at the same rate they did last year?, Who will Aaron Rodgers throw the first touchdown pass to?, Will the first score be...
The Green Bay Packers coming from a division that have two of the top rushers of all-time with Walter Payton and Barry Sanders would give a hint to Aaron Rodgers and Mike McCarthy that they need to run the ball more with Cedric Benson, but apparently they didn't get the hint passing 76% of the [...]
GREEN BAY, Wis. -- Eight months after the Green Bay Packers and San Francisco 49ers were on course to meet for a trip to the 2011 NFC championship, the 49ers established themselves as one of the conference's elite teams by holding off a furious comeback for a 30-22 victory on Sunday afternoon at Lambeau Field. Trailing 23-7, the Packers seized momentum in the first minute of...
Chicago Bears (1-0) at Green Bay Packers (0-1) This is the game of the week right here. I've been high on the Bears all offseason, naming them as one of my underrated teams. In fact, I thought they were the 2nd best team in the NFC, but couldn't have them winning the division because the Packers were just so good. Well, the Packers aren't looking so good anymore. Aaron Rodgers...
NFL News

Delivered to your inbox

You'll also receive Yardbarker's daily Top 10, featuring the best sports stories from around the web. Customize your newsletter to get articles on your favorite sports and teams. And the best part? It's free!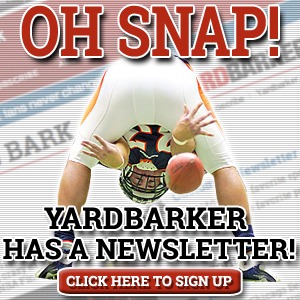 Latest Rumors
The Backyard

Today's Best Stuff

For Bloggers

Join the Yardbarker Network for more promotion, traffic, and money.

Company Info

Help

What is Yardbarker?

Yardbarker is the largest network of sports blogs and pro athlete blogs on the web. This site is the hub of the Yardbarker Network, where our editors and algorithms curate the best sports content from our network and beyond.