Found August 28, 2012 on isportsweb.com:
The news came out today that the Washington Redskins have released long time and former Pro-Bowl tight end Chris Cooley. I think that Cooley would be an amazing addition to the team, and I'll detail why here in a moment.
One thing that makes any situation like this easier is that the Colts have the first crack at any player placed on waivers thanks to their 2-14 record in 2011. Some Colts fans (maybe even most) might be wondering why in the world their team should try and sign a 30 year-old tight end with a recent history of injuries when there are two rookie stud-to-be guys manning (no pun intended) that spot right now.
Depth
As we've already covered, some of you might think there is no reason for the Colts to add Cooley with rookies Coy Fleener and Dwayne Allen already on the roster. But what happens if one – or even both – of the highly touted rookies goes down with an injury? Look at who's behind them on the depth chart (understanding that the cut to 53 is yet to come): Dominique Jones, Kyle Miller, and Andre Smith. If you've heard of any of these guys outside of late pre-season action, I'll kiss a goat. Cooley would add much needed depth to a team that needs it just about every where.
Veteran Presence
I don't know what the average age of the current Colts team is, nor the average career length to date. I don't really need to know the exact numbers to know that a team that was among the oldest in the league last year is now among the youngest. Sure, you've got cagey vets like Dwight Freeney, Reggie Wayne, and Robert Mathis, but adding one more guy who has played for a while and has had success can only be a positive. A man like Cooley could help show Fleener and Allen what it takes to reach their potential.
History of Production
So let's list the career numbers: 101 games played (94 started), 428 receptions, 4,703 yards, with 33 touchdowns. Oh, there's also the two Pro-Bowl selections (2007 and 2008) and the All-Pro team in 2005. No other tight end on the team even has one regular season catch. Still think the Colts don't need him?
Cost
With Cooley's recent injury history (he missed 9 games in 2009 and 11 in 2011), he should realize that he's not going to make Vernon Davis money. If the Colts can manage to sign him to a one or two year deal at around $2 million per year, it would be a great investment with minimal risk. If he produces, great, they can sign him to a longer term deal if either Allen or Fleener doesn't work out. If not, no big loss, financially.
There are reasons that the Colts might not consider claiming Cooley, which include his injury history, and the fact he might want to go to a place he'll be guaranteed a starting spot, but really the positives heavily outweigh the negatives. colts fans should keep their eyes on this, because Andrew Luck could really use another guy to throw to and to potentially help with the horrendous protection he's getting right now.
Follow me on Twitter @expertfan1
Original Story:
http://feedproxy.google.com/~r/isport...
THE BACKYARD
BEST OF MAXIM
RELATED ARTICLES
Chris Cooley has been a popular figure in his eight-year tenure with the Washington Redskins, capturing the hearts of their fans while contributing as a dangerous and versatile presence from the tight end position. Cooley became one of the most dominant—and yet underrated—receiving tight ends in the NFL. He recorded at least 700 receiving yards in five seasons between 2005 and...
After starting at tight end for the Washington Redskins for the past eight years, the team has moved on from Chris Cooley. The Redskins officially annouced his release on Tuesday.This move doesn't come as a surprise to many with 2008 second round pick Fred Davis finally earning a starting role with his impressive production a season ago. Despite missing the final four games of...
Getty During a press conference at Redskins Park, tight end Chris Cooley announced that he's being released by the Washington Redskins. Cooley: "The Washington #Redskins are releasing me today. This will be my last day as a Redskin." — Redskins (@Redskins) August 28, 2012 Cooley: "Im very fortunate to have played for a team and a fan base that have embraced me like they...
 Redskins Waive Chris Cooley Today   Over the past 8 years, Chris Cooley has been one of DC's favorite athletes. Whether it was giving us a look into the life of an NFL player through his blog, inviting anyone to his art gallery for beers and music every first Friday, or genuinely just being an average guy amidst his celebrity status, he was always making himself within arm's...
Chris Cooley was the longest tenured Redskin and is their all-time leading receiver as a tight end, but all good things come to an end. The Redskins cut the 2004 3rd round pick, who has caught 428 passes for 4703 yards and 33 touchdowns over the course of 8 seasons for them. The writing appeared to be on the wall for Cooley all offseason as he missed most of last season with injury...
The Skins released Chris Cooley today. We were pretty big fans. Here are 47 reasons why: 1. He wore short shorts in practice. 2. He wore short shorts over long tights in practice. 3. He was drafted by Joe Gibbs, who's "queer" for tight ends. 4. He left his car running for nine hours while attending a hockey game. 5. He and his brother competed in (and lost) the Mottram-Cooley...
  Now that the Monday 4 p.m. deadline has come and gone for all 32 NFL teams to trim rosters down to the maximum 75  layer limit, we can look at some veteran names that are available that could help the New York Jets. Two of the available vets are tight end Chris Cooley, formerly of the Washington Redskins, and wide receiver Jabar Gaffney, of the New England Patriots.  ...
NFL News

Delivered to your inbox

You'll also receive Yardbarker's daily Top 10, featuring the best sports stories from around the web. Customize your newsletter to get articles on your favorite sports and teams. And the best part? It's free!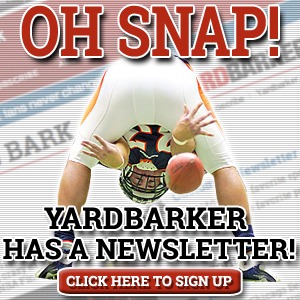 Latest Rumors
Best of Yardbarker

Today's Best Stuff

For Bloggers

Join the Yardbarker Network for more promotion, traffic, and money.

Company Info

Help

What is Yardbarker?

Yardbarker is the largest network of sports blogs and pro athlete blogs on the web. This site is the hub of the Yardbarker Network, where our editors and algorithms curate the best sports content from our network and beyond.