Found March 18, 2013 on Waiting For Next Year:
Joe Banner will have some decisions to make in Cleveland 5-4-5-5-4 That's the Browns win totals in each of the last five seasons from 2012 going back to 2008. 1 Yes, they are preceded by a 10-win season from 2007, but that is over half a decade ago at this point. 5-4-5-5-4 is the most important thing to fans of the Cleveland Browns and they're mighty sick of the cycle not being broken in five whole years across two head coaches and two leadership groups. 2 5-4-5-5-4 is what Joe Banner and his entire cast of chosen staff members are forced to contend with even though they didn't create any of it. They must remember this at all times. It explains why they've largely had a good start to free agency, and yet for many Browns fans the pressure has barely lifted. There's little doubt that with Paul Kruger and Desmond Bryant the Browns got a couple of prized free agents. They weren't necessarily the splashiest or sexiest (insert Bryant mugshot joke here,) but they were definitely big, necessary and made the Browns better in most everyone's minds. Like any team contending to fill holes, though, the Browns couldn't do it all at once via high-priced free agents. This is a world where needs reveal themselves all to easily while solutions seem to hide from anything bearing the orange and brown color-scheme. And so 5-4-5-5-4 again infiltrates the brains of Browns fans once the last member of the press has left Berea after seeing Paul Kruger hold up his new jersey. Cornerback, safety, linebacker, offensive guard, kicker, punter, receiver, maybe quarterback and more! These are all positions that Browns fans see coming off the board of the "best available free agents" lists going around the Internet. 3 Free agents presumably filling holes as Browns fans, scream, "Hey! We've got holes still." The good news for Joe Banner and Browns fans alike is that there's still time. The Browns' strategy of making a splash and then waiting for some prices to fall in the marketplace isn't a stupid one. It's a measured response to a fan-base demanding better, but honestly not expecting all that much. It also allows for the Browns to head into the NFL owners' meetings with some available cap space left to explore the trade market, which usually involves re-signing acquired players to new, rich deals. I'm not saying this is what the Browns are going to do and I'm certainly not perpetuating the New England backup quarterback rumors. I'm just saying generically it is a plan that could end up being successful. Yes, I wanted Keenan Lewis on this team to play corner opposite Joe Haden, but I admittedly am not in on the Browns' larger strategy. Maybe the Cleveland Browns have determined that the predictability of free agent defensive linemen is a safer bet. Maybe the Cleveland Browns have determined that spending on the pass-rush will enable them to not have to spend $10.5 million guaranteed ($26.3 potentially) over five years to corners like Keenan Lewis. Maybe. I'm hoping there's at least as much logic in the Browns' plans right now. And for once in a very long while I believe such a plan could be possible with this group of people running the Browns. I just get the feeling that Joe Banner, Mike Lombardi, Rob Chudzinski, Ray Farmer and all the rest of them could and probably would have a larger plan in place for the direction of the team. And honestly they better. The Browns don't get a free pass from 5-4-5-5-4 even though they didn't create it. They bought into this team's history and look forward to having the support of this fan-base. It's their job to stare at that sequence of numbers long and hard to break their negative, hypnotic cycle. This is all a very long way of saying the following things. The Browns haven't failed in this off-season so far by any stretch of the imagination. Free agency isn't over though, and this team has a long way to go before training camp. Browns fans are an understandably impatient bunch, but they're not unreasonable. It's also not unreasonable for fans to expect this team to finally break the 5-win ceiling that has been the bane of the last five years. ___________________________________ You could reverse that if that's how you like to look at the world, but I'll choose newest to oldest, personally. Maybe one and a half leadership groups considering the Kokinis false start. Well maybe not punters, but you get my point.
Original Story:
http://www.waitingfornextyear.com/201...
THE BACKYARD
BEST OF MAXIM
RELATED ARTICLES
According to Alex Marvez of FOXSports.com, free agent cornerback Brent Grimes visited the Cleveland Browns Saturday. Grimes was signed as an undrafted free agent by the Atlanta Falcons in 2006. However, before playing in Atlanta, Grimes played overseas in NFL Europe for the Hamburg Sea Devils. His best year was in the 2010 season in which he recorded 87 tackles and 5 interceptions...
The Cleveland Browns are a stone's throw away from a 50 year championship drought (depending on whether or not you count the years that the team didn't exist).Their recent draft history definitely doesn't help.  They've had some good years, like in 1978- they drafted TE Ozzie Newsome, now a world-champion GM with the Baltimore Ravens, and LB Clay Mathews JR., father...
MIAMI — A Florida family claims in a lawsuit that they feared for their lives when Cleveland Browns defensive lineman Desmond Bryant allegedly showed up drunk and shirtless at their home, repeatedly banged on the front door and ripped off a door handle. The lawsuit, filed Monday in Miami-Dade County Circuit Court, seeks unspecified damages on behalf of Isaac and Iris Bakar and...
MIAMI (AP) -- A Florida family is suing Cleveland Browns defensive lineman Desmond Bryant, accusing him of showing up drunk at their home, banging on the front door and ripping off a door handle. The lawsuit seeking unspecified damages was filed Monday in circuit court by attorney Robert Fiore. He represents Isaac and Iris Baker, who Fiore says were terrorized along with their three...
It isn't often that teams draft a quarterback in the first round of the NFL Draft two years in a row. But most teams aren't the Cleveland Browns, who have only been to the playoffs once since returning to the league in 1999, and recorded only two winning seasons. Nobody was incredibly excited about the selection of Brandon Weeden a year ago, and it doesn't appear as if the...
According to the Cleveland Plain-Dealer, the Browns plan on holding a private workout for former West Virginia quarterback Geno Smith. The Browns, who are seeking competition for Brandon Weeden, will conduct a private workout with Smith, a source said Monday. They sent a representative to Smith's pro day last week, and Banner said that they'll study Smith and the other top quarterbacks...
The last remaining player from the Cleveland Browns reincarnation back in 1999 is no longer with the team. Phil Dawson after not receiving a contract offer from Browns, announced on his twitter page he reached an agreement to play for the San Francisco 49ERS. Dawson spent 14 years in Cleveland [...]
The NFL is hell-bent on passing a new rules proposal that would penalize a runner for lowering his head and leading with the helmet at the point of contact with a defender. Pro Football Talk is reporting that Browns running back Trent Richardson and specifically the blow he lowered onto Eagles safety Kurt Coleman will be the standard that the rule will be based off.   As the NFL...
So, we all know that Desmond Bryant became an Internet sensation after his horrendous/amazing mugshot from his arrest last month went viral. Now the Raiders-turned-Browns defensive lineman is being sued by the South Florida family at the center of his misdemeanor criminal mischief arrest. Bryant allegedly showed up piss-ass drunk and shirtless (but we take it you already gathered...
Cleveland Browns defensive tackle Desmond Bryant is never going to hear the end of his Feb. 24 arrest, and deservedly so. Bryant, who police described as "extremely intoxicated" at the time, attempted to force his way into a stranger's home in North Miami Beach after a night of partying in South Beach. He has already been charged with criminal mischief and given us one of the...
Browns News

Delivered to your inbox

You'll also receive Yardbarker's daily Top 10, featuring the best sports stories from around the web. Customize your newsletter to get articles on your favorite sports and teams. And the best part? It's free!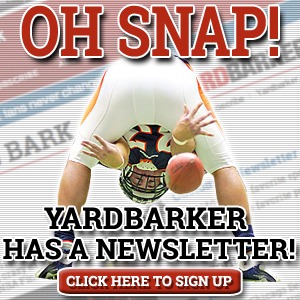 Latest Rumors
Best of Yardbarker

Today's Best Stuff

For Bloggers

Join the Yardbarker Network for more promotion, traffic, and money.

Company Info

Help

What is Yardbarker?

Yardbarker is the largest network of sports blogs and pro athlete blogs on the web. This site is the hub of the Yardbarker Network, where our editors and algorithms curate the best sports content from our network and beyond.