The Bills are doing just enough to keep it interesting for their fans. Playoffs are still a long shot,  but as Lloyd Christmas would say, "So you're saying there's a chance?!" Here are  things I "Billieve" following Buffalo's 34-18 victory over the Jacksonville Jaguars. 1. I may owe Dave Wannstedt an apology. No one wanted Wannstedt fired more than me earlier this year. The defense was a disaster. No one was getting to the quarterback. The linebackers were consistently out of place, and the defensive backs gave up big plays consistently. Most of all, the defense was giving up 30+ points consistently. Now? Mario Williams has been incredible following his wrist procedure and notched another sack and forced fumble to his resume. Kyle Moore is applying consistent pressure to the QB, and Marcell Dareus is finally playing solid football. Kyle Williams has been excellent all season and Alex Carrington has provided excellent depth. Linebackers are suddenly filling gaps correctly and Nigel Bradham's strong play has been a part of their improvement. Also, the defensive backs are playing much better. Stephon Gilmore and Ron Brooks play a bit aggressively at times, but I'll take that over big plays any day. Last, the defense has given up 30 total points in three weeks, an average of 10 points per game. The opposition may have something to do with the low point totals, but Wannstedt deserves some praise. 2. Aaron Williams should not be handed his job back. I don't like starters losing their jobs due to injury, but Williams had been a major weak-link for the team defensively. Since he left, Leodis McKelvin has stepped in and done an excellent job. When McKelvin went out, Ron Brooks stepped in and overall his play was also strong. Williams is very young and still has time to become a difference maker defensively, but right now he'd be better off on the sidelines. 3. Fred Jackson still has plenty left in the tank… I really like Fred Jackson and was happy for his success against the Jaguars. He carried the ball 25 times for 109 yards and did a great job. Jackson deserves praise this season for how he's handled losing his starting job to C.J. Spiller and how he's done anything asked of him. 3. But C.J. Spiller should still be our lead back. Going into the game Chan Gailey said that Buffalo would give C.J. Spiller a 60-40 split. The weather apparently changed the situation, as Spiller ended with 14 carries to Jackson's 25. Jackson was very good on Sunday, but anytime that Spiller touches the ball he can be great. He proved it with his 44-yard touchdown run early in the fourth quarter. 4. Cover your eyes; we're going to see more of the Wildcat. I want the Bills to be successful, yet whenever I see the Wildcat a little part of me wants it to fail. I just don't like the Wildcat package. It's outdated and no longer gives any team an edge. Yet on Sunday, Brad Smith found success. He had two rushes for 28 yards. Be prepared to see Brad Smith quite a few more times this season. 5. A tale of two safeties Jairus Byrd is having an outstanding season and it's exciting to hear that the Bills are starting negotiations with one of the top safeties in the league. George Wilson however is a weakness on this team. He actually played a solid game on Sunday, jarring a ball loose. That said, the Bills seem to notice that Wilson has lost a step and Da'Norris Searcy has been receiving plenty of snaps. Entering 2013, I hope that the Bills starting safety combination is Byrd and Searcy. Bills fans, what do you Billieve following Buffalo's 34-18 victory over the Jaguars?   The post 5 Things I Billieve Following Buffalo's 34-18 Victory Over the Jacksonville Jaguars appeared first on Queen City Sports.
Original Story:
http://www.queencitysports.net/uncate...
MORE FROM YARDBARKER
NFL News

Delivered to your inbox

You'll also receive Yardbarker's daily Top 10, featuring the best sports stories from around the web. Customize your newsletter to get articles on your favorite sports and teams. And the best part? It's free!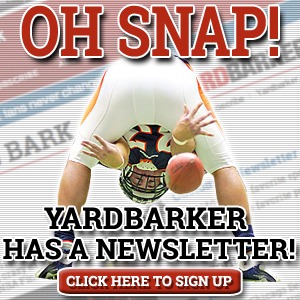 Latest Rumors
Best of Yardbarker

Today's Best Stuff

For Bloggers

Join the Yardbarker Network for more promotion, traffic, and money.

Company Info

Help

What is Yardbarker?

Yardbarker is the largest network of sports blogs and pro athlete blogs on the web. This site is the hub of the Yardbarker Network, where our editors and algorithms curate the best sports content from our network and beyond.