Found October 27, 2012 on isportsweb.com:
      It is that time of year in Buffalo. The one week that fans hate and players love. It's bye week time. Depending on your optimism, a Sunday without Bills football could be a good thing. One thing optimists and pessimists can agree on is that the Bills have issues that are hopefully being explored during the bye week. The issue now turns to what will occupy our Sunday. You sure aren't going to help your wife, husband, or significant other around the house or doing that thing called homework before midnight. Keeping that in mind, here are five things to keep you sane during the Bills bye week: 5. Scout future competition. Maybe avoid the Texans game, we probably don't need much video evidence of the Texans greatness, but the Bills have some games coming up on their slate worth the attention of not just us fans but Chan Gailey and the coaching staff. After a brutal stretch against Houston and New England the Bills have winnable game against the Dolphins, Colts, Jags, Rams, and Dolphins. A playoff team would win all of these games. Many people thought at the start of the season that the Bills were a playoff team. We will see in the coming weeks. 4. Watch, and root against, division rivals. This isn't even because the AFC East is as tight of a race as there is in the NFL, but how much do you love seeing Tom Brady lose? They take on a Rams team that is in the top 15 in pass defense; maybe another Patriots loss is in the books? (That was entirely too optimistic. I understand.) The Jets and the Dolphins are both off as well, so that 1:00 time slot can be nicely filled with some Patriots destruction. Maybe. Probably not. 3.  Read up on the future of the Bills If you can't stomach watching Tom Brady, there is a solid eight hours worth of literature on the multiple different options for the Buffalo Bills moving forward. The lease with the Bills and Erie County is up after this year, and although talks have been moving along and both sides appear to want to get a deal done, the future of the Bills is still up in the air. There is that big, daunting, capital of finance that looms up the shores of Lake Ontario known as Toronto. As often as those awful Bills games in Toronto don't sell out or generate half the buzz a normal Sunday at the Ralph does that city does not seem to want to stop stealing the Bills. The more plausible options lie in the form of a new lease agreement, along with over $200 Million of upgrades to Ralph Wilson Stadium, between the Bills and Erie County. A flashy, downtown stadium by Lake Erie that would cost $1.4 Billion has also been proposed. Even playing in Hamilton, Ontario but being based in Buffalo has been proposed. One thing is for sure, you could easily fill up a bye week Sunday reading up and forming opinions on all the options that face the Bills. 2. Check in on the fantasy squad I've never been someone to fully invest in fantasy football. The drafts are fun, but I care 1 Million times more about the real football I'm watching. This probably explains my team's 1-6 record with a last place showing. That being said, if you are like me and have had at least one running back with a bye in your starting lineup for the past two weeks this would be the week to get the most out of your team. People do, believe it or not, take fantasy football much more seriously than their real favorite team. Weird. 1.  Sleep. If you are like me, waking up before the Patriots-Rams game kicks off will be a miracle. I know we all hate bye weeks because we love watching the Bills, but think about it: if you don't go to church, you literally don't have to be up for anything tomorrow. That won't happen on many more days this year.  
Original Story:
http://feedproxy.google.com/~r/isport...
THE BACKYARD
BEST OF MAXIM
RELATED ARTICLES
The Buffalo Bills could be a team interested in Kansas City Chiefs star wide receiver Dwayne Bowe, who recently requested a trade. According to Greg Maiola of the Bleacher Report, Buffalo would be a good fit for Bowe, who has caught 34 passes for 423 yards and three touchdowns. Bowe is currently in a one-year deal worth $9.515 million and will be a free agent at the end of the...
CJ Spiller's hard work with the Buffalo Bills is definitely getting noticed. Profootballfocus.com, a website which looks at NFL statistics and grades player's performances, has ranked Spiller as one of the top running backs to represent the AFC in this year's Pro Bowl. "He came into the year as the second choice halfback on his own team, and is currently our starting...
The Bills were a popular pick for the playoffs before the season started.  Now, they are falling apart.   Here's a look at their remaining schedule, predictions and a look at their division. @ Houston - Loss @ NE - Loss Miami - Win @ Indy - Loss Jax - Win St. Louis - Loss Seattle - Loss @ Miami - Loss Jets - Loss The Bills really let...
Buffalo Bills defensive end Mario Williams informed the team about his surprise wrist surgery last week via text, ESPN.com reported Sunday. Williams did not show up to the Bills facility last Monday before texting a trainer and a defensive line coach to inform them he was getting a second opinion on his wrist and that he was having arthroscopic surgery. He then texted that he would...
Let's face it Bills fans, Ryan Fitzpatrick hasn't exactly advanced this season.After all the off-season hype in Buffalo surrounding the arrival of quarterback coach David Lee and the promise of having "their guy" tied up at quarterback for the for-seeable future, fans expected something more for their money.Fitzpatrick is Buffalo's first QB since Jim Kelly to post back...
Seven games out of sixteen feels close enough to hand out some mid-term grades for the 2012 Buffalo Bills. Especially given that it's a bye week. It's been a rocky road to 3-4 and it's easy to dismiss the team as a defensive sieve with a rough quarterback and this 3-4 record is bound to get worse. You're probably right, but in the AFC in 2012 anything is possible. Keep the...
Bills News

Delivered to your inbox

You'll also receive Yardbarker's daily Top 10, featuring the best sports stories from around the web. Customize your newsletter to get articles on your favorite sports and teams. And the best part? It's free!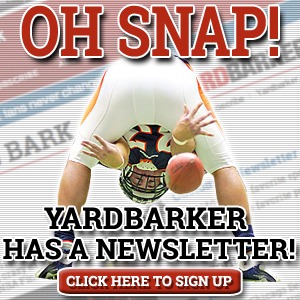 Latest Rumors
Best of Yardbarker

Today's Best Stuff

For Bloggers

Join the Yardbarker Network for more promotion, traffic, and money.

Company Info

Help

What is Yardbarker?

Yardbarker is the largest network of sports blogs and pro athlete blogs on the web. This site is the hub of the Yardbarker Network, where our editors and algorithms curate the best sports content from our network and beyond.