Found August 04, 2013 on The Other Paper:
The Cleveland Browns held their "Family Night" during practice at FirstEnergy Stadium Saturday and capped off the evening with Ryan Encinas, a 5-year-old cancer survivor, taking a hand-off from quarterback Brandon Weeden and running 50-yards for a touchdown with Trent Richardson leading the way. With a few tons of blockers ahead and the weight of cancer treatment behind him, the tough five-year-old — wearing an over-sized Browns helmet and a No.1 with the name "Encinas" on the back of his jersey —clutched the football and ran for the goal line in front of a crowd of 24,134 fans cheering every emotional step. The youngster got caught up in the the excitement of the moment, and lost in the canyons of 300-pound linemen,  and prematurely spiked the ball around the 30-yard line before head coach Rob Chudzinski picked up the loose ball and handed it back to his little running back. As Ryan crossed the goal line, he was lifted onto the shoulders of linebacker Craig Robertson and congratulated by the entire team in the end zone. "That was cool," Weeden said. "When Chud told us we were going to do that in team meetings, I was pumped about it. That was a cool deal. The kid is 5-years-old and he's been through a lot. I do a lot of stuff back home with Children's Hospital, so every time something like that happens, it brings a lump to your throat." Good play call, guys. [Browns Video]
Original Story:
http://ihatelupica.blogspot.com/2013/...
THE BACKYARD
BEST OF MAXIM
RELATED ARTICLES
The fact that quarterbacks like Brandon Weeden and Blaine Gabbert are still expected to be starters this season is a testament to just how weak the quarterback market has been this offseason. Unlike Blaine Gabbert, one of the younger starters in the NFL, Brandon Weeden is not a young starter, although he's going into just his second season in the NFL, and that's part of...
The Cleveland Browns orchestrated a special moment during Saturday night's "Family Night" practice at FirstEnergy Stadium by dressing up 5-year-old cancer survivor Ryan Encinas in uniform and inviting him onto the field to join the team. Encinas lined up with the offense, took the handoff from quarterback Brandon Weeden and followed running back Trent Richardson...
Trent Richardson may have some competition for his job as the Cleveland Browns' starting running back. The Browns gave Ryan Encinas the chance to score a 40-yard touchdown during the final play of their training camp practice. The crowd went wild as the 5-year-old boy made his way into the end zone before being lifted on the Cleveland players' shoulders. A tumor was found in...
Cleveland Browns running back Trent Richardson was able to return from an injury to his leg in time to suit up for the start of training camp. However, the injury-prone rusher was once again on the sidelines Friday, as he was dealing with another injury to the same leg, this time a shin ailment, according to Michael David Smith of Pro Football Talk. Coach Rob Chudzinski released...
  A five year-old Cleveland Browns fan who is a lung cancer survivor scored a touchdown during Saturday night's family night scrimmage. With a handoff from Browns quarterback Brandon Weeden and a few nudges from running back Trent Richardson, 5-year-old cancer survivor Ryan Encinas covered the 40 yards as fast as he could. The Browns have had longer touchdown runs in their...
With a handoff from Browns quarterback Brandon Weeden and a few nudges from running back Trent Richardson, 5-year-old cancer survivor Ryan Encinas covered the 40 yards as fast as he could. The Browns have had longer touchdown runs in their history, never one so sweet. Encinas, who recently celebrated two years in remission after being diagnosed with lung cancer, concluded Cleveland...
Browns running back Trent Richardson returned to practice Monday. However his status for the team's preseason opener remains uncertain. Richardson had been held out of Cleveland's two previous training camp sessions with a bruised right shin. The injury occurred Thursday when the 5-foot-9, 230-pounder was inadvertently kicked in the lower leg by a teammate. Though Richardson...
CLEVELAND -- Brandon Weeden stepped back and delivered a strike to Davone Bess downfield in the seam during the team scrimmage portion of practice during Family Night at FirstEnergy Stadium in front of 24,131 fans. The scenario played out on several occasions during the practice and culminated with a touchdown to Bess in team drills inside the red zone from seven yards out. Browns...
Twice in practice Friday night, Phil Taylor got into a scuffle with center Alex Mack. The first occurred in 11-on-11 drills. Taylor took a swing at Mack after the two were tangled during a play. Taylor hit the top of Mack's helmet with his hand. The next time was in an offensive/defensive line double team drill. At the snap Taylor pushed his forearm into Mack's neck and kept...
The Cleveland Browns did something special last night at practice. They let five year old Ryan Encinas onto the field for one play. Encinas was diagnosed with a lung tumor when he was two but is standing here today as a cancer survivor. The play was obviously a hand off and thanks to the blocking and fumble recovery by Trent Richardson he went 40 yards for the touchdown. Watching...
Browns News

Delivered to your inbox

You'll also receive Yardbarker's daily Top 10, featuring the best sports stories from around the web. Customize your newsletter to get articles on your favorite sports and teams. And the best part? It's free!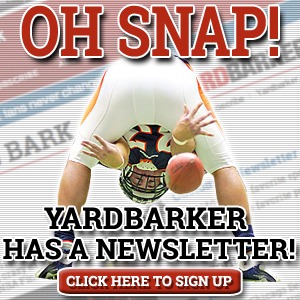 Latest Rumors
Best of Yardbarker

Today's Best Stuff

For Bloggers

Join the Yardbarker Network for more promotion, traffic, and money.

Company Info

Help

What is Yardbarker?

Yardbarker is the largest network of sports blogs and pro athlete blogs on the web. This site is the hub of the Yardbarker Network, where our editors and algorithms curate the best sports content from our network and beyond.