It's always easier to write these articles after a win. I enjoy to focus on the positive and against the Dolphins, there was a lot to be positive about. That being said, there are still a few things I need to vent about. With that being said, here are some things I "Bill-ieve" following the Buffalo Bills victory over the Miami Dolphins in primetime! 1. Mario Williams will finish the season with double-digit sacks. Williams notched sack 5.5 of the night against the Dolphins and his production is night and day following his wrist procedure. His play has improved so much that it's hard not to believe Williams when he says that his wrist caused him to start off the season slowly. Against the Dolphins, Williams was all over the field. He did a great job pressuring Tannehill and making some plays in the run game. With games against the Colts, Rams, Seahawks, Jaguars, Dolphins, and Jets remaining, Williams has an excellent shot of ending his first year as a Buffalo Bill with at least 10 sacks. 2. The defensive line played their best game of the 2012 season. Sacks for Williams, Kyle Moore, and Shawne Merriman. Physical play from Kyle Williams and Marcell Dareus. It was incredible to finally watch a game where everything clicked for the defensive line. This is what I was expecting heading into the season. Dominating play against the pass and run. What makes last night more impressive is that they were without Mark Anderson and Chris Kelsay. Kyle Moore has been our diamond in the rough this season. Something tells me he makes Kelsay expendable next season. I know he was penalized for a face mask penalty on his sack, but Moore was all over the field. The Bills have some big names to re-sign, but Moore also needs a new contract. 3. Stevie Johnson is coming on at the right time. Johnson had another good game for the Bills and his production has been solid over the last few weeks. If the Bills really want to push for a playoff spot, they'll need Johnson at his best. It's encouraging to see him winning his individual match-up time and time again. 4. Chan Gailey gets too much credit as an offensive genius. The Bills are averaging a respectable amount of points, but Gailey is overrated as he's often termed an offensive guru or genius. A genius doesn't take his best player out of the game in the red zone. A genius doesn't give Tashard Choice two touches in the red zone.  A genius doesn't split C.J. Spiller out on third and short to let the defense know they are passing. A genius doesn't run a slant pattern when his 6-7 tight end is lined up against a 6-1 corner. Simply put, Gailey is getting more credit than he deserves. I'm sick of bashing the guy, but each week he does something that makes no sense to me. I'm obviously not more knowledgeable than Gailey when it comes to football, but the guy lacks common sense. 5. Jairus Byrd's future contract gets more expensive with each passing week. I'm starting to think that Byrd will receive the franchise tag from the Bills. It'd cost more to franchise Andy Levitre, so I'm thinking our star guard gets a new contract while Byrd is given a large salary at a one year rate. That'll give the Bills another season to extend Byrd. I can't say that there is another safety playing better in the NFL. Thomas DeCoud is up there, but Byrd is the most complete free safety in the league. 6. C.J. Spiller still needs more touches. Twenty-two rushes sounds like a lot, but it's not. Spiller was taken out of the flow of the game too often. He didn't break any big runs yesterday but he was consistently rushing for 3-4 yards at a time. Then Gailey would bring in Tashard Choice, who should be named "The Drive Killer." Choice is solid depth, but that's it. Also, Spiller NEEDS to be on the field every play that the Bills are in the red zone. You don't drive a Pinto (sorry Ron) when you have a Mustang in the garage. Spiller is our Mustang and we need him out on the field all game long. What do the readers of Queen City Sports believe? Tweet me @bonasbillsfan with what you Bill-ieve and comment here on the site! The post 6 Things I Bill-ieve Following the Buffalo Bills 19-14 Victory Over the Miami Dolphins appeared first on Queen City Sports.
Original Story:
http://www.queencitysports.net/6-thin...
MORE FROM YARDBARKER
NFL News

Delivered to your inbox

You'll also receive Yardbarker's daily Top 10, featuring the best sports stories from around the web. Customize your newsletter to get articles on your favorite sports and teams. And the best part? It's free!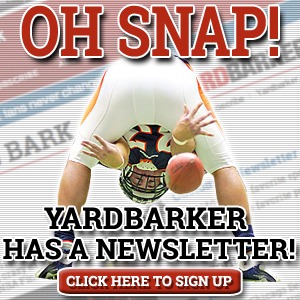 Latest Rumors
Best of Yardbarker

Today's Best Stuff

For Bloggers

Join the Yardbarker Network for more promotion, traffic, and money.

Company Info

Help

What is Yardbarker?

Yardbarker is the largest network of sports blogs and pro athlete blogs on the web. This site is the hub of the Yardbarker Network, where our editors and algorithms curate the best sports content from our network and beyond.