Found August 24, 2012 on The Colts Authority:
PLAYERS:
Peyton Manning
,
Ryan Leaf
,
Andrew Luck
,
Dan Snyder
,
Jim Irsay
,
Winston Justice
,
Reggie Wayne
,
Austin Collie
,
LaVon Brazill
,
Griff Whalen
,
T.Y. Hilton
,
Donnie Avery
,
Donald Brown
,
Mewelde Moore
,
Vick Ballard
,
Ben Ijalana
,
Antoine Bethea
,
Tom Zbikowski
,
Pat Angerer
,
Robert Griffin III
TEAMS:
Indianapolis Colts
,
Washington Redskins
In 1998 the debate about the best quarterback available in the draft centered around the word "upside." While most appreciated Peyton Manning's football acumen, pedigree and polish most agreed that Ryan Leaf had a better arm as well as the potential to grow more. The pundits felt Manning was too ready. In hindsight they look like the buffoons in Major League proclaiming the towering shot was "too high" to make it out of the park. You'd think they'd learn but as the world has proven many times, history will indeed be repeated. Before the 2012 NFL draft more than one talking head declared Robert Griffin III had better arm strength and more upside than future Colts quarterback Andrew Luck. In fact, one such well-respected talent evaluator went as far as to say that Luck lacked "elite" arm strength. Someone wasn't paying attention in 1998. That's not to say Robert Griffin III will be Ryan Leaf. In fact the two couldn't be more dif...
Original Story:
http://www.coltsauthority.com/2012-ar...
THE BACKYARD
BEST OF MAXIM
RELATED ARTICLES
Even in the era of inflated ticket prices, it's a bit of a stretch to say there's $35 worth of entertainment value in a typical NFL preseason game. But put together the top two picks in the draft - both quarterbacks - and schedule it for the third week - the game considered the dress rehearsal for the preseason - and the teams involved figure it'll not only be worth...
After last night's debacle on offense, the Arizona Cardinal faithful have to be disgruntled for not landing Peyton Manning during the offseason.Through their four preseason games, the Cardinals have gone 1-3 and the offensive line has looked awful at times.  Kevin Kolb and John Skelton have combined for 5 INT's, 8 Sacks, and only 2 scores.  They've also combined for...
Although it was just a preseason game, when number one versus number two face off, it always seems to grab everyone's attention. Andrew Luck and Robert Griffin III faced off against each other and did not disappoint the fans at FedEx field as Griffin and the Washington Redskins got the best of Luck and the Indianapolis Colts 30-17 on Saturday night. Both young quarterback looked...
In the spirit of Madden 13 ratings and Super Bowl buzz, below is a look at the Denver Broncos celebrating a 27-23 SB XLVII victory over the New Orleans Saints in EA Sports' 2012 version of Madden. A few quick notes after the jump.  The team hosting the Super Bowl hasn't made the playoffs the year their city hosted the game since 2000, when the Tampa Bay Buccaneers went 10...
Denver, CO. The glimpses and flashes of potentially explosive plays with this Denver Broncos offense has given all who follow this team plenty of optimism as we inch closer to the season opener early next month. Peyton Manning has looked pretty good, running the show with the leadership he has mastered for over a decade now. The receivers have looked pretty good, catching most...
AP According to Bill Williamson of ESPN.com, Denver Broncos quarterback Peyton Manning has had problems throwing the ball to his right side. "It appears that one of the biggest challenges for Denver Broncos quarterback Peyton Manning as he comes back from a serious neck injury is throwing to his right. "ESPN guru John Clayton pointed it out to me this summer. While he thought...
In Indianapolis, and the general NFL community, expectations for Andrew Luck are extremely high. They were high as soon as he chose to enter the NFL Draft, with scouts calling him the best prospect since John Elway.  With Luck replacing the possible greatest of all time in Indianapolis, and playing extremely well in both of his first two games, the expectations and projections for...
::Insert Luck Gambling Joke Here::Photo Credit: BrokenSphere In my last article we reviewed my expectations and predictions concerning over/under wins for some NFL teams. Here, I wanted to pick some individual season-long player matchups that you can make some coin on. So if you're into protection, find some contraceptive because my words are about to make sex to your brain.More...
Denver Broncos News Sorry for going AWOL yesterday, but I've got a limited amount of time each morning to bust these links out and I had to take a very important phone call that ate up all of that limited time and then some.  We'll start today's links with a piece from a few days ago that would have gone into yesterdays post.  Peyton Manning will transform the Denver Broncos...
It is the best of times, it is the worst of times, it is the age of wisdom, it is the age of foolishness, it is the epoch of belief, it is the epoch of incredulity, it is the season of Light, it is the season of Darkness, it is the spring of hope, it is the winter of despair, we have everything before us, we have nothing before us ...Best? Easy. Robert Griffin, III vs Andrew Luck...
NFL News

Delivered to your inbox

You'll also receive Yardbarker's daily Top 10, featuring the best sports stories from around the web. Customize your newsletter to get articles on your favorite sports and teams. And the best part? It's free!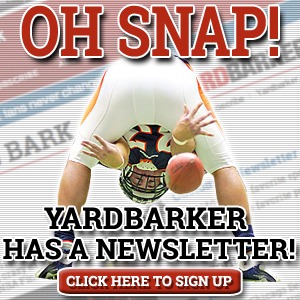 Latest Rumors
Best of Yardbarker

Today's Best Stuff

For Bloggers

Join the Yardbarker Network for more promotion, traffic, and money.

Company Info

Help

What is Yardbarker?

Yardbarker is the largest network of sports blogs and pro athlete blogs on the web. This site is the hub of the Yardbarker Network, where our editors and algorithms curate the best sports content from our network and beyond.