Found August 24, 2012 on MyTeamRivals.com:
PLAYERS:
Peyton Manning
,
Ryan Leaf
,
Andrew Luck
,
Dan Snyder
,
Jim Irsay
,
Winston Justice
,
Reggie Wayne
,
Austin Collie
,
LaVon Brazill
,
Griff Whalen
,
T.Y. Hilton
,
Donnie Avery
,
Donald Brown
,
Mewelde Moore
,
Vick Ballard
,
Ben Ijalana
,
Antoine Bethea
,
Tom Zbikowski
,
Pat Angerer
,
Robert Griffin III
TEAMS:
Indianapolis Colts
,
Washington Redskins
In 1998 the debate about the best quarterback available in the draft centered around the word "upside." While most appreciated Peyton Manning's football acumen, pedigree and polish most agreed that Ryan Leaf had a better arm as well as the potential to grow more. The pundits felt Manning was too ready. In hindsight they look like the buffoons in Major League proclaiming the towering shot was "too high" to make it out of the park. You'd think they'd learn but as the world has proven many times, history will indeed be repeated. Before the 2012 NFL draft more than one talking head declared Robert Griffin III had better arm strength and more upside than future Colts quarterback Andrew Luck. In fact, one such well-respected talent evaluator went as far as to say that Luck lacked "elite" arm strength. Someone wasn't paying attention in 1998. That's not to say Robert Griffin III will be Ryan Leaf. In fact the two couldn't be more different. Where Leaf was brash, lacked intelligence and had
Original Story:
http://www.mtrmedia.com/2012/08/7-que...
THE BACKYARD
BEST OF MAXIM
RELATED ARTICLES
Is Peyton Manning worth the risk? Rizzla: No. I love Peyton Manning and think he is one of the best quarterbacks of our time but he presents too much risk for his current ADP. If he can stay healthy he can be the dominant fantasy QB we have all come to love. One wrong landing from a hit and Manning's career could be in serious peril. I will let another owner take the gamble this...
After last night's debacle on offense, the Arizona Cardinal faithful have to be disgruntled for not landing Peyton Manning during the offseason.Through their four preseason games, the Cardinals have gone 1-3 and the offensive line has looked awful at times.  Kevin Kolb and John Skelton have combined for 5 INT's, 8 Sacks, and only 2 scores.  They've also combined for...
Against popular belief, just because you self-proclaim yourself to be elite, doesn't mean your elite.  If that was the case, Joe Flacco and Jamarcus Russell would already be in elite status.  Against New York Giants fans and ESPN's so-called "experts" belief, winning a Super Bowl doesn't make you elite either, which keeps Brad Johnson and Trent Dilfer out of this class...
Peyton Manning vs. Eli Manning.  The elite vs. the pro bowler.  The one time champion vs. the two-time champion.  Who fears who more? This has become our modern-day era, which came first the chicken or the egg?, age-long question.  Just like everyone assumes it was the egg, everyone assumed it was Eli that feared big brother Peyton. What if it was the chicken that cames first...
In the spirit of Madden 13 ratings and Super Bowl buzz, below is a look at the Denver Broncos celebrating a 27-23 SB XLVII victory over the New Orleans Saints in EA Sports' 2012 version of Madden. A few quick notes after the jump.  The team hosting the Super Bowl hasn't made the playoffs the year their city hosted the game since 2000, when the Tampa Bay Buccaneers went 10...
Denver, CO. The glimpses and flashes of potentially explosive plays with this Denver Broncos offense has given all who follow this team plenty of optimism as we inch closer to the season opener early next month. Peyton Manning has looked pretty good, running the show with the leadership he has mastered for over a decade now. The receivers have looked pretty good, catching most...
There's been a lot of talk this offseason about the rookie quarterbacks of this Draft.Andrew Luck looks like Peyton Manning already, and RGIII is bringing excitement back to the nation's capitol.We've even heard buzz around Brandon Weeden in Cleveland, mainly because he is older than Aaron Rodgers and hasn't played a meaningful down in the NFL yet. But on the West...
Denver Broncos News Sorry for going AWOL yesterday, but I've got a limited amount of time each morning to bust these links out and I had to take a very important phone call that ate up all of that limited time and then some.  We'll start today's links with a piece from a few days ago that would have gone into yesterdays post.  Peyton Manning will transform the Denver Broncos...
We all know by now that Indianapolis Colts owner Jim Irsay is a man who will do anything to help his football team move forward. Heck we are talking about the guy who found it in his team's best interest to part ways with a legend in Peyton Manning to start a new regime with QB Andrew Luck.
ENGLEWOOD, Colo. -- Four Denver Broncos quarterbacks and their position coach were scouting the Seattle Seahawks' defense when Peyton Manning suddenly paused the video. Brock Osweiler was paying attention and taking notes. The rookie from Arizona State just didnt expect the storied veteran to put him on the spot. Manning asked Osweiler to identify the Mike, which is the term...
NFL News

Delivered to your inbox

You'll also receive Yardbarker's daily Top 10, featuring the best sports stories from around the web. Customize your newsletter to get articles on your favorite sports and teams. And the best part? It's free!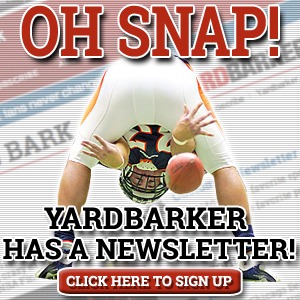 Latest Rumors
The Backyard

Today's Best Stuff

For Bloggers

Join the Yardbarker Network for more promotion, traffic, and money.

Company Info

Help

What is Yardbarker?

Yardbarker is the largest network of sports blogs and pro athlete blogs on the web. This site is the hub of the Yardbarker Network, where our editors and algorithms curate the best sports content from our network and beyond.