The Bills enter their bye week losing in impressive fashion. It was a loss that Bills fans have experienced many times over the years, but it still doesn't make the game any less painful. With that, here are 10 things I Bill-ieve following the loss to the Titans. 1. The Bills Have Virtually No Shot of Making the NFL Playoffs At 3-4, the Bills are still in the thick of things record wise. However, based on how Buffalo has played through seven games there is no chance that the Bills make the playoffs this season. After watching the Bills fail to slow down the Tennessee Titans, am I really supposed to believe that they'll be able to stop the Houston Texans or New England Patriots? Common sense says no. If they cannot pull off a miracle, the Bills will be looking at a 3-6 record with seven games to play. Does anyone really see a 3-6 team doing 6-1 or 7-0? I sure don't. So unless the Bills suddenly play like a different team after the bye week, the season is over and we need to start looking at college prospects. 2. Quarterback Isn't Our Biggest Need Let me preface this by saying that the Bills need to draft a quarterback in round one next year. Fitzpatrick isn't our biggest problem, but the Bills need to find a franchise quarterback. The biggest problem with the Bills is their defense. If I needed to specifically pick one area, I'd choose their linebacker play. Next year, whether it be free agency or the draft, the Bills need to find upgrades at linebacker. I don't think any linebacker should feel safe heading into 2013. 3. George Wilson's Play Has Fallen Off I hate writing this as I'm a big fan of George Wilson, but his play is lacking from 2011. In 2011, he and Jairus Byrd looked like they were about to become one of the best safety combinations in the league. This year is a different tale. Wilson looks a step slower on the field. He has struggled in coverage and when he had a chance to seal the Bills win yesterday, Wilson let the ball slip right through his hands. I wouldn't be the least bit surprised if Da'Norris Searcy supplants him as starter by the end of the year. 4. C.J. Spiller and Fred Jackson are the Best Running Back Combination in the NFL Spiller and Jackson are unbelievably talented. Their play alone will win the Bills a few games down the stretch. Both are exceptional runners and they can each catch the ball. It's rare to have two dual-threat RBs in the NFL. For that reason alone, Spiller and Jackson are the best combination of running backs in the league. Arian Foster and Ben Tate are close, and the same can be said for Matt Forte and Michael Bush, but they aren't as good as Jackson and Spiller. If the Bills truly focused their entire offense around the two running backs, the team would be much better off. 5. Through Seven Weeks this is the Worst Bills Defense that I've EVER Seen This is inexplicable to me. A team that has big names on their defensive line, Nick Barnett, Jairus Byrd, and a first round CB pick should look so much better than this. I really don't want to dwell on this too long, but in the second half of the season, I need to see a different defense take the field. There is way too much talent on this team to be performing so poorly. The team isn't throwing Dave Wannstedt under the bus, but he should be the sacrificial lamb for the Bills. Unfortunately, Chan Gailey doesn't have the guts to get rid of his friend during the bye week. 6. Shawn Powell Should Not be Employed by the Buffalo Bills Continuing with my theme of worst things I've ever seen… Come on down, Shawn Powell! You are without a doubt the worst punter I've seen in a Bills uniform. We've been spoiled at the punter position (wish we could say that about QB instead). Chris Mohr and Brian Moorman are the only two starting punters many Bills fans have ever known up until Shawn Powell. The first two names were great at their jobs and were loved by Bills fans. Powell? He just doesn't have what it takes to be a punter in the NFL. In back to back weeks he's kicked atrocious punts. Against Tennessee, his 22-yard punt was nauseating to watch. If anything, the Bills need to hold tryouts during the bye week so that Powell knows his job isn't safe. I don't exactly have a powerful leg, but I know I could punt a ball 22-yards. So if anyone in the Bills organization is reading this, give me a call. I work in a field where I have Sunday's off and I'll do it for a lot less than Powell is making. 7. Chris Kelsay Just Moved Up my List of Current Favorite Buffalo Bills Not necessarily for his play, but for calling out his teammates after their loss to the Titans. Click the link and read the article, but here are a few of his quotes: "You watch film and not everybody was playing hard every snap. And that's unacceptable," Kelsay said. "It's a blessing to be in this league. And then to go out there and lay an egg, there's no excuses for it." "We might have to grab guys by the shirt collar and tell them to get moving." "I'm not pointing the finger. I'm looking in the mirror myself," Kelsay said. "But if you aren't going to give us everything you've got, you shouldn't be on the field." Kudos to you Chris. It's about time someone spoke up on this team and called out his teammates. Kelsay was smart not to throw anyone specific under the bus, but these quotes let you know that players are noticing there are some players not doing their job. It's only a matter of time before we see some changes in the lineup. I'm all for it if it means seeing eleven players giving it their all on the field.   The post 7 Things I Bill-ieve Following the Buffalo Bills 35-34 Loss to the Tennessee Titans appeared first on Queen City Sports.
Original Story:
http://www.queencitysports.net/7-thin...
MORE FROM YARDBARKER
NFL News

Delivered to your inbox

You'll also receive Yardbarker's daily Top 10, featuring the best sports stories from around the web. Customize your newsletter to get articles on your favorite sports and teams. And the best part? It's free!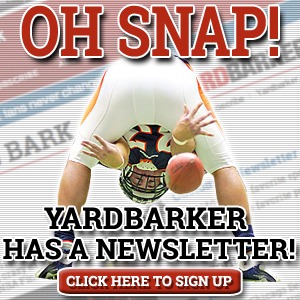 Latest Rumors
Best of Yardbarker

Today's Best Stuff

For Bloggers

Join the Yardbarker Network for more promotion, traffic, and money.

Company Info

Help

What is Yardbarker?

Yardbarker is the largest network of sports blogs and pro athlete blogs on the web. This site is the hub of the Yardbarker Network, where our editors and algorithms curate the best sports content from our network and beyond.