Found June 19, 2013 on Turn On The Jets:
Here at Turn On The Jets, we decided to take a page out of Robert Mays book over at Grantland (a polite way of saying rip his article idea off) by counting down the 115 days until the New York Jets kick off, with a daily reason to get excited about their return. Mays has the whole NFL to work with, we only have the Goddamn Jets…now there is a challenge, step your game up Mays! We continue today with a look at Quinton Coples unleashed (Note, you can track this entire series right here) We don't hide from our past writing here at TOJ. I was initially skeptical and critical of the New York Jets decision to select Quinton Coples in the first round. Fortunately, I have been proven wrong as Coples showed immense potential in his rookie season, finishing with a team leading 5.5 sacks despite only playing in 47% of the defensive snaps. He showed versatility and explosiveness as a pass rusher and is a going to be the featured pass rusher on the Jets defense this season. We've talked plenty about the New York media misrepresenting Coples "move" to outside linebacker this season. To categorize Coples in a single position in this defense is a senseless task. He is going to play defensive end in 4-3 looks and 3-4 looks, defensive tackle and outside linebacker in certain situations. Coples is going to be put into position to rush the passer. You won't be seeing him constantly dropping in coverage and being asked to set the edge in the running game. With a featured role and more overall reps, Coples should be a double digit sack guy…yes he is good enough to break the Jets now 8 year streak of having a player without 10 or more sacks. Quietly, the Jets are building something special upfront with Coples, Muhammad Wilkerson and the recently added Sheldon Richardson. It is going to be fun to watch these guys wreak havoc in the coming years. - NEW YORK DAILY NEWS STORY PITCH OF THE DAY - 1400 words from Gary Myers on the issues with Rex Ryan wearing a sweater vest on the sideline every game. "The monotony of his outfit demonstrates a man resigned to his fate as a lame-duck coach in an organization that no longer wants his brash proclamations and unfulfilled promises." Myers also is critical of Rex wearing receiver gloves during colder games because "he isn't a player and needs to stop acting like one." RANDOM JET OF THE DAY – KEVAN BARLOW! - The Jets traded for Barlow right before the 2006 season to be their lead back, yet he only finished with 131 carries for 370 yards (that is 2.8 yards per carry!) However, he did have 6 touchdowns. PLODDER NATION!
Original Story:
http://turnonthejets.com/2013/06/82-d...
THE BACKYARD
BEST OF MAXIM
RELATED ARTICLES
More bad news for New York Jets fans who are tired of the Mark Sanchez era and want rookie Geno Smith to take the reins, as the team's Pro Bowl center Nick Mangold tells the New York Post that he not only believes that Sanchez will open the season as the starter, but the rest of the locker room feels the same way. "I haven't walked around with a pen and paper and taken...
If you didn't know Rex Ryan was in New Jersey playing charity golf at Trump National golf course, you would swear that was the New York Jets head coach out at Progressive Field making an impressive one-handed grab of a foul ball while holding a hot dog Tuesday night. We know Rex already has a twin in brother Rob — who has hair down to his shoulders — so it couldn't...
Saying the embattled chucker "gives us that best chance," center Nick Mangold told the New York Post that the majority of Jets players want Mark Sanchez to start Week 1 against the Tampa Bay Buccaneers on September 8. "I haven't walked around with a pen and paper and taken a poll, but from the feeling I get, the locker room wants to win. Whoever gives us the best chance to...
Despite a report from the New York Jets beat, namely Rich Cimini and his unnamed sources that questioned the signing of a former first round pick, at a position the Jets are woefully thin at…we at TOJ felt it was time to give an unbiased view of Kellen Winslow Jr. College Career Kellen WInslow Jr, the son of Hall of Fame Tight End Kellen Winslow Sr, was a member of the Miami Hurricanes...
Nick Mangold carries a lot of clout in the Jets lockerroom as one of the best centers in all of football.  Mangold knows a good quarterback when he sees one, and according to Mangold, the Geno Smith era may not be starting so soon. Mangold told the New York Post that he believes embattled quarterback Mark Sanchez should be the Jets starting quarterback. Mangold then went on to say...
Erik Frenz of BleacherReport.com put out a great article today, discussing why Jets CB Dee Milliner is not stepping into 'shoes to fill.'  Prehaps my favorite snippit: Whoever fills that spot has big shoes to fill: Cromartie himself set a lofty standard for that spot. As Cromartie could tell you—or, for that matter, anyone who has played the role of No. 2 cornerback...
I know the title of this post is confusing and probably will lead to Antonio Cromartie receiving some backlash for these comments. Jets cornerback Antonio Cromartie is maturing, and with that he's becoming a leader, and a team guy.  Darrelle Revis is gone, and Cromartie is the best defensive player on the team now. Cromartie for his part thinks he could be the best corner in the...
As the New York Jets prepare for training camp in July, the 2013 season could be a make or break year for head coach Rex Ryan.
I've grown up as a Jets fan. We are used to losing on field, but lately we've been losing both off and on the field. It's like there's a chronic need for the Jets to put their foot inside one's mouth.Nick Mangold spoke to Jets' reporter Bart Hubbach of the New York Post. He commented on how the Bill Belichick must be losing his mind in New England:"I...
The New York Jets' offense was an absolute disaster last season, and 2013 could be more of the same if the wide receivers don't get it together.By all accounts, including the coaches', Gang Green's wideouts had a major case of the dropsies last week, something head coach Rex Ryan clearly was discouraged with. "You're an NFL player," Ryan told the media...
Still making his way back from a severe foot fracture, the Jets' top pass-catcher Santonio Holmes talks about his rehab, taking classes at Ohio State and share his thoughts on Gang Green's current group of wide receivers.
Mornhinweg comes to the Jets to "attack." [Associated Press] According to Deadspin.com, Marty Mornhinweg was the worst head coach in the modern era, for his time with the Detroit Lions in '01-'02.  But, thankfully, that's not why he's with the New York Jets in 2013. Mornhinweg is here as an offensive coordinator, to implement his West Coast style...
Jets News

Delivered to your inbox

You'll also receive Yardbarker's daily Top 10, featuring the best sports stories from around the web. Customize your newsletter to get articles on your favorite sports and teams. And the best part? It's free!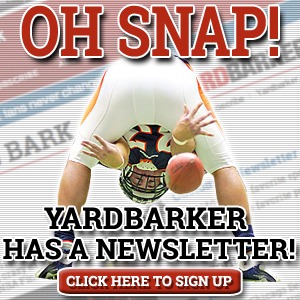 Latest Rumors
Best of Yardbarker

Today's Best Stuff

For Bloggers

Join the Yardbarker Network for more promotion, traffic, and money.

Company Info

Help

What is Yardbarker?

Yardbarker is the largest network of sports blogs and pro athlete blogs on the web. This site is the hub of the Yardbarker Network, where our editors and algorithms curate the best sports content from our network and beyond.