Found December 17, 2012 on Turn On The Jets:
PLAYERS:
Rex Ryan
,
Tim Tebow
,
Mark Sanchez
,
Leon Washington
,
LaDainian Tomlinson
,
Shonn Greene
,
Joe McKnight
,
Mike Goodson
,
Isaac Redman
,
Joique Bell
,
Santonio Holmes
,
Jason Hill
,
Mardy Gilyard
,
Chaz Schilens
,
Mike Tannenbaum
,
Stephen Hill
,
Braylon Edwards
,
Plaxico Burress
,
Derrick Mason
,
Dustin Keller
,
Calvin Pace
,
Muhammad Wilkerson
,
Antonio Cromartie
TEAMS:
New York Jets
,
Seattle Seahawks
,
Oakland Raiders
,
Pittsburgh Steelers
,
Detroit Lions
As the Jets gear up for their suddenly big game in Tennessee tonight, the playoffs are more than just a pipe dream. We are all familiar with the scenarios at this point, and with Pittsburgh and Indianapolis losing yesterday, a win tonight puts the Jets right in the thick of the playoff hunt with two games to go. Should that happen, it's going to be awfully hilarious to see the outrage from other fans and media "experts" that the "garbage" Jets made it over "more deserving" teams. Just the thought of that makes me giddy. Anyway, it's a borderline miracle that the Jets and playoffs are even possibly going together in the same sentence with the way some of this season has gone, and Rex Ryan deserves a ton of credit for having this team in this position. The Jets roster was extremely poorly constructed as we've been over time and time again, and if we knew back in September that some of the Jets stats would look the way they do at this point in the season, we'd think we would be scouting who to take with our top-5 draft pick. Seriously, that the team is in position to win 9 games this year with some of the stats that they've produced this year will blow your mind. I present to you the top 8 head-scratching Jets stats of the 2012 season. Tim Tebow – 87 rush yards, 3.0 yards per carry, 0 TD's – The Jets marquee offseason transaction was brought in here to bolster the run game, help in short yardage, and give defenses a whole new wrinkle to worry about. Well, it hasn't quite worked out like that. As the season progressed and the Jets sent Tebow out on the field less and less, it became painfully clear that Rex Ryan had about as much use for Tim Tebow as he would have for another hole in his head. Through 13 games, Tebow has amassed a whopping 29 carries and was never given any sort of consideration to be a "real" quarterback. Tebow was supposed to play a major role this year, and if you knew he'd have dressed for 12 of the 13 games and put up these stats, you'd think something was wrong. Running Backs have 29 total catches – That's the combined amount from all the running backs and fullbacks that have suited up in the Green and White this year — 29 through 13 games. When Mark Sanchez was at his best (and I use that term loosely), it was when he had a strong running game and an excellent receiving threat out of the backfield to check down to. First it was Leon Washington, then it was Ladainian Tomlinson, and now it's… well, nobody. By comparison, in 2010 Tomlinson himself had 52 catches, and as a team the running backs had 76. That's a major component of the offense that was just ripped away, and if I knew in September that we'd be at 29 at this point in the season I'd have some serious concerns. Running Backs have 4 total plays over 20 yards – Speaking of having serious concerns about our running backs, we have a whopping FOUR plays over 20 yards, three on runs and one on a pass play. Three of them were by Shonn Greene, and one by Joe McKnight. By comparison, Adrian Peterson has 20. He's the best back in the league, but what about lesser players you ask? Well, Chris Ivory, who plays sporadically in New Orleans, has 3 runs over 20 yards himself. Mike Goodson of the Raiders has 3, Isaac Redman has 3, Bryce Brown has 6, Joique Bell has 3. It's simply unacceptable that the Jets have no big play capability whatsoever. Joe McKnight averages 5.9 yards per carry, doesn't get to play – Oh wait, the Jets do have some big play capability in their backfield, he just doesn't play for some reason. That McKnight only has 25 touches (24 carries, 1 catch) on the season is a travesty. We can't throw this guy some screens or swing passes? Really? Santonio Holmes is 3rd on the team in Receiving Yards – Remember Santonio Holmes, the wide receiver who was lost for the season way back in WEEK 4? Yep, that guy is still third on the team in receiving yards with 272. Hard to believe Jason Hill, Mardy Gilyard, Chaz Schilens, and the other stud receivers brought in by Mike Tannenbaum this year haven't been able to surpass that total, huh? Oh wait, no, that isn't surprising at all actually. Stephen Hill 12.0 yards per catch, Chaz Schilens 9.9 ypc – These two guys were brought in to compete for the #2 receiver job and provide the badly needed deep threat that was missing last year after Braylon Edwards was replaced by the slow-moving Plaxico Burress and 87-year-old grouch Derrick Mason. Well, it hasn't quite worked out that way, and the Jets receiver position was in such poor shape that Jets fans everywhere acted as if Calvin Johnson was brought in when Braylon was re-signed last week. In 2009, Braylon averaged 15.5 yards per catch and in 2010 that number went up to 17.1. Now THAT is a deep threat. THAT is what this offense and Mark Sanchez were missing. If we knew Schilens was averaging single digits per catch and our running backs couldn't break a long play to save their lives, would you think we're in position to make the playoffs? Dustin Keller caught 28 of 36 targets – That number just seemed high to me. It's too bad he wasn't healthy at all this year, because it was clear he was the only receiving threat to have any sort of chemistry with the quarterback. Calvin Pace has 2 sacks, 1 tackle for loss, makes $7.3 million – Calvin Pace is supposed to be our best OLB, and our top threat to get to the quarterback from the edge. Well, that isn't quite the case, because instead of actually going after the quarterback, he has decided to master the art of running 2 steps forward, extending his arms, and just standing next to the offensive tackle until the play is over. I'm no mathematician, and I would hate to go all Darren Rovell on you, but it looks like this year the Jets are paying Pace just under $2.5 million for every play he makes behind the line of scrimmage. NOT BAD! I wish there were basic stats to show just how well Muhammad Wilkerson and Antonio Cromartie are playing, because they've been far and away the best players on this team, and I didn't want it to be all negative stats. For a good look at them, you should definitely check out Chris's Defensive Film Breakdown, or just take my word that they're both playing really, really well this year. Unfortunately, the rest of the team hasn't quite kept up their end of the bargain and these 8 Head-Scratching Stats should really help you appreciate the job Rex Ryan has done this year making chicken salad out of chick– well, you know what I'm saying…
Original Story:
http://turnonthejets.com/2012/12/8-he...
THE BACKYARD
BEST OF MAXIM
RELATED ARTICLES
PRAY FOR A CHANGE
The Jets' supposed backup QB is not happy that the team is thinking of starting Greg McElroy over him in Week 16, and may even consider asking out of NYC in the offseason.
According to Mike Freeman of CBS Sports, quarterback Tim Tebow feels misled by the New York Jets, since when he was acquired in the offseason he was told that he would have a shot to start if Mark Sanchez was either  benched or went down with an injury. The reason Tebow hasn't gotten a chance to start is because he's been so bad in practice and the Jets clearly realize now that...
Now that the New York Jets have named Greg McElroy as their starting quarterback for Sunday's matchup against the San Diego Chargers over Mark Sanchez and Tim Tebow, there will surely be a few offseason shakeups as a result. One of these is expected to come in the form of Tebow requesting to be traded or released following if McElroy starts the two remaining games, reports Manish...
According to Manish Mehta of the New York Daily News, Jets quarterback Tim Tebow will request to be either traded or released if Greg McElroy starts the final two games of the regular season. Next domino in Jets QB situation: Tim Tebow will request to be traded/released after season assuming McElroy starts last 2 games, per source — Manish Mehta(@MMehtaNYDN) December 19, 2012 ...
Tim Tebow formally of the Florida Gators and now of the New York Jets came in on a short yardage situation and seized the day. CARPE DIEM! Tebow came in and got the first down against the Tennessee Titans. Mark Sanchez couldn't have down that.
Tim Tebow will ask the New York Jets to trade or release him after the season assuming Greg McElroy starts at quarterback for the team's final two games, Manish Mehta of the New York Daily News reports. Mehta's report, which he calls the "next domino" in the Jets' quarterback situation, comes after coach Rex Ryan named McElroy the starting quarterback for the team's Week...
The New York Jets have decided to finally bench Mark Sanchez at quarterback, but they're not replacing him with Tim Tebow. Instead, head coach Rex Ryan announced on Tuesday that Greg McElroy, who entered the season as the team's third-string QB, will get the start. Though Tebow has not publicly complained, he reportedly feels like the Jets misled him about his opportunity to...
New York Jets coach Rex Ryan flip-flopped on Tim Tebow's possible role in Monday night's game against the Tennessee Titans. Ryan told reporters Friday that Tebow may serve as a personal protector on punts and might see action in the Wildcat formation on offense. Earlier in the week, Ryan said Tebow would not perform those functions. Ryan changed his mind after watching...
  The Mayans predicted this. The Mayan calendar ends in the same week the Jets lost their 2012 playoff bid. The Mayans saw this coming and that makes them whole lot smarter than the New York Jets organization. A report on NFL.com says the Jets are likely to make a (long overdue) quarterback switch when they face the Chargers this Sunday. Tim Tebow will not start for the...
"That's the way this game should end. That's the way the Jets season should end. Ugly and a loss." Mike Tirico couldn't have said it any better. Before Monday night's humiliating loss in Tennessee, the Jets were the NFL's version of The Walking Dead. After 15 weeks of play that fluctuated between hideous and atrocious, somehow, someway, they were still alive in the...
NFL News

Delivered to your inbox

You'll also receive Yardbarker's daily Top 10, featuring the best sports stories from around the web. Customize your newsletter to get articles on your favorite sports and teams. And the best part? It's free!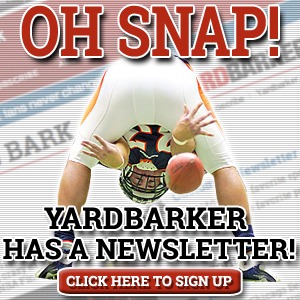 Latest Rumors
Best of Yardbarker

Today's Best Stuff

For Bloggers

Join the Yardbarker Network for more promotion, traffic, and money.

Company Info

Help

What is Yardbarker?

Yardbarker is the largest network of sports blogs and pro athlete blogs on the web. This site is the hub of the Yardbarker Network, where our editors and algorithms curate the best sports content from our network and beyond.