Found November 17, 2012 on Buzz On Broad:
If there is anymore excitement to be generated from the 2012 Philadelphia Eagles, it will be due to the play of rookie QB Nick Foles.  The remainder of this season should be all about whether or not Foles is the future of this franchise.  Assuming he plays for the rest of the season, there are some things we can look for in order to determine if he is, in fact, the future. As I've stated previously, there is absolutely no reason to play Michael Vick any longer.  There is nothing to be gained by sticking with Vick, unless you want the Eagles to lose as many more games as possible in order to get a better draft pick. While having a top-10 pick next April would be a nice consolation prize for a crappy season, I'm more concerned with finding out if Foles has what it takes to be a good NFL quarterback.  If he is, we won't have to worry as much about landing that top-10 pick.  If he's not, then we'll be getting that pick anyway. Nonetheless, the rest of this season should be about analyzing Foles.  Here are some things to pay attention to when watching him (again, assuming he plays these last seven games): 1. Arm strength.  Coming out of college, there hasn't been a knock on him as far as this goes.  But still, it's something you want to see for yourself in the pros.  We saw a little glimpse of it when he launched the 44-yard TD pass to Jeremy Maclin last week that went about 50 yards in the air. However, that throw had a little air under it.  It would have been nice to see it not have so much of an arc.  That leads to these questions: Can he throw a "frozen rope" 20-30 yards down-field?  Can he throw a deep-out?  Not that you want to see this, but does he have the strength to roll to one side of the field and throw the ball back across to the other side without it hanging in the air too long? Can he beat a defender that's making a move on the ball by rifling it in there to the receiver?  Not every QB has a rocket arm, but those that have better than average arm strength can make throws that others cannot. 2. Accuracy.  This one is obvious...can he put the ball between the numbers on the receiver's jersey?  However, accuracy will also account for putting the ball in the best place possible for a receiver to make the catch. Sometimes that means placing it ahead, above, behind or on the backside shoulder of a receiver.  Sometimes we see a QB make what looks like a bad throw, but many times it's his attempt at putting the ball in a place where the receiver can make a play on it without it getting broken up by the defender. This is where the importance of receivers and quarterbacks having "chemistry" comes in. 3. Timing.  Accuracy and timing go hand-in-hand most of the time.  Timing is about anticipating where a receiver will be as opposed to where he is at the time of the throw.  This is one of the most important aspects in running a West Coast offense. And, it's something we've rarely seen around Philadelphia in a long, long time.  Donovan McNabb and Michael Vick were not good in this aspect.  They almost always have had to wait until the receiver becomes wide open and is stationary (at times) before making the throw. I'd like to see that change with Foles.  Can he put the ball where the receiver is supposed to go?  This, too, is all about chemistry with the receiver.  When it works, it's a beautiful thing and can lead to big plays.  When it doesn't, it can lead to big plays going the other way (see Romo, Tony and Bryant, Dez). 4. Pocket presence.  This is another innate intangible that most good quarterbacks have.  Can he "feel" the rush?  Does he know when to side step a little bit?  Does he know how to make those subtle shifts in positioning in order to avoid a rusher and make a balanced throw? Will he stand tall in the pocket and wait to the last mili-second when needed to make the throw?  Does he set his feet when he throws or is he throwing off his back foot and/or off-balance? Will he get "happy feet?" Granted, the Eagles' offensive line is in shambles right now.  However, that doesn't mean it will be acceptable for Foles to develop a case of happy feet.  I want to see how he handles it both physically, and more importantly, mentally. 5. Vision.  This goes hand-in-hand with his pocket awareness, but it's worth mentioning on its own.  I've often been flabbergasted when seeing some replays when Vick and McNabb have played where I see a receiver coming wide open, yet they don't see him. Drives me nuts, actually. Therefore, I want to see if Foles is able to survey the field and "see" what is developing in right in front of him and also down the field, at the same time.  Can he progress through his reads or does he have a habit of locking-in on a receiver?  Can he look receivers off in order to "fool" the defender? 6. Defense recognition.  Simply put, can Foles read a defense?  Can he recognize a blitz?  This subject has been a sore spot in regards to Vick, as this is one of his biggest criticisms. Rookie QBs are often fooled by creative defensive formations and blitz packages that are designed to do just that, fool the quarterback.  However, there are times when blitzes are rather obvious and should be able to be diagnosed at the line of scrimmage (see Vick, Arizona game). I'm not looking for Foles to be Peyton Manning-ish when it comes to reading a defense just yet, but we need to see if he at least recognizes the basics and perhaps a little more.  And more importantly, if we see him progress in this area as he goes. 7. Competitiveness.  This one is hard to discern in a lot of ways unless you actually know the person.  However, there are certain things to look for that can give you a clue as to how "fiery" a quarterback is. Do you personally know Tom Brady or Peyton Manning?  I'm sure that answer is no, but you would think of them as "competitive" guys, right?  How do you know that?  Because they show it with their body language and emotions on the field. These guys get pissed-off when things don't go right and get excited when they do.  It doesn't necessarily mean Foles has to start yelling and cursing on the field over a bad play, but it would be nice to see some form of disappointment, or better yet, anger. What I don't want to see is a hang-your-head quietly demeanor.  Or some sort of "aww man, damn, oh well" demeanor.  I don't know about you, but I used to hate to see McNabb's reaction to bad plays.  Vick is the same way as McNabb was in that regard. Both guys didn't seem to have any fire in them.  They have/had more of a deflated disposition over a bad play rather than angry one.  I want my QB getting pissed and then working on correcting things. Furthermore, I don't want to seem him smiling on the sidelines while your team is getting blown-out (see Vick, Atlanta game). On the flip side, how excited does he get after a good play?  Is he high-fiving, chest-bumping or doing some other celebratory acts?  Does he get pumped up?  Or is he more level-headed and quiet and just give out a couple "low fives" helmet taps and "good jobs"? I want to gauge what kind of competitor this guy is. 8. Leadership.  This is another obvious ability any QB needs to have and it's also hard to discern for those not close to the person.  I mean, how can I honestly say whether or not a particular player is a leader? I can't, and neither can you.  However, we can discern this a little bit by his actions on the field, his demeanor (and actions) on the sideline, and from what his teammates may say about him. I'm sure that his offensive teammates will be asked at some point how Foles commands the huddle and runs the plays.  If he's confident in what he's saying and doing, his teammates will recognize it immediately and will respond to him. Will we see him communicating with his receivers and linemen on the sideline and on the field?  Will he take charge of the offense and help give the players some direction, particularly in an audible situation? As I said, leadership is hard for anyone outside of the team to truly gauge, but it's a thing that we will gradually come to know over time.  Have you ever thought of McNabb or Vick as a real "leader?" I never did.  Do I think Drew Brees, Manning, Brady and Rodgers are good leaders?  Yes, I do.  Why do I think that?  I'm not sure, but it's likely because of what I've seen and heard from them over time.  It's just something we can kind of pick-up on after a while and it doesn't necessarily have to do with winning or losing. All of these are things we can look for in Foles, according he plays the remainder of the season.  If Reid does us a disservice and decides to put Vick back in, one or two games will tell us nothing.  Heck, even seven games isn't a great sample size and won't fully answer all of those questions. What we need to see are glimpses of potential in these areas.  Some of these traits won't become apparent until he becomes a little more seasoned and gains some confidence. However, this is the time to start the assessment.  We need to know if Foles can be the future starting QB of this team or not.  And the only way we can start finding out is if he plays. Hopefully, Reid will just let him play.  Hell, a byproduct could be that Foles gives this team a lift and they start winning a few games because it certainly can't get any worse. We can only gain from starting Foles from here on out, and if he turns out not to look that good, did we really lose anything as far as this season goes? Follow Dave Stoessel on Twitter for more Eagles news and discussion!
Original Story:
http://www.buzzonbroad.com/2012/11/8-...
THE BACKYARD
BEST OF MAXIM
RELATED ARTICLES
The remainder of the 2012 Philadelphia Eagles season should be all about whether or not Nick Foles is the future of this franchise.  Assuming he plays for the rest of the season, there are some things we can look for in order to determine if he is, in fact, the future. If there is to be anymore excitement generated by the Eagles, it will be due to the play of Foles and how it energizes...
Nick Foles practiced with the first team this week and stuck around for extra film work. He's ready to make his first career NFL start for the Philadelphia Eagles. All he needs now is to officially and publicly be named the starter. The Eagles again practiced another day without injured quarterback Michael Vick. The veteran has sat out since suffering a severe concussion in...
All eyes will be on Nick Foles come Sunday at FedEx Field. Photo via New York Daily News. We all know that football is a team sport and that to get a win, all phases of the game must come together to propel a group to victory. But come Sunday, it's going to be all about the quarterbacks. When the Philadelphia Eagles face the Washington Redskins at FedEx field on Sunday afternoon...
Rookie Nick Foles will start in place of Michael Vick at quarterback Sunday for the Philadelphia Eagles. Vick suffered what coach Andy Reid described as a "significant" concussion last week and was ruled out of Sunday's game against the Washington Redskins, according to multiple reports Friday. Vick hasn't practiced with the team this week. Foles, a third-round...
Will Nick Foles be able to perform with the weight of the Eagles franchise on his back? Michael Vick is still feeling the effects of a substantial concussion, and will not be ready for Sunday, and may not be ready to play for quite some time. That leaves the Philadelphia Eagles at 3-6 with their rookie QB Nick Foles set to take over the reins. I'm sure Foles will try to say something...
Philadelphia Eagles quarterback Michael Vick is still experiencing symptoms from last week's concussion, including fogginess, headaches, fatigue and heavy eyes. He's obviously out for Sunday's game and Nick Foles will start in his place. Vick has been advised to spend the weekend in the dark. No video, no noise and no exercising. While he's out of commission, Vick can't...
LANDOVER, Md. - Washington had lost eight straight games to rookie quarterbacks over seven seasons before Sunday, and Philadelphia had jumped ahead of the Redskins by wide margins the past two years at FedEx Field. However, those Redskins teams didn't have Robert Griffin III. Washington's rookie quarterback led the Redskins to a surprisingly easy 31-6 victory over the visiting...
The Eagles were anything but a picture of confidence as they prepared to walk onto FedEx Field on Sunday. Image via the Philadelphia Eagles. The Philadelphia Eagles may not win another game in 2012. It's not a statement made to be alarmist. It's one that may well be the reality. I'll still be watching/suffering through ever single game. But there are no longer any expectations...
Many Philadelphia Eagles fans have been clamoring for rookie QB Nick Foles to start a game in place of veteran QB Michael Vick. Those fans got their wish on Sunday and the results were disastrous.  The Eagles were defeated by their divisional opponent, the Washington Redskins 31-6 on Sunday afternoon and the question now needs to be asked- will head coach Andy Reid last through...
Let the smart phans take it from here on Eagles Game Day Week 11... they know what's on the line for the Eagles down at Fed Ex Field today in a 1 P.M. start against the Redskins. It's basically NFC East elimination day for the loser.           Throw out all the stats. Turnover and takeaway ratios based on the past are now meaningless. It...
NFL News

Delivered to your inbox

You'll also receive Yardbarker's daily Top 10, featuring the best sports stories from around the web. Customize your newsletter to get articles on your favorite sports and teams. And the best part? It's free!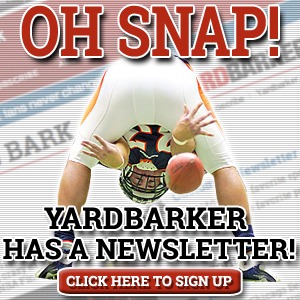 Latest Rumors
Best of Yardbarker

Today's Best Stuff

For Bloggers

Join the Yardbarker Network for more promotion, traffic, and money.

Company Info

Help

What is Yardbarker?

Yardbarker is the largest network of sports blogs and pro athlete blogs on the web. This site is the hub of the Yardbarker Network, where our editors and algorithms curate the best sports content from our network and beyond.