Found May 15, 2012 on Waiting For Next Year:
I don't know if it is unique to Cleveland that Armond Smith could be such a big topic of conversation, but it sure feels that way. Smith was cut in favor of Adonis Smith yesterday after apparently getting beat out in rookie camp with shorts on. This morning on Kiley and Booms I heard Bud Shaw once again mention that at least we wouldn't see Pat Shurmur running Armond Smith on 4th and 1. It goes to show that the more I mature, just how far I still have to go because it made me angry. I know Bud was just going for an easy punchline, but let's not re-write history here. First of all, I need to talk about a comedy rule of three that I have been obsessed with lately. I heard Aziz Ansari talk about it and I think he was paraphrasing Joe Rogan. Or maybe he was paraphrasing Louis C.K.'s appearance on Joe Rogan's podcast? Anyway, I am continuing the game of telephone and paraphrasing the paraphraser. The idea in writing jokes is that you have to go three levels for truly good and original comedy. When a topic comes up, the first thought you have is the joke that everyone comes up with. The second joke is better than the first, but it is still probably a bit facile. The third joke will be truly original. It isn't a hard, fast rule, but that's the idea. References aren't jokes and are rarely good punchlines. Using Armond Smith's run on 4th and 1 is quite simply the first crack available and as I think I proved it is nothing more than just second-guessing the coach because it happened not to work. So let's get back to that play one final time as we bid farewell to a 4th string running back that won't even be a footnote in Cleveland Browns history. I'll spare you all the pictures because you can go back and look at them on the original post, but let's remember that the Browns ran Hillis up the middle on 3rd and 1. They used the identical set with Hillis and Armond Smith lined up parallel in the backfield for two straight plays. On 3rd and 1 with at least eight Titans playing up to stop the run, Hillis and his offensive line got blown up and didn't convert. This is what gets me so crazy when people say, "How do you run Armond Smith on 4th and 1 when you have Hillis on the team??!?!??" The implication is that Pat Shurmur for all his head coaching rookie-ness was clearly too stupid to use his big back in short yardage situations. It is silly. He did use his big bruising back and basically lined up his guys and gave them the opportunity to just beat the Titans at the line of scrimmage. It didn't work. They didn't get it done. Then, Shurmur decides to go for it on 4th and 1. He lines up Hillis and Smith the same way and the Titans are lined up almost the exact same way they were on the previous play. McCoy fakes to Hillis and pitches out to Armond Smith. Smith had Joe Thomas and Alex Smith blocking as a safety was closing in the open field. Armond Smith just had to beat one safety. The 5'9″ 25-year-old with almost mesmerizing amounts of speed and elusiveness had to beat one player – safety Michael Griffin –  in the open field and Griffin trips him up around the ankles. There's nothing funny about that for anyone. Armond Smith had three regular-season attempts for the Cleveland Browns. That was his lone attempt in that game. He never got another chance after that. Given the opportunity, it's hard to question Shurmur burying him after that. Armond Smith was apparently just not good enough. Given a chance in the open field with one man to beat and at least 20 yards available thereafter, Smith let a safety stop him with a soft tackle on 4th and 1 as the Browns trailed the Titans 14-6. The Browns would go into halftime down 21-6 on the way to a 31-13 defeat that wasn't even as close as the scoreboard. And so we end an era exactly as it started… with far too many words. That's just the way it goes for Browns fans who wait for a team to win enough that the cutting of a fourth string running back becomes a real topic of conversation. Here's hoping we never really have to talk about Adonis Thomas unless he actually does something great in the NFL. A little bit of winning will all but guarantee that comes to pass. (Photo from SomeEcards.com)
Original Story:
http://www.waitingfornextyear.com/201...
THE BACKYARD
BEST OF MAXIM
RELATED ARTICLES
HAVING A BALL
A Twitter follower without a date to prom asked Joe Haden if he'd like to take her, and much to her surprise, he replied back that he'd love to.
SHOCK AND LAW
Citing concussions as the reason, undrafted rookie Andrew Sweat passed up a chance to make the Cleveland Browns in order to go back to law school.
I was unable to make it to rookie camp this weekend to see and behold the skills of Brandon Weeden and Trent Richardson. In some ways that's probably a good thing. I learned last year in regular training camp that it is quite a vacuum to look at football. Without some serious perspective it is easy to think the team is far better or far worse than reality. That doesn't mean it...
If you thought it was hard enough to believe Mike Homgren last week when he said he expected the 2012 Browns to make "a pretty good jump," here comes the people who risk real money on these promises to say that if Pat Shurmur's charges are going to make any kind of significant jump next season, it'll be backward. As reported last week, Cantor Gaming, which operates the sports...
The Browns have cut running back Armond Smith and signed linebacker Emmanuel Acho, one of their 11 draft picks. Smith made Cleveland's roster last season as an undrafted free agent. He played in three games and spent 11 weeks on the team's practice squad. Acho, who started 48 career games at Texas, was selected in the sixth round. His signing leaves running back Trent Richardson...
Cleveland Browns DB Joe Haden saved the prom dreams of an Ohio girl after her date bailed on her at the last minute. Joyce Grendel asked Haden if he would attend her high school prom with her, a bold step taken via Twitter after her original date backed out in the days before the event. To [...]
The AFC North is always tough, and 2011 was no exception. All four teams were in the top 10 in overall defense. They made up half of the AFC playoff teams, going a combined 25-15 outside the division. Even the Browns were an almost respectable 4-6 outside the AFC North. 2012 should be similar. So getting a better look at the rest of the division to see what should be coming our way...
According to Mary Kay Cabot of the Cleveland Plain-Dealer, the Cleveland Browns are optimistic that defensive tackle Phil Taylor will be able to make a significant impact during the 2012 season, despite the fact that he just tore his pectoral muscle. I think Taylor will start out the regular season on the PUP (physically unable to perform) list, which will force him to miss the...
Browns defensive tackle Phil Taylor has undergone surgery to repair a torn chest muscle he injured while lifting weights. Taylor tore his left pectoral muscle while bench pressing during the offseason conditioning program last week at the team's facility. A Browns spokesman said the surgery ''went well'' and the 335-pound Taylor is resting comfortably at the...
CLEVELAND (AP) -- Browns defensive tackle Phil Taylor has undergone surgery to repair a torn chest muscle he injured while lifting weights. Taylor tore his left pectoral muscle while bench pressing during the offseason conditioning program last week at the team's facility. A Browns spokesman said the surgery "went well" and the 335-pound Taylor is resting comfortably...
What I will tell you is we've got a freshman at Alabama that'll probably make us forget about Trent Richardson already. They're that good down in Tuscaloosa right now. Trent's a physical player. So is Ray [Lewis]. They asked [Ravens top draft choice] Courtney Upshaw about playing against Trent, and he said, 'I think I can get him on the ground.' That's what's fun...
NFL News

Delivered to your inbox

You'll also receive Yardbarker's daily Top 10, featuring the best sports stories from around the web. Customize your newsletter to get articles on your favorite sports and teams. And the best part? It's free!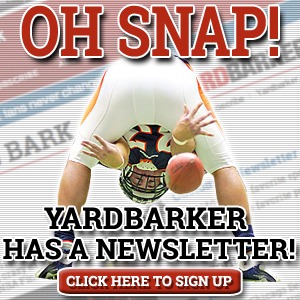 Latest Rumors
Best of Yardbarker

Today's Best Stuff

For Bloggers

Join the Yardbarker Network for more promotion, traffic, and money.

Company Info

Help

What is Yardbarker?

Yardbarker is the largest network of sports blogs and pro athlete blogs on the web. This site is the hub of the Yardbarker Network, where our editors and algorithms curate the best sports content from our network and beyond.