Found January 21, 2012 on The Show Speak:
Raise your hand if you got a little Te-bow-itis over the last few months.
CNN  (Tim Tebow raises his hand)
Tim Tebow isn't a NFL quarterback.  Tim Tebow is a perfect role model.  Tim Tebow leads Broncos to win.  Tim Tebow is terrible in Broncos loss.  Tim Tebow is a playoff hero.  Vote for Ron Paul.  Tim Tebow has one of the worst playoff performances ever.  Tim Tebow gets asked to Phi Lamb formal dance (87,000 You Tube hits) by random chick via You Tube.  Tim Tebow turns down CBS offer to be an analyst for the AFC championship game this weekend.  Tim Tebow goes to Vegas - I bet you he is not doing Vegas like my boy Jade is this weekend.
I'm guessing Tim Tebow is a little embarrassed about all this attention. 
All this Tebow attention has been created by space filling time for the 200 hours of NFL related football content found weekly on your flat screen television.  The irony of all of this Tebow mania is he appears to be the same person from 3 years ago when he was leading the Florida Gators to a BCS college football championship. 
If we focus on anything about Tim Tebow after this season, why don't we focus on his consistency, boundary setting, and accountability....as a person.  He does not allow his mouth to write checks his ass can't cash.  He isn't riding this wave of Tebow-mania and banking every endorsement deal available.  In fact, he has reportedly turned down seven figure endorsement deals.  Saturday Night Live and CBS Sports called - and he said "no thank you." 
He is firm with his personal boundaries.
He is consistent on doing the best he can do. 
He is accountable to himself and his principles. 
Instead of the envy, jealousy, and confusion that Tebow mania has created - maybe we should all just take a moment and try to set our personal boundaries, be consistent, and be accountable to the best of our ability to ourselves.
This doesn't mean you have to be Tim Tebow, be mad at Tim Tebow, or try to act like Tim Tebow (I refuse to snip foreskin of Filipino kids on a Spring Break-boundaries). 
It does mean - do the right thing for yourself, followed by doing the next best thing in front of you. 
Enjoy the NFL AFC and NFC championships this weekend....without Tim Tebow.
Until Next Time,
Craig Turley
@OldNBABalls
Bonus feature -Tebowing with the Fantasy Chix: (en espanol)
var _gaq = _gaq || []; _gaq.push(['_setAccount', 'UA-22599031-1']); _gaq.push(['_trackPageview']); (function() { var ga = document.createElement('script'); ga.type = 'text/javascript'; ga.async = true; ga.src = ('https:' == document.location.protocol ? 'https://ssl' : 'http://www') + '.google-analytics.com/ga.js'; var s = document.getElementsByTagName('script')[0]; s.parentNode.insertBefore(ga, s); })();
Original Story:
http://feedproxy.google.com/~r/ShortS...
THE BACKYARD
BEST OF MAXIM
RELATED ARTICLES
A LITTLE BIT COUNTRY
Via @TimTebowFanClub Tim Tebow made it on stage with Brad Paisley and sung a few lines with him in Denver, Colorado. All of this took place on January 21st. Tim Tebow and the Denver Broncos just lost to the New England Patriots who take on the Baltimore Ravens today. Tebowmania has taken the country by storm. He amazed people when he was at the University of Florida and did the...
OK, we all know betting on sports is illegal in 46 states, so don't do it unless you're in Vegas, Oregon, Montana or Delaware, but if you're going, you can make these bets for me. Baltimore at New England (-7.5), Sunday, 2 p.m. — This one is really tough to pick. The Patriots won a horrible mismatch last weekend in Foxboro against Tim Tebow and the...
After possibly their biggest win of the season, the Denver Broncos turned in a lousy performance against the New England Patriots last Sunday, jotting down a disappointing mark in the L column. It would appear though that there was a more than reasonable explanation behind the loss: Tim Tebow, the QB who had pretty much achieved legendary status just a week ago was little more than...
Broncos News

Delivered to your inbox

You'll also receive Yardbarker's daily Top 10, featuring the best sports stories from around the web. Customize your newsletter to get articles on your favorite sports and teams. And the best part? It's free!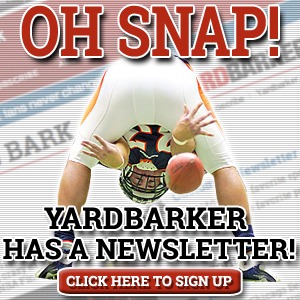 Latest Rumors
Best of Yardbarker

Today's Best Stuff

For Bloggers

Join the Yardbarker Network for more promotion, traffic, and money.

Company Info

Help

What is Yardbarker?

Yardbarker is the largest network of sports blogs and pro athlete blogs on the web. This site is the hub of the Yardbarker Network, where our editors and algorithms curate the best sports content from our network and beyond.