Found May 03, 2013 on NESN.com:
FOXBORO, Mass. — For years now, rookie and veteran wide receivers have come to Foxboro and had difficulty picking up the Patriots' playbook. Fortunately, rookies Aaron Dobson, Josh Boyce and T.J. Moe have heard how tough the playbook can be to learn, and they're prepared. Maybe it's just naivety from the new Patriots rookies' part, or maybe they can break the curse of the newcomer at wide receiver, but all three players seem to be confident that they can pick up the complex system. That's something Patriots draft picks of the past, like Taylor Price, Chad Jackson, Brandon Tate and Bethel Johnson couldn't do in Foxboro. Even wily veterans like Joey Galloway, Chad Ochocinco and Torry Holt had difficulty with it. "I just feel like you gotta get accustomed to the playbook," Dobson said. "It's gonna seem different just because every playbook is different that you get into. As long as you stay in and get comfortable. I'll be fine." Dobson heard from coaches that it's a tough playbook to
Original Story:
http://nesn.com/2013/05/aaron-dobson-...
THE BACKYARD
BEST OF MAXIM
RELATED ARTICLES
New England Patriots head coach Bill Belichick feels like they got some good value by trading Jeff Demps to the Buccaneers for Legarrette Blount, according to Mike Reiss of ESPNBoston.com. "We felt like we got good value for Blount. He's a guy that we basically gave up [Jeff] Demps for, and Demps, I'd say, is less of a proven player and there were some other issues with...
New England Patriots quarterback Tom Brady says he's focused on playing the game he loves and isn't worried about what he will do after he can no longer play. "I love doing what I'm doing. I love playing. I love the preparation. I love training for playing. I love thinking 
Best Of Tom Brady 2012 (by NFLfunnies)
'Top 100 Players of 2013' Logan Mankins (by NFLgameRecap)
The New England Patriots announced their busload of rookie free agent signings Friday, adding 19 to the roster in preparation for offseason workouts.And while many of those 19 have a legitimate shot at being on the roster come September, it's two rookies from north of the border that coach Bill Belichick thinks have the upper hand at the moment.Belichick spoke with the media...
When the New England Patriots' pick came up in the first round of the draft last week, there were a bunch of big-name candidates still ripe for the picking on the board.But with shrinking cap space and only three picks to follow, New England finagled four picks for its one, allowing itself a bit of flexibility and a chance at a chunk of middle-round talent. And that's exactly...
We have yet to see him take the field, but Stevan Ridley's confidence in his recovery will definitely allow a sigh of relief for New England Patriots fans everywhere. The running back was literally knocked out cold by Bernard 'The Patriot Killer' Pollard in the AFC Championship game loss to the eventual Super Bowl Champion Baltimore Ravens. It was a scary play, as the...
Earlier this week the New England Patriots released a half dozen players.  Among those getting cut were WR Jeremy Ebert who was a late round draft pick in 2012.  The Patriots also released RB Tony Fiametta who signed before 2012 as a free agent out of Dallas and never saw the field due to family issues and G Brian Waters who sat out last season debating retirement after having...
FOXBORO, Mass. — Bill O'Brien has a long history with the New England Patriots, and he's keeping it going from his new post down in Happy Valley, Penn. O'Brien implemented a lot of the Patriots methods into the system at Penn State when he took the head coaching job there last offseason. Now, he's directing some of his players to Bill Belichick and the Patriots to continue...
The Kentucky Derby is coming up this weekend and plenty of people around the country will be keeping a watchful eye on who crosses the finish line first at Churchill Downs. Vince Wilfork will just have a better seat than most. Wilfork and his wife Bianca are in Kentucky for the annual horse racing spectacle, at least according to Mrs. Wilfork's Instagram account, and they are sporting...
FOXBORO, Mass. — Chandler Jones' brother is one of the best mixed-martial artists in the world, and his original plan for the offseason was to do some MMA training with him. Jon "Bones" Jones was preparing for a championship fight with Chael Sonnen, so the younger Jones had to change his training plans. But that didn't keep the Patriots defensive end from adding some new...
FOXBORO, Mass. — The minute T.J. Moe stepped on the field at Gillette Stadium to speak with the media, he was met with a question about Wes Welker. The comparisons between the two players are obvious. Both went undrafted, both use short-area quickness and agility more than straight-line speed to get separation, both are under 6-foot (despite Moe's generous listing) and both excel...
NFL News

Delivered to your inbox

You'll also receive Yardbarker's daily Top 10, featuring the best sports stories from around the web. Customize your newsletter to get articles on your favorite sports and teams. And the best part? It's free!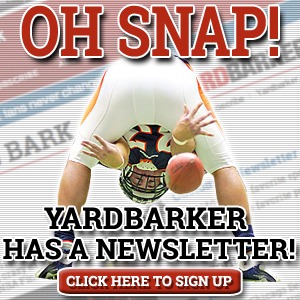 Latest Rumors
Best of Yardbarker

Today's Best Stuff

For Bloggers

Join the Yardbarker Network for more promotion, traffic, and money.

Company Info

Help

What is Yardbarker?

Yardbarker is the largest network of sports blogs and pro athlete blogs on the web. This site is the hub of the Yardbarker Network, where our editors and algorithms curate the best sports content from our network and beyond.