Found May 17, 2012 on Purple Jesus Diaries:
In a conversation that must have felt totally natural and heterosexual to him, Aaron Rodgers went on a Canadian podcast this last week called "Cabbie Presents: Softcore Gay Porn Talk The Podcast" and just talked about how much he loves dude's butts. Well, at least dude's butts that belong to his former and current centers. No joke:
"There's two main components that a center needs to have, and it's not quickness or agility or snapping or anything," Rodgers said. "It's two things: One, he has to have a good height, and I'm talking about where his butt rests. It can't be too low because I don't wanna get deep in that stance and it can't be too high so I feel like I'm standing up. It's gotta be just right. [Jeff Saturday has] got that. ... Scott Wells, my previous center [and] Jeff Saturday — great height. Great butt height.
Yes, I love having a nice butt sit at just the right height. It's perfect for a person to slide right in behind it, softly place your hands beneath the cheeks, not feel like your squatting over a toilet seat that's been peed on, but not so high that your legs are locked like you're standing nervously at a wedding. Nice butt, lofty butt. Good girth, probably, too. That's fantastic. "Butt" that's not all:
On the SECOND most important thing about a center's butt, he had this to say:
And the second is most important, and that's sweating. How much do they sweat? The worst thing that you can have is third, fourth quarter on a October day where it's 65, 70 degrees and he's sweating through his pants. Because that is not a situation you wanna be in."
Rodgers says centers can prevent such problems by changing their pants at halftime, something Packers backup center Evan Dietrich-Smith has apparently had to do:
"He has major sweat issues," Rodgers told Cabbie. "And when you get that ball snapped up and there's a lot of sweat that just splashes all over you and on your hands and the ball — it's not a good situation. So he actually has changed at halftime before. So those are the two things you look for: butt height and sweating. Jeff's doing really well in both categories. ... Low sweat ratio and solid butt height."
Can I make a t-shirt out of that? It's not copywritten or anything, is it? "Aaron Rodgers looking for in a man: Low sweat ratio, solid butt height." Would sell like hot pants.
Also, re-read these quotes and tell me you're mind isn't going straight to the *******. Sweat splashing all over your hands and balls? Changing of pants? Major sweat issues? Yes, it's TOTALLY not a situation you want to be in Rodgers. You convinced me!
Yet that's just the thing. Is Rodgers reverse trolling everyone? Is he really gay (not that there's anything wrong with that) and he just hyper-homosexualizes his conversations to make everyone wonder about it and then plays it off like, "Ha, tricked you bro, you're gay for thinking so much about it. I've just been slaying babes that look like Clay Matthews for years, not dudes!" Supreme quarterbacking and trolling talent, truly.
Of course, him also dropping these lines in the interview doesn't help much either:
When asked who his entourage would include if he were a boxer: "I don't know if I can give you any names, but it'd have to be just two big, humongously buff black dudes," he said, laughing. "And then three or four good-looking chicks. ... We gotta put the ladies out front, and the two big black dudes on either side of me as my, like, security. But they'd be like famous dudes or just super buff."
"OH, DEFINITELY BLACK DUDES, HUGE ONES OF COURSE and I guess some ladies, totally can't forget about them, I guess."
Still, he's a good ******* quarterback. I'd take him on our team, but I don't think he'd like it. I'm afraid John Sullivan has to low of a butt height. God damn hobbit.
[follow]
Original Story:
http://purplejesusdiaries.com/2012-ar...
THE BACKYARD
BEST OF MAXIM
RELATED ARTICLES
Click here to view the embedded video. Thank to my extra-innings package, I came across this commercial while watching the Brew-Crew the other day. As football season is still in hiatus, Brewer and Packer fans alike hail Rodgers at every opportunity. I would actually be curious to get Rodgers on the mound to see how fast he could sling it. Watch the snippet above great great great...
Round 1 1)   Aaron Rodgers- Rodgers should without question be not only the first QB selected in the draft, but the first player overall selected. Last year, Rodgers kept fantasy owners in every game by averaging a gaudy 25.6 fantasy points per game. No matter what other players owners surround Rodgers with, they can expect to win every week. 2)   Arian Foster- After a slow start...
GREEN BAY, Wis. -- It seems that Donald Driver may be returning to the Green Bay Packers for a 14th season.Driver, the franchise's all-time leading receiver, posted a message on Twitter that indicates he'll again be catching passes from NFL MVP Aaron Rodgers next season and continue adding to his record numbers in Green Bay."Hello everyone: I'm a packer for life...
GREEN BAY, Wis. -- Donald Driver has advanced to the final of "Dancing with the Stars."The 37-year-old Green Bay Packers wide receiver is now one of three remaining contestants with an opportunity to win it all in next week's finale.With television host Maria Menounos eliminated Tuesday night, it's down to Driver, singer Katherine Jenkins and actor William Levy...
Former Green Bay Packers running back Ahman Green would consider returning to the NFL this fall. Green, 35, told reporters yesterday that he believes he has five years left in his tank. Green has been out of the NFL for several seasons and then played in the UFL in 2010 and last season in the Canadian Football League. Green has gone as far as to say he'd be open to play special...
Packer Fans, this IS the Year of the Take Over.....2012 NFL Season.   Often times my articles contain me complaining or ranting about the failure of a Wisconsin team or a player on said team. Today I am going to go a different route. On my personal Twitter account I follow Jermichael Finley. Mr. Finley has been a lightning rod for the Packers most recent playoff loss and for his...
If time can truly heal all wounds, the strained relationship between the Green Bay Packers and former quarterback Brett Favre still needs a couple more years. With Favre now out of the NFL for good having not played during the 2011 season, the 42-year-old gunslinger and the team he led for 16 seasons the one he was later unceremoniously traded by -- can attempt to reunite and leave...
Ahman Green hasn't played in the NFL since the 2009 season, but the former Green Bay Packers running back wants to make a comeback. The 35-year-old Green has kicked around in the UFL and CFL the past two seasons but apparently feels rejuvenated. "I've got at least five years left in me to play football," Green told FoxSportsWisconsin.com. Green remains the Packers'...
Getty Images According to Lori Nickel of JSOnline.com, Green Bay Packers President and CEO Mark Murphy said that they plan on retiring Brett Favre's number 4 within the next couple of seasons. Only a classy organization like the Packers would still retire Favre's number after the way their relationship ended.  They know it's the right thing to do after the great career Favre...
At some point everyone will look back on Brett Favre's career in Green Bay and be amazed at what he was able to accomplish. Some are already able to do that, but there are plenty of Packers fans out there who are still upset over the way Favre's career in Green Bay came to a bitter end. From the moment the Packers decided Aaron Rodgers was their guy, it felt like everything Favre...
Hot News for DT Johnny Jolly
So… it's May 18th. Don't be afraid to take Megatron super early this year.     It is well past the losersbracket.com deadline for our first Fantasy Football 2012 mock draft.  We are not insane, I mean we will only go about a round here. Well… since it's past due let's get right to it. Non-PPR, QB 6 point league, 2 wr, 2 rbs and a flex.  Normal other ****. #1. ...
NFL News

Delivered to your inbox

You'll also receive Yardbarker's daily Top 10, featuring the best sports stories from around the web. Customize your newsletter to get articles on your favorite sports and teams. And the best part? It's free!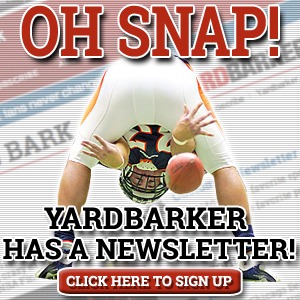 Latest Rumors
Best of Yardbarker

Today's Best Stuff

For Bloggers

Join the Yardbarker Network for more promotion, traffic, and money.

Company Info

Help

What is Yardbarker?

Yardbarker is the largest network of sports blogs and pro athlete blogs on the web. This site is the hub of the Yardbarker Network, where our editors and algorithms curate the best sports content from our network and beyond.