Found September 26, 2012 on Read And React: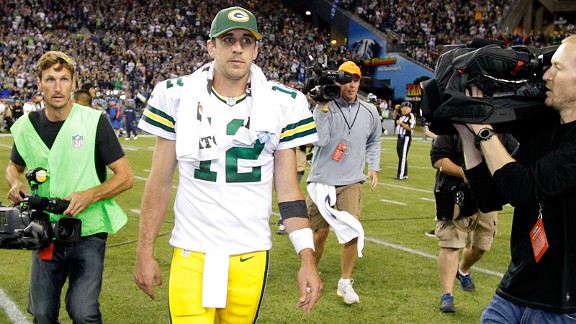 (AP Photo/Ted S. Warren via espn.com)
After being on the losing-end of quite possibly the worst call in professional football history (and certainly the most scrutinized), Packers QB Aaron Rodgers stepped up to the mic on his weekly ESPN Radio show yesterday, where he calmly and clearly stated exactly what needed to be said about the NFL and their ongoing labor dispute with the referees.
Rodgers went on a tirade about the overall stance the NFL has taken in all this, later digging into their convoluted statement about the "Innacurate Reception", and did so with unprecedented candor from an all-pro player (who have all been warned against speaking out against the refs. He even went so far as to apologize to the fans on behalf of the players, noting that the NFL would never do such a thing. And while Rodgers can most certainly expect a fine from Mr. Goodell, if finally having a marquis player step up and make a statement like this forces the league to take a long hard look at itself, then it will all be more than worth it.
You can listen to the whole thing for yourselves HERE, but these are the key excerpts:
"Some stuff just needs to be said," Rodgers said. "First of all, I've got to do something that the NFL is not going to do, and I have to apologize to the fans. Our sport is generated, the multi-billion machine, is generated by people who pay good money to come watch us play. And the product on the field is not being complemented by an appropriate set of officials. The games are getting out of control.

"Like I said in the first week, I said, 'I'm OK with replacement refs as long as they don't have a direct impact on the game.' Obviously last night there was a direct impact on the game on multiple plays that we'll get into. But my thing is I just feel bad for the fans. Because they're pay good money to watch this. The game is being tarnished by an NFL that obviously cares more about saving some money than having the integrity of the game diminished a little bit."
Rodgers went on to point out that this is a league who had previously locked out the players, and are now gambling on low-level officials who are in way over their heads.
"This is a multi-billion dollar operation against 16 to 17 crews of seven to eight of 35- to 50-year-old guys who want a little insurance on the back end, want to be taken care of for the job that they do, believe that their job is an important part of that shield, the NFL brand.

"It's obvious now more than ever – not just our game … but ours probably a little more than others – it's obvious the stance the NFL has taken."
In light of the events on MNF and the subsequent national meltdown, its clear that the players have finally reached their breaking point in this dispute . Let's hope that some of this finally breaks through to the NFL, and the two sides will be able to reach a settlement this week so we can get back to talking about the actual play on the field.
Original Story:
http://readandreact.net/2012/09/26/aa...
THE BACKYARD
BEST OF MAXIM
RELATED ARTICLES
Green Bay Packers quarterback Aaron Rodgers was under a ton of pressure in the first half of his Monday Night Football match-up against the Seattle Seahawks.  Rodgers was so jumpy in the pocket that he just simply slip and feel to the ground while trying to set his feet for a pass. This is not something you see everyday, especially from an NFL MVP. The post Aaron Rodgers Slips...
NFL players are fed up with the replacement officials, and they're no longer afraid to speak their minds about it. A handful of Packers players blasted the league on Monday night after falling victim to a horrible call in Seattle, and Drew Brees is also among those who have been critical of the officials. Aaron Rodgers bit his tongue for the most part on Monday night, not saying...
The Green Bay Packers suffered one of the most difficult losses in the history of sports, when victory was stolen from them by one of the worst game-ending calls you will ever see. Aaron Rodgers, the starting QB for the Packers and the MVP of league, issued an apology to fans across the league, one [...]
Aaron Rodgers apologized to the fans and Mike McCarthy continued to take the high road on Tuesday.
  Aaron Rodgers has not been an elite fantasy quarterback this season but should produce against  the Saints on Sunday. It is already week four in the National Football League and for fantasy football owners that means it is already time for bye weeks. For instance this week top fantasy quarterbacks such as Ben Roethlisberger and Andrew Luck are on bye weeks. Big Ben and...
GREEN BAY, Wis. -- The final play of the Packers-Seahawks game is what will most be remembered by anyone who watched the game. However, with 59-plus other minutes to evaluate, Green Bay (now with a 1-2 record this season) has a lot of work to do. Handing out grades following the Packers' 14-12 loss to the Seahawks: Passing offense: C- Between quarterback Aaron Rodgers, the...
      Kramerica Sports weekly player rankings are based on Yahoo Sports standard scoring settings. Positional ranks are based on numerous factors, including opposing defense, historical data, player health, gut feelings, and other classified variables.     Play of the Week- Look for Aaron Rodgers to bounce back from the Monday Night Football debacle with a top 5 performance...
The New Orleans Saints and Green Bay Packers have been two of the NFC's best for the past 3 years and have had some of the most explosive offenses in history, largely due to the play of their all-pro QBs, Drew Brees and Aaron Rodgers. This year, the pass-happy offenses that lit up the league [...] [[ This is a content summary only. Visit my website for full links, other content, and more! ]]
GREEN BAY, Wis. Though Packers coach Mike McCarthy and quarterback Aaron Rodgers handled their post-game press conferences with some restraint, the same was not true for a few of Green Bay's players on Twitter. After the Packers lost on Monday night in Seattle against the Seahawks on a last-second hail-mary touchdown, a play that replays conclusively showed was called incorrectly...
The 2012 NFL Fantasy Football season is now three weeks old. If you have been paying close attention, some of the stats thus far from players who have been perennial first or second round picks have simply been mind blowing. It almost resembles bizarro world. Players who went as top picks have been huge disappointments. Players who were not even drafted have climbed up their team's...
After three weeks the tables have turned in the NFC North and the two teams at the bottom from last season are sitting a top the standings with a tenuous one game lead. Let's take a look at five things to watch this week in the black and blue division.Can the Packers recover from the beat down in Puget Sound?Everyone in America has seen the play that ended the game in Seattle...
I drafted me first too Juan… QB Rankings Rank Player (matchup) ECR™ vs ECR 1 Aaron Rodgers (GB vs NO) 1 0   Rank Player (matchup) ECR™ vs ECR 2 Matt Ryan (ATL vs CAR) 2 0   Rank Player (matchup) ECR™ vs ECR 3 Drew Brees (NO at GB) 5 -2   Rank Player (matchup) ECR™ vs ECR 4 Robert Griffin III (WAS at TB) 4 0   Rank Player (matchup)...
Packers News

Delivered to your inbox

You'll also receive Yardbarker's daily Top 10, featuring the best sports stories from around the web. Customize your newsletter to get articles on your favorite sports and teams. And the best part? It's free!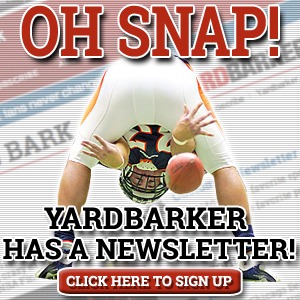 Latest Rumors
The Backyard

Today's Best Stuff

For Bloggers

Join the Yardbarker Network for more promotion, traffic, and money.

Company Info

Help

What is Yardbarker?

Yardbarker is the largest network of sports blogs and pro athlete blogs on the web. This site is the hub of the Yardbarker Network, where our editors and algorithms curate the best sports content from our network and beyond.