Credit: Yahoo! Sports As first reported by Adam Schefter, Karlos Dansby is visiting with the Buffalo Bills Monday, April 22nd and into Tuesday the 23rd. Dansby is currently a free agent after being released by the Miami Dolphins on March 12th. Dansby had signed a 5 year/$42.5 million contract with the Dolphins in 2010 as one of the most highly sought after free agents. This off-season the Dolphins signed Dannell Ellerbe to a 5 year/$35 million contract. Miami believes they signed a younger and cheaper version of Dansby so the team cut ties with the 31-year old ILB. In doing so, the team created $3.9 million in cap space. Career In Dansby's nine year career, he has notched a total of 885 tackles, an average of 98 tackles a year. Dansby reached career highs in tackles (total and solo) in 2012 when he made 134 total tackles (101 solo). For his career, Dansby has a total of 31.5 sacks, with a career best eight sacks in 2007 with the Cardinals. Dansby also has 42 passes defensed in his career along with 11 interceptions and 15 FF. Miami Dolphins 2010-2012 According to Pro Football Focus, Dansby had a better overall rating than his replacement, Dannell Ellerbe, in 2012. Dansby finished the 2012 season as PFF's 13th best ILB. His overall rating was a +6.0. Dansby's greatest strength was against the run where he was rated as the 11th best ILB with a +7.5 rating. Dansby was a +0.6 in coverage and penalties. His biggest area of weakness was in pass rush where he was rated a -2.7. Dansby played a total of 1,123 snaps in 2012. In 2011, Dansby was the 11th best ILB in the NFL with a +8.9 rating. For the season, Dansby played a total of 931 snaps. Dansby's highest rating came against the run where he scored a +4.9. His coverage rating was a +3.8 and his penalty total was +1.4. Dansby's pass rush rating was a -1.2. Dansby saw 869 snaps in his first season with Miami in 2010. His overall rating at PFF was +8.6, 12th best in the NFL. Dansby's best category was in coverage where he was given a rating of +6.1. The 2010 season was the last time Dansby rated positive in the pass rush category (+2.1) and his penalty rating was +1.3. Dansby's only negative rating was against the run where he was given a -0.9. In his three seasons with Miami, Dansby was only called for one penalty. His greatest strength has been in the run game followed by pass coverage. What Does Dansby Bring to the Table? Dansby brings plenty to the table and Buffalo would be wise to sign him, even if it's only for one season. Adding Dansby to the roster gives Buffalo more talent and depth in its front-seven. Buffalo has already added Alan Branch and Manny Lawson to their front seven this off-season. By adding Dansby, this allows Buffalo to focus on upgrading their offense, secondary and possibly defensive end position in the draft. If Buffalo adds Dansby, they'll also be upgrading their ILB position significantly. While Kelvin Sheppard will still get a chance to prove his worth in Mike Pettine's defense, he has not shown the ability to cover or make plays consistently. Realistically, Sheppard will come in and give Dansby a breather when needed. In Buffalo's 4-3 looks, Dansby would man the middle with Lawson and Bradham as the team's outside linebackers. The 3-4 defense would feature Dansby in the middle, possibly with Bradham, while Mario Williams and Lawson would play OLB. In recent years, Buffalo's defense has been shredded against the run. Considering this is one of Dansby's greatest areas of strength, Buffalo is wise to at least be kicking the tires on him. The former Dolphin is also above average in coverage, an area where Sheppard is a liability. At 31 years of age, Dansby is not a long-term answer for the Bills. However, with the Bills currently having only six draft picks in the 2013 NFL draft and numerous needs, Dansby fills a hole and is a terrific stop-gap.       The post Adding Karlos Dansby Would Benefit the Buffalo Bills appeared first on Queen City Sports.
Original Story:
http://queencitysports.net/buffalo-bi...
MORE FROM YARDBARKER
NFL News

Delivered to your inbox

You'll also receive Yardbarker's daily Top 10, featuring the best sports stories from around the web. Customize your newsletter to get articles on your favorite sports and teams. And the best part? It's free!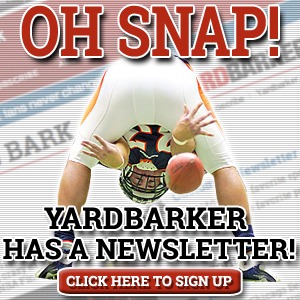 Latest Rumors
Best of Yardbarker

Today's Best Stuff

For Bloggers

Join the Yardbarker Network for more promotion, traffic, and money.

Company Info

Help

What is Yardbarker?

Yardbarker is the largest network of sports blogs and pro athlete blogs on the web. This site is the hub of the Yardbarker Network, where our editors and algorithms curate the best sports content from our network and beyond.