Found November 05, 2013 on TD Fantasy Sports:
PLAYERS:
Gary Kubiak
,
Andrew Luck
,
Arian Foster
,
T.Y. Hilton
,
Reggie Wayne
,
C.J. Spiller
,
Robert Woods
,
Drew Brees
,
Santonio Holmes
,
Chris Ivory
,
Jeremy Kerley
,
David Nelson
,
Brandon Weeden
,
Jason Campbell
,
Joe Flacco
,
Greg Little
,
Davone Bess
,
Cameron Jordan
,
Tom Brady
,
Stevan Ridley
,
Rob Gronkowski
,
Aaron Dobson
,
Danny Amendola
,
Casey Hampton
,
Darren McFadden
,
Terrelle Pryor
,
Chris Johnson
TEAMS:
Houston Texans
,
Indianapolis Colts
,
Buffalo Bills
,
New Orleans Saints
,
New York Jets
,
Cleveland Browns
,
Baltimore Ravens
,
Pittsburgh Steelers
,
New England Patriots
,
Oakland Raiders
,
Tennessee Titans
,
Kansas City Chiefs
This week in the AFC was very exciting, sometimes confusing, but ultimately ended on a scary note for the Houston Texans whose head coach collapsed as he walked towards the locker room at halftime.  Gary Kubiak was sent to a local hospital, along with his family, but just as a precautionary measure.  The team is reporting that he never lost consciousness and did not have a heart attack.  Currently, Kubiak was released from the hospital and reportedly has suffered a "mini-stroke." Kubiak's team on the other hand, is on life support as they dropped their fourth game in a row.  This game against the Colts was lost after having an 18 point lead at the half and against a QB in Andrew Luck who completed less than 50% of his passes and struggled for most of the game.  The Texans built this lead in spite of losing Arian Foster to his recurring back injury after his first target of the game, but ultimately fell late in the game because they couldn't stop TY Hilton who caught for 121 yards and three touchdowns.  Hilton was able to step up and make plays for a Colts team who previously lost Reggie Wayne for the season and early in the night saw DHB leave the game with a possible concussion. Another important game this week was blown late as the Buffalo Bills gave up not one, but two defensive touchdowns to the Kansas City Chiefs team that is spending a lot of time late in games on the ropes, but finds ways to win and remain the leagues lone undefeated team at (9 – 0).  CJ Spiller returned from injury and helped the team control the ball for most of the game as he ran for 116 yards, but saw teammates Robert Woods (leg) and Marquis Goodwin (hamstring) both get injured in the game. On a more confusing note there were a few teams producing games that didn't seem to fit into what most people expect from them.  The New York Jets, who were blown out by Cincinnati last weekend, were able to pressure and defeat Drew Brees and, one of the best teams in the NFC, the New Orleans Saints.  The Jets defense is really pulling together and proving to be a tough unit, but their offense remains schizophrenic and unstable since losing Santonio Holmes several games ago.  Chris Ivory continued his roller coaster season as he easily eclipsed a hundred yards against his former team, but the Jets' offense lost Jeremy Kerley who appeared to have a fairly serious elbow injury.  That should mean more opportunities for WR David Nelson moving forward.  (Odd note on the Jets, they've won games in odd weeks, but lost all even week games.) The second team this week exceeding expectations was the Cleveland Browns, who have been competitive in every game they've played without Brandon Weeden at the helm.  Jason Campbell, who had his ribs checked out postgame, lead the Browns to a win against the reigning Super Bowl champion Baltimore Ravens this week.  Once again Willis MaGahee didn't have much of an impact running the ball for Cleveland, but Joe Flacco was the Ravens leading rusher, and WR Greg Little was able to catch for 122 yards, before leaving the game with a shoulder injury, and Davone Bess fielded two touchdowns.  Jordan Cameron and Josh Gordan once again disappointed fantasy owners for the third out of the past four games. Finally, the past few seasons the Pittsburgh Steelers defense has lead the NFL, but still got accused of being old, slow, and in need of being rebuild. Well against the Tom Brady lead Patriots those cracks in the defense were blown wide open as the Steelers gave up a franchise high 55 points to a team that has struggled to find its way with injured or rookie receivers.  Stevan Ridley ran for 115 yards and three New England receivers amassed 100 yard games.  Rob Gronkowski had 143 yards and a touchdown, the rookie Aaron Dobson caught for 130 yards and two touchdowns and the oft injured Danny Amendola actually played an entire game while catching for 122 yards and a touchdown.   The Steelers offense was productive once Ben started calling the plays on the field, but the defensive players should be embarrassed to collect checks this week.  The Steelers defense is clearly missing having a true nose tackle like Casey Hampton in the middle. Other notes for the week, Darren McFadden once again re-aggravated his hamstring injury that had him missing time earlier this season.  Raiders QB Terrelle Pryor left the game in the fourth quarter with a knee injury and last, but not least Chris Johnson of the Tennessee Titans has finally run for a hundred yards in a single game this season.  Against the Rams, Johnson was able to run for 150 yards with two touchdowns and another 20 yards receiving. Photo by Bob Levey/Getty Images Related posts Week 1 Preview (0) AFC – News & Notes: Week 9 (0) King Donk's NFL Betting Picks Week 8 (0) Kelly's Start & Sit: Week 8 (0) Fantasy Perspective: The New York Stock Exchange (0) The post AFC – News & Notes: Week 10 appeared first on TD Fantasy Sports by Drew Lalim.
Original Story:
http://tdfantasysports.com/afc-news-n...
THE BACKYARD
BEST OF MAXIM
RELATED ARTICLES
Houston Texans coach Gary Kubiak collapses on the field right at halftime during the Texans vs. Colts game during Sunday night's game.  With the Texans heading into halftime with a 21-3 lead, Kubiak was running to the locker room before and went down suddenly.  Kubiak, who is 52 years old and known to be in great shape was attended by medical professionals. Coaching in the NFL...
From the Houston Texans PR Department   Houston Texans Head Coach Gary Kubiak is in the company of his family and under the care of physicians and staff at a local hospital. "Our primary concern is of course with Gary's health and well-being," Texans Executive VP of Football Operations and General Manager Rick Smith said. "There have been so many people throughout the city...
According to John McClain of the Houston Chronicle,  Texans head coach Gary Kubiak has been cleared to leave the hospital after suffering a mini-stroke this past Sunday.  He's expected to miss this week's game and return next week. Gary Kubiak has been cleared to leave hospital and return home. He's expected 2 miss Arizona game and return next week. — John McClain (@McClain_on_NFL...
Houston Texans coach Gary Kubiak paid a visit to his team at the end of practice Thursday, four days after he collapsed at a game with a mini-stroke. Kubiak was not made available to the media, but interim head coach Wade Phillips says Kubiak told players ''that he missed them.'' It was the first time Kubiak had addressed the Texans since collapsing on the field...
Michelle Tafoya of NBC Sports reported that Texans general manager Rick Smith told her that head coach Gary Kubiak is in stable condition and will undergo further testing after collapsing on the field at the end of the first half of Sunday night's loss to the Colts. Texans GM Rick Smith told @TafoyaNBCSports Kubiak had an "episode," lightheaded and dizzy, being evaluated...
Houston Texans head coach Gary Kubiak was taken to the hospital on Sunday after collapsing while walking of the field at Reliant Stadium during halftime of his team's game against the Indianapolis Colts. Kubiak showed signs of being in pain prior to walking off the field. As he was around the 25-yard line, he collapsed […]
This has not been a great weekend for head coach in the NFL. On Saturday Denver Broncos Head Coach John Fox had to be admitted to the hospital. At halftime of the Sunday night game between the Houston Texans and Indianapolis Colts the Texans see their leader, Gary Kubiak go down. From Bleacher Report There is not a lot known at the moment, but as the two teams began to...
Houston Texans head coach Gary Kubiak has collapsed on his way to the locker room at halftime of the Sunday night game against the Indianapolis Colts. There is no immediate word on Kubiak's condition other than he was in considerable pain when he was down on the field. He has been taken to a hospital by ambulance in what assistant coach Wade Phillips calls a precautionary measure...
If there was ever a need for a sideline reporter on NFL games, Sunday's primetime contest between Indianapolis and Houston was proof postive. Just as the halftime gun sounded, Texans coach Gary Kubiak collapsed as he was walking off the field for the locker room. NBC came back from break with Bob Costas setting the scene. After throwing it to New York where NBC went on with its...
The Houston Texans named defensive coordinator Wade Phillips interim head coach for Gary Kubiak on Wednesday. Kubiak was released from Houston Methodist Hospital on Tuesday after he experienced a transient ischemic attack (ITA) during Sunday's game against Indianapolis. "I want to thank my family, the McNair family, the Texans organization, the doctors and staff at Houston Methodist...
The Houston Texans announce that Defensive Coordinator Wade Phillips will assume the role as interim head coach. pic.twitter.com/AY2jeQ8ahk — Houston Texans (@HoustonTexans) November 6, 2013 Phillips is 82-61 as a head coach for Dallas, Buff and Denv with interim stops in Atl and N.O. These games will count on Kubiak's record — Marc Vandermeer (@TexansVoice) November 6, 2013...
NFL News

Delivered to your inbox

You'll also receive Yardbarker's daily Top 10, featuring the best sports stories from around the web. Customize your newsletter to get articles on your favorite sports and teams. And the best part? It's free!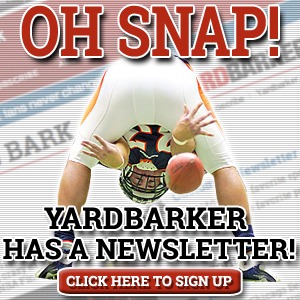 Latest Rumors
Best of Yardbarker

Today's Best Stuff

For Bloggers

Join the Yardbarker Network for more promotion, traffic, and money.

Company Info

Help

What is Yardbarker?

Yardbarker is the largest network of sports blogs and pro athlete blogs on the web. This site is the hub of the Yardbarker Network, where our editors and algorithms curate the best sports content from our network and beyond.