Found October 01, 2012 on Denver Sports Chat:
Denver, CO. The calendar has now changed and the first month of NFL games are in the books. Although it is still very early, NFL fans now have a taste of what the 2012 season may very well bring, but a lot will obviously still be determined as the year moves along. Some of the old perennial favorites are at the top of their divisions, while some surprising teams have made people take notice. For the Denver Broncos, they are probably right where they should be four games in. With the new QB leading things and still busting off the rust, combined with a very difficult early season schedule, a 2-2 mark so far seems about right. With just about every AFC team (Indy and Pittsburgh have played 3) having completed four games of the season, we are beginning to see who the early season contenders might be. We are also witnessing some teams who are not reaching their goals at all so far, and are struggling to even find mediocrity. With all of this said, here is a quarter way report card, if you will. With 75% or so of the season still remaining, teams have plenty of time to fix things, or unfortunately for some, let things slip away. Here is how things are shaping up at this point of 2012……
"A" Grades:
- Houston Texans – They are the class of the AFC at this point, and have played extremely well so far. They are not weak in any phase of the game, and are 4-0 to prove it. They seem to be very hungry, and should have the AFC South wrapped up by November.
- Baltimore Ravens – They did lose 1 game by 1 point, but a 3-1 mark is still a great start. Joe Flacco is showing his development into a top-notch QB, and the passing game has been outstanding. This team can do it all, and the defense is still one of the better units in the league. They should win the North, outlasting Pittsburgh and Cincinnati.
"B" Grades:
- San Diego Chargers – Good 3-1 start from a team that typically begins slowly each year. They have beaten three teams quite easily, although all three are some of the AFC's worst (Chiefs, Raiders, Titans). Bottom line, we don't know how good San Diego is yet, but should find out in the coming weeks. They were blown out by Atlanta, so it's hard to say who the Chargers really are yet.
- Cincinnati Bengals – A quiet 3-1 start, with three wins over weak teams. Their one test was a lopsided loss to the Ravens, which was a tough road test to begin the year. Andy Dalton and A.J. Green are showing to be quite a duo, and the defense is trying to stay together after dealing with several injuries. The Bengals are attempting to prove that 2011 was no fluke.
- Denver Broncos – All things considered, they are 2-2 and relatively healthy. The two losses were to undefeated Houston and undefeated Atlanta, and by just 12 points total. Peyton looks to be getting better each week, and the talent level is a lot better than last year. Don't be surprised if they go on a late season run once the schedule eases up a bit in November.
"C" Grades:
- New England Patriots – At 2-2, they don't have the record that most people thought they would have at this point. A loss at home to Arizona is still inexplicable, and a tough one point loss at Baltimore was a bitter pill to swallow. After scoring 52 points against Buffalo, they may be on track to go on a run now. 2-2 is just not Patriot-like, but they are easily still the class of the horrible AFC East.
- Indianapolis Colts – They are just 1-2, but have shown life and glimpses of what the future holds with Andrew Luck. It is a very bright future at that, as the Colts should be thrilled with what they have seen so far. Wins and losses don't mean much this season, as a year where they end up at or close to .500 would be fine. Indy should be a factor in coming years, as long as they surround the young signal caller with the right weapons.
- Buffalo Bills – This team is so hard to figure out, and it is so inconsistent from week to week. Ryan Fitzpatrick can look so good at times, yet terrible just a little bit later. The defense has been good, then bad, then good, then awful. This team can scare better opponents, but lose to teams that it shouldn't. The ultimate Jekyll and Hyde AFC team, as a finish of 8-8 seems to be their destiny.
- Pittsburgh Steelers – A "C" grade may be a gift of sorts, as they have just a 1-2 record right now. The running game has been an abomination, and the defense has been injury-prone and slow. Ben Roethlisberger and the passing game has been very good, but this team just doesn't seem to be very tough right now. A down year looks to be in the cards for this terrific franchise.
"D" Grades:
- New York Jets, Miami Dolphins, Jacksonville Jaguars, Kansas City Chiefs, Tennessee Titans – These teams are all either lacking talent, making too many mistakes, searching for answers, or all of the above. The Chiefs, Titans, and Jets all have some talent, but for whatever reason, cannot put it together to stay competitive for much longer. The Jaguars and Dolphins are rebuilding and winning any more than 4 games would be a surprise.
"F" Grades:
- Cleveland Browns, Oakland Raiders – These two squads have looked so bad at times, and downright terrible. Will the Browns ever be good, like, ever? They have some nice players with Weeden and Richardson, but still too many holes to compete in the AFC North. The Raiders are still so undisciplined and can't get out of their own way. These two teams are just brutal to watch, and top 5 draft picks next April are distinct possibilities for both.
The post AFC report cards 1/4 way through 2012 appeared first on Denver Sports Chat.
Original Story:
http://feedproxy.google.com/~r/Denver...
THE BACKYARD
BEST OF MAXIM
RELATED ARTICLES
Recently, the Houston Texans had to make roster adjustments due to safety Quintin Demps breaking his forearm. The Texans had to add another safety to the fold while cutting someone to stay at the league required 53 man roster. The Texans resigned safety Troy Nolan back to the roster while cutting quarterback John Beck. Before the cut was made, a debate amongst Texans fans and media...
Today Houston Texans defensive end J.J. Watt was named AFC Defensive Player of the Month for September. Watt has been something for opposing offenses to worry about, and in the early part of the 2012 season he has been a treat to watch.   #Texans DE @jjwatt had 7.5 sacks, 20 tackles, 10 TFL & 5 passes defensed in 4 September games — Nick Scurfield (@NickScurfield) October...
We decided to help out our good friends the "Battle Red Freaks" on their expedition to East Rutherford, New Jersey to see the Houston Texans take on the Jets at Met Life Stadium. Chuck "Commander Freak" Thompson, and Randy "Freaky E" Eckhart and Russell "Freak 99″ Eckhart are going to keep us updated here on State of the Texans, with photos from their trip. You...
The Houston Texans may be the best team in the NFL through the first quarter of the 2012 NFL season. They have one of the most dominating defenses in the league and arguably the best running back as well in Arian Foster. While Texans head coach has said that Foster could handle becoming the fifth member of the 400+ carries club for one NFL season, he would be making a huge mistake...
Coming off yet another convincing win last Sunday against the Tennessee Titans the Houston Texans now have their sights set on the first prime time game they'll have this season. A Monday night match up with the struggling New York Jets. The Texans as a franchise are 0-5 against the Jets and 0-3 against them on the road. They'll be looking to try and make up ground in the all...
Texans receiver Andre Johnson (groin) is probable for Monday's game against the Jets.Fantasy Spin:Johnson was limited some in practice this week but he was a full go Saturday and is no threat to miss Monday's game. Start him as usual, especially with shutdown cornerback Darrelle Revis out.
Breast Cancer AwarenessAs the NFL adopts pink everything, from pink coins used for the coin toss, to pink equipment, I inquire you to take a moment and consider the importance of breast cancer awareness.It has less to do with pink equipment, and more to do with encouraging women 40 and older to have an annual mammogram.Don't let the month of excessively-pink fields, and equipment...
Houston Texans (4-0) at New York Jets (2-2) Prior to the Jets' 34-0 home loss to the 49ers last week, one NFL executive compared the Revis injury to any other team losing it's starting quarterback and he was so right. Without Revis, they can't do any of the things to normally make them good defensively and for a defensive minded team, that's absolutely devastating. Without...
1. Stop the run - San Francisco absolutely decimated the Jets last week thanks to their ability to run the ball. They barely took to the air, instead relying on a run-heavy attack that racked up over 200 yards on the ground. Houston has a great run game, spearheaded by All-Pro running back Arian Foster. If the Jets want to win, they'll have to find a way to shut down Foster, Ben...
Texans News

Delivered to your inbox

You'll also receive Yardbarker's daily Top 10, featuring the best sports stories from around the web. Customize your newsletter to get articles on your favorite sports and teams. And the best part? It's free!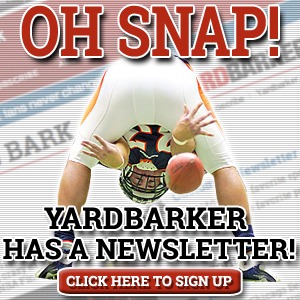 Latest Rumors
Best of Yardbarker

Today's Best Stuff

For Bloggers

Join the Yardbarker Network for more promotion, traffic, and money.

Company Info

Help

What is Yardbarker?

Yardbarker is the largest network of sports blogs and pro athlete blogs on the web. This site is the hub of the Yardbarker Network, where our editors and algorithms curate the best sports content from our network and beyond.