Last week was brutal in the NFL. I went 5-11. Big time upsets, tons of late comebacks, and some major botched calls. Let's just forget about week 3 and move on to week 4 and the real refs being back! Browns at Ravens The Ravens are up there with the Falcons and Texans as the best teams in the NFL. Ray Rice is running like the best he is and Flacco actually looks really good in the no huddle offense. Weeden has looked better for The Browns the last couple games but will definitely come back down to earth this week against Ed Reed and the Baltimore secondary.
Ravens 27, Browns 17 Panthers at Falcons We all know how potent The Falcons offense is. What most people are missing is how dominating their defense has been. Last week I saw firsthand how they decimated The Chargers, and the week before we saw them pick off Manning three times in one quarter. The Panthers go as Cam Newton goes…or pouts. It's going to be another rough weekend for him, maybe he can stay awake through the press conference this time.
Falcons 31, Panthers 17 Bills at Patriots This game may be the biggest in deciding who wins the AFC East division. The Patriots are at 1-2 after two very close losses. The Bills look really good but are battling the injury bug on offense in particular. I just can't pick for The Pats to go to 1-3. Brady and company will find a way to get the win. Also, Wes Welker will have another big week. To me it looks like they are trying to get teams high on him right before they trade him. Look for him to be gone next week for a 2nd round pick. Vikings at Lions Matthew Stafford might not play, I don't think it matters. The Lions have looked awful this season. Yes they got screwed by the officials (and luck) a bit last week, but they almost lost to St. Louis and were crushed by The 49ers. The Vikings on the other hand are playing well. Christian Ponder looked like a real quarterback against a solid Niners defense. I like them to torch the Lions secondary to set up the run game.
Vikings 27, Lions 17 Titans at Texans The Texans are one of the best teams in the league. Matt Van Gogh (or Matt Holyfield, I can't decide which I like better) is clicking, the running game is clicking and the defense is playing well. They are at home against a Titans team that has finally seen some flashes of greatness out of Jake Locker. Will it continue? Probably not this week but I think Locker just might make it as an NFL quarterback.
Texans 24, Titans 13 Chargers at Chiefs The Chiefs running game was out in full force last weekend. The Chargers barely managed to put points on the board. The difference comes in the defenses they faced. The Chargers played one of the better defenses, Atlanta, and had some untimely fumbles that cost them points. The Chiefs played one of the worst defenses in the league in The Saints. I like Phillip Rivers and especially Ryan Matthews to rebound this week on the road.
Chargers 20, Chiefs 17 49ers at Jets What happened to San Francisco last week? They did not play well at all and Minnesota came out firing on all cylinders. The Niners will be seeking revenge this week and match up against a Jets team that is in trouble. Not only are they one of the worst in the league at defending the run this year, they just lost All-Universe cornerback Darrelle Revis. This one could get ugly enough to see some more Tebow.
49ers 30, Jets 13 Seahawks at Rams Should I even mention The Golden Taint (copyright pending)? The Seahawks defense looked really good last week. The offense is slowly finding its way. However, they do have to contend with a short week and a lot of controversy. Meanwhile, The Rams showed a little bit of promise but they didn't look that great last week against a mediocre Bears team. They will have a lot of trouble scoring.
Seahawks 13, Rams 6 Dolphins at Cardinals The Cardinals are sitting at 3-0. Despite what pretty much everyone said, except for me, Kevin Kolb is playing good football. They aren't asking him to do too much; they are relying on their defense that is very good. The Dolphins are running the ball well, hiding Tannehill as much as they can. As much as I see this as a bit of a trap game for The Cardinals, their defense should easily stop The Dolphins.
Cardinals 20, Dolphins 10 Raiders at Broncos I am confused by all the Peyton Manning slander. With the exception of the first quarter debacle against The Falcons, Peyton has played fantastic. Last week he threw for 330, 2 tds and no picks in a loss to The Texans. Peyton and The Broncos are just fine. The defense is a little banged up which will likely lead to a big day from Darren Mcfadden of The Raiders. I still think Peyton will torch them. He'll throw for 400 yards and a few touchdowns.
Broncos 34, Raiders 23 Bengals at Jaguars The Jaguars offense is getting better. I must admit, Gabbert didn't look like a complete joke out there. MJD is beasting and playing against the second worst running defense in the league. I am still taking The Bengals. They are such a resilient squad with great coaching and AJ Green may be a top 5 receiver. Gimme the Ginger with the cannon for an arm…again.
Bengals 25, Jaguars 20 Saints at Packers Where do I begin with this game? Both teams are coming off of losses they shouldn't have endured. Both teams are highly motivated. Both teams pretty much HAVE to win to get in the playoffs. The Saints NEED the win more but The Packers are going to torch that defense. The only thing to say about this game is…take the over.
Packers 38, Saints 30 Redskins at Buccaneers The Redskins don't know what to do with themselves. Their defense is pretty bad after the injuries and RGIII is taking a lot of hits. The Bucs got grounded last week but should be able to bounce back at home against a poor defense this week. All conventional wisdom says to pick The Bucs. Therefore, I am taking The Redskins. Bobby Griffin will have a big game with Garcon finally back. Nothing makes sense in the NFL this year, just go with it.
Redskins 28, Bucs 20 Giants at Eagles There is no way The Eagles and Vick can continue to play like this, 4 weeks in a row. The Eagles defense is playing pretty well and keeping them in games. I like Vick to go wild this week: 300 passing yards and almost 100 rushing yards accompanied by no turnovers. Antrel Rolle isn't looking like he will play which will help open it up for Vick. Eli will throw a pick that will come back to matter. Some trends in the NFL can't continue forever. Eli hot streak and Vick cold streak are both stopped this week.
Eagles 24, Giants 17 Bears at Cowboys The Bears defense looked really good last week. They flat out dominated The Rams. The Cowboys are not The Rams. The Bears offensive line also gets to see Ware this weekend. It could get ugly. Reports are Forte is 50/50 to come back and Michael Bush has an injury. This doesn't bode well for Cutler. I'll take the 'boys at home.
Cowboys 23, Bears 13
Original Story:
http://feedproxy.google.com/~r/ProFoo...
PLAYERS:
Ray Rice
,
Ed Reed
,
Cam Newton
,
Wes Welker
,
Matthew Stafford
,
Christian Ponder
,
Jake Locker
,
Darrelle Revis
,
Kevin Kolb
,
Peyton Manning
,
Darren McFadden
,
A.J. Green
,
Antrel Rolle
,
Michael Bush
TEAMS:
Baltimore Ravens
,
San Diego Chargers
,
New England Patriots
,
Detroit Lions
,
Minnesota Vikings
,
Houston Texans
,
Tennessee Titans
,
New Orleans Saints
,
San Francisco 49ers
,
New York Jets
,
Seattle Seahawks
,
Arizona Cardinals
,
Oakland Raiders
,
Jacksonville Jaguars
,
Cincinnati Bengals
,
Washington Redskins
,
New York Giants
MORE FROM YARDBARKER
NFL News

Delivered to your inbox

You'll also receive Yardbarker's daily Top 10, featuring the best sports stories from around the web. Customize your newsletter to get articles on your favorite sports and teams. And the best part? It's free!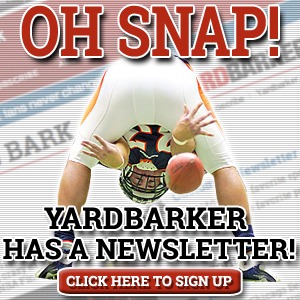 Latest Rumors
Best of Yardbarker

Today's Best Stuff

For Bloggers

Join the Yardbarker Network for more promotion, traffic, and money.

Company Info

Help

What is Yardbarker?

Yardbarker is the largest network of sports blogs and pro athlete blogs on the web. This site is the hub of the Yardbarker Network, where our editors and algorithms curate the best sports content from our network and beyond.