Found May 16, 2013 on Fox Sports Kansas City:
PLAYERS:
Alex Smith
,
Dwayne Bowe
,
Colin Kaepernick
,
Andy Reid
,
Dexter McCluster
,
Matt Cassel
,
Brady Quinn
,
Tyler Palko
,
Jamaal Charles
,
Braden Wilson
,
Donald Stephenson
TEAMS:
Kansas City Chiefs
,
San Francisco 49ers
,
Philadelphia Eagles
,
Minnesota Vikings
,
Seattle Seahawks
,
Kansas State Wildcats
KANSAS CITY, Mo. (AP) It hasn't taken long for Alex Smith to become the leader of the Kansas City Chiefs. The weight of the franchise was foisted upon his shoulders from the very second word leaked out that former No. 1 draft pick would be sent from the San Francisco 49ers to the Chiefs during a topsy-turvy offseason. If he wasn't considered the leader in the huddle then, he certainly is now, as the Chiefs toil away in summer-like heat during the first full week of voluntary practices. A quick survey of his teammates will confirm it. "Just watching Steve Young back in the day, he's that kind of guy," wide receiver Dwayne Bowe said Wednesday. "He's not too vocal about it, but when he's in the huddle, he makes his presence known. He's demanding guys speed up - I mean, I never had a quarterback like that." It took Smith more than five years in the NFL to adjust to the expectations that come with starting at the game's most glamorous position. But given a fresh chance under a new regime in San Francisco, he thrived during the 2011 season, going 13-3 and leading his team to the playoffs. He was doing it again last year, too, as the 49ers got off to a 6-2-1 start. But when a concussion forced him from the field, Colin Kaepernick stepped in and emerged as the next big thing in an era of mobile quarterbacks. Kaepernick led the 49ers to the Super Bowl as Smith watched from the sideline. All along, though, Smith handled the adversity with the kind of professionalism that teammates and executives around the league had come to expect. So when Andy Reid was hired as the new coach in Kansas City, and longtime Packers executive John Dorsey came aboard as GM, they made an upgrade at quarterback their priority and targeting Smith their primary mission. "For me, it's certainly not something to relax about," Smith said, when asked about the comfort of being the clear starting quarterback. "It's you know, full-steam ahead. I'm working as hard as I can, trying to push us as far as we can go." That sort of leadership has come in handy as the Chiefs learn yet another offense. "He's a great quarterback, a guy that's mobile, a guy that knows how to read defense and take advantage of mismatches," wide receiver Dexter McCluster said. "He's definitely confident. As a quarterback, you need to be confident. But knowing him, he's never shaken." Even when everybody on the field seems to be on a different page. In fact, that may be when Smith is at his best. Several players have said this week that Reid's offensive system is deeper and more complex than what they've run elsewhere, and picking it up has been a chore. Not even extra time studying the playbook in the evenings has gotten everybody on the same page, as evidence by Reid more than once calling his team back from the line of scrimmage to huddle up and try again. Yet during these early growing pains, Smith has become a sort of traffic cop, pointing wide receivers and running backs to the right places and adjusting his offensive line's protection. "He seems to be picking things up fairly easily," Reid acknowledged earlier in the week, adding that Smith has stood out as a "very hard worker, very diligent, and I appreciate that." His wide receiving corps certainly appreciates it, too. They've had to make do the past few years with crippling uncertainty at quarterback. Longtime starter Matt Cassel struggled so much that he was ultimately benched last season, and backups such as Brady Quinn and Tyler Palko haven't fared a whole lot better. The result was an offense that failed to put points consistently, one that looked at times haphazard, at times downright disastrous. That's the void that Smith has stepped into. "We communicate all the time. We text back and forth, talking about different things we see, different things we want to do," wide receiver Jon Baldwin said. "He kind of understands where I'm going to be, and I understand what he's thinking, and the more you have a relationship with your quarterback off the field, the better it is on the field." It's still early in the offseason, of course. The Chiefs won't begin mandatory minicamp for another few weeks, even though the entire team has been present for organized team activities. Training camp in St. Joseph, Mo., is still more than two months away. But already, Smith has emerged as the leader of a franchise desperate to turn around its fortunes, one that has been starved for success the past couple of seasons. "He's been to the Super Bowl as a backup, so he brings that leadership," running back Jamaal Charles said. "And I know he's probably hungry because he didn't play in the Super Bowl, but bringing that here and wanting to get back to the Super Bowl, yeah, he's one of the leaders. Everyone looks up to him." Notes: The Chiefs signed FB Braden Wilson, one of their two sixth-round picks, who played college football at Kansas State. The Chiefs have now signed four of their selections. ... OL Donald Stephenson continued to move around on the offensive line, spending time at RG with the first-team offense. Reid said he would try Stephenson at various spots throughout OTAs.
Original Story:
http://www.foxsportskansascity.com/nf...
THE BACKYARD
BEST OF MAXIM
RELATED ARTICLES
Akeem Jordan was signed by the Philadelphia Eagles as an undrafted free agent in 2007 out of James Madison University. He spent six years with the Eagles under Andy Reid and when Reid moved on to Kansas City, Jordan was one of his first transactions. Jordan agreed to terms on a one-year deal with the Kansas City Chiefs in April reuniting with Reid. He has the first crack at...
Kansas City Chiefs wide receiver Dwayne Bowe is one pretty confident person.  He told the Adam Teicher of the Kansas City Star that he'll lead the league this season in receptions and touchdowns.  He also believes in running back Jamaal Charles and said he'll be the league leader in rushing. I think Bowe is a heck of a receiver, but I can't imagine the Chiefs throwing the...
The Kansas City Chiefs have signed 2013 NFL Draft Pick, 204th overall Braden Wilson to a four-year contract. He has a tough road ahead of him making the 53-man roster as he really contributes lead blocking and nothing else; something that is getting waned out some in the National Football League. Expect him to either latch on as a special teams player or be added to someones practice...
The last time the Kansas City Chiefs got competent and consistent play from the quarterback position, in 2010, Chiefs wide receiver Dwayne Bowe led the league with 15 touchdown catches. So with Alex Smith coming to KC to bring some much-needed competency to the quarterback position, it wouldn't be far-fetched to imagine Bowe returning to the top of touchdown mountain in 2013...
The Kansas City Chiefs defense has lived by the bend-but-don't-break mantra the past few years under Romeo Crennel. Well, that's out the window now. New defensive coordinator Bob Sutton would prefer to attack from the word, ''Hike,'' and during the first week of organized team activities, his players have taken quite the shine to it. The Chiefs only intercepted...
The Kansas City Chiefs shook up their scouting department Thursday by hiring Will Lewis as director of pro scouting and Marvin Allen as the director of college scouting. Lewis spent 13 years with the Seahawks, most recently as vice president of football operations. Allen spent the past four years as a national scout with the Falcons. The Chiefs also hired Randy Ball to be their...
According to ESPN's Shelley Smith via The Big Lead, Chiefs head coach Andy Reid was able to sell some of his 5-XL shorts, Crocs and a bird house at the garage sale he organized in Philadelphia. I'm sure the person who got the 5-XL shorts is happy.  I know I've never seen that size in a regular store.  They could also sell the shorts since they're the one's that Reid himself...
Photo Credit: gennett-cdn.com/AP Wide receivers are known as one of the most positions to have guys with extreme confidence, which often leads to their diva tendencies. Dwayne Bowe is definitely not an exception to the confidence rule, or maybe he just doesn't know who Calvin or Andre Johnson are. I say this because apparently Bowe is under the impression he is going to lead the...
When we last checked in with Rachel Wray (@CheerleaderMMA), a former Kansas City Chiefs cheerleader turned MMA fighte…
One of the better moments captured by NFL Films this last fall was Chiefs safety Eric Berry's skittish reaction to seeing a horse on the field. As you can see below, Berry's full attention is on the horse (named Warpaint) and not the game itself.   It didn't take long for this footage to go semi viral. Since it aired, I've always been somewhat curious as...
KANSAS CITY, Mo. The first thing Chiefs quarterback Alex Smith did when he saw left tackle Branden Albert arrive at the team's training facility? Smith rushed over to greet and welcome him. "You bet I did," Smith said with a huge smile. "Your left tackle is your best friend. You bet I welcomed him. It's great to have him here." That Albert arrived...
KANSAS CITY, Mo. Its a big game, but a small world. When Chip Kelly was integrating the read-option into Oregons offensive playbook some six years ago, he had Geoff Schwartz and the rest of the Ducks offensive line sit down and study film of get this Alex Smith. This was old-school Alex, back when Smith was the trigger man for coach Urban Meyers spread system at the University...
NFL News

Delivered to your inbox

You'll also receive Yardbarker's daily Top 10, featuring the best sports stories from around the web. Customize your newsletter to get articles on your favorite sports and teams. And the best part? It's free!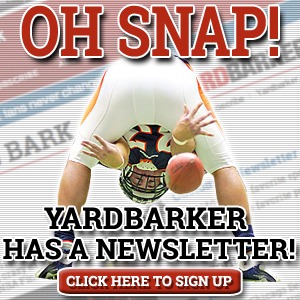 Latest Rumors
The Backyard

Today's Best Stuff

For Bloggers

Join the Yardbarker Network for more promotion, traffic, and money.

Company Info

Help

What is Yardbarker?

Yardbarker is the largest network of sports blogs and pro athlete blogs on the web. This site is the hub of the Yardbarker Network, where our editors and algorithms curate the best sports content from our network and beyond.