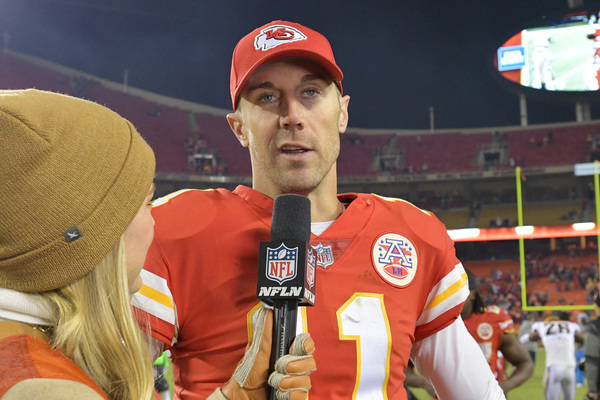 Denny Medley-USA TODAY Sports
Cleveland Browns fans hoping that a deal could orchestrated that would deliver Alex Smith to the team may want to temper any expectations. That is, if Alex Smith joking about the Browns' ineptitude over the past two seasons is any indication of his desire to join the team.
Smith, who could find himself dealt by the Kansas City Chiefs, cracked wise about the "amazing" 1-31 stretch the Browns have endured.
"I haven't even thought about that," Smith said on "The Dan Patrick Show" during a Tuesday appearance, via Cleveland.com. "They've got nowhere to go but up. 1-31 over the last 2 years just sounds amazing."
Amazing certainly isn't the word Browns brass, nor the team's fans, would likely use. As far as where Smith would like to end up should his tenure with the Chiefs come to an end, his response indicated his preference would not be to join the Browns.
"You would love to go a place that, if that's the case, if you're going somewhere, yeah, you want to go somewhere you have a chance to have success," Smith said. "I feel that (way). Wouldn't you?"
Smith finds himself with an uncertain future with the Chiefs in the first place stems from how the team made significant sacrifices to move up in the 2017 NFL Draft to select Patrick Mahomes II with tenth-overall pick.
The assumption is the Chiefs are concerned about having Mahomes sit another season, although the Chiefs have not yet ruled out keeping Smith on board for 2018. After all, Smith is under contract with the Chiefs for another season.
That said, Smith is not necessarily enjoying not knowing where he'll be playing next season.
"I wish I knew (where I'll be)," Smith said. "Listen, I've got a year under contract there in Kansas City. I wish I was in control of this thing. I wish I was the one that got to be able to do this. That's just not the reality."
Smith did express a preference of remaining with the Chiefs, presumably all the more so if the Browns were the other option.
MORE FROM YARDBARKER
NFL News

Delivered to your inbox

You'll also receive Yardbarker's daily Top 10, featuring the best sports stories from around the web. Customize your newsletter to get articles on your favorite sports and teams. And the best part? It's free!