Found October 01, 2012 on Thoughts from the Dark Side:
In the aftermath of yesterday's destruction in Denver, Allen has a number of issues to consider as he tries to salvage the season. The Raiders bye week comes at a good time as he can institute some solid changes in an attempt to improve the team for the remaining 12 games. The team faces an Atlanta team in week 6 that is currently 4-0 and looks to be one of the best in the league.  The likelihood of the Raiders beating the Falcons – in Atlanta no less – seems more and more remote with every crushing loss. However, after the Atlanta game the Raiders get the equally stumbling Jacksonville at home and then go to Kansas City to play a likewise hapless 1-3 Chiefs.  The next game is another home game, this time versus an underwhelming Tampa Bay.  Those are all winnable games, especially the two home games. However, the Raiders aren't going to be winning many games if they continue to play like they did on Sunday which is why Allen needs to make some changes. First, I'm going to be upfront that I think that firing anyone – even Greg Knapp – is probably counter-productive. Yes, the team looked better last year on offense.  Yes, the team has struggled with the zone blocking scheme that Knapp prefers. Yes, Knapp's playcalling leaves something to be desired. But the team has been working on this scheme and the zone blocking system for months, now, and it isn't something as simple as flipping a switch to go back to power blocking and Hue Jackson's offense. Instead, perhaps Allen can direct Knapp to mix in more power blocking.  If that can get the running game on track, it's worth the effort.  It may be worth picking offensive consultant Al Saunders' brain on what he sees last year versus this year to see if anything else can help the offense. But the personnel is pretty set on offense.  Allen isn't going to sit Palmer (or, at least, he shouldn't).  He isn't going to sit Veldheer, Wiz, Brisiel.  He can't sit Willie Smith unless it's putting rookie Bergstrom in his place.  The WR corp is already playing every receiver available.  He isn't going to sit Darren McFadden or Brandon Myers and so on and so forth. The point is that there are limited things that Allen can do on offense, personnel-wise. The same is not true of the defense.  The defense has looked worse and worse and has given up more than 20 points each game so far (22, 35, 31 and 37 to be exact). Unlike the offense, in which there is not much personnel shifting that would or should occur, the defense could definitely shift a bit.  It may or may not help but with the team hemorrhaging yards on defense it likely can't hurt to try something different. To that end, my proposal would be to make two switches – first, Rolando McClain was embarrassing to watch on the field on Sunday.  He was directly involved in at least 3 TDs – mostly in which his man in coverage was able to beat him to get into the end zone.  McClain can be good in run defense but he's become such a liability in coverage that he's not worth having out there. I'd suggest that the Raiders bench McClain at least initially and see what they have in Travis Goethel.  Goethel hasn't shown a lot thus far but he may be able to provide a bit more of a spark.  At the least it'd be hard to imagine that he would be jogging around the field, something that McClain reverted back to on Sunday. If the Raiders don't sit McClain yet, I'd also think it'd be worth playing Aaron Curry at MLB when he returns from PUP (assuming he does return).  Burris is settling in at WLB and Wheeler is arguably the defenses best player at SLB so Curry could fit in at MLB where he spent some time last year when McClain was injured.  In fact, I graded Curry out decently high as MLB – I liked him better there than at WLB. Another change that could be made is at the DT position.  Desmond Bryant appears to be the Raiders best DT as Seymour and Kelly both disappear for long stretches of time. It may be worth it to put Bryant into the starting rotation and bring Seymour in as the situational DT.  This would keep him more fresh and keep Bryant out on the field.  It's much more likely that Bryant will be on the team next year than it is for Seymour, anyway, and the team should probably find out what it has in him. Allen has a lot of decisions to make in the bye week.  The moves (or lack thereof) will define his first season and reverberate through the next 12 games. For more Raiders news and analysis, follow me on Twitter @AsherMathews Photo by Levi Damien
Original Story:
http://www.tfdssports.com/site/allen-...
THE BACKYARD
BEST OF MAXIM
RELATED ARTICLES
Oakland Raiders defensive lineman Richard Seymour is a glass half full kind of guy.  He has to be after the Raiders have given up 22, 35, 31 and 37 in their past four games. Oakland 1-3 start isn't only on the defense, but Seymour still believes they can be a good unit. Seymour spoke to Vic Tafur of the San Francisco Chronicle about the defense's troubles. "We're so...
With a disappointing 1-3 start to the 2012 regular season, injuries are hurting the Oakland Raiders more than anything, especially to starting cornerbacks Ron Bartell and Shawntae Spencer. Now with Oakland on a bye this week, the team must get healthy during their time off. Bartell was placed on the reserve/injured list allowing him to return this season. Unfortunately for the...
Raiders fans found themselves in an all too familiar place after Sunday's shellacking delivered courtesy of a rejuvenated Peyton Manning and the rest of Denver's dominating crew. After more than 10 years of losing (or at best .500) seasons, silver and black die-hards should certainly be used to a sputtering offense and a defense with more holes than Swiss cheese.  Still...
The Oakland Raiders got their first win of the 2012 season last week versus the Pittsburgh Steelers, and it was a thriller. A 34×31 come-from-behind victory that made the Raider Nation even more excited about today's game. The Raiders traveled to Denver to face the division rivals Broncos in what's always a very important game [...]
Oakland Raiders wide receiver Darrius Heyward-Bey, who had to be carted off the field after taking a blow to the head in the game against Pittsburgh on Sept. 23, was back practicing with the Raiders on Tuesday, multiple media outlets reported. Heyward-Bey sustained a concussion and neck strain from the helmet-to-helmet blow delivered by Ryan Mundy, who was fined $21,000 for the...
Last week: 31 (+1) Record: 1-3 I knew that win over the Steelers was a fluke. The Raiders looked awful in all facets of the game last week and once again look like the worst team in the league as they did two weeks ago. They rank 27th in the league in yards per play differential. Their defense is a mess and they just don't have the offensive talent to keep up. I've said all along...
Wide receiver Darrius Heyward-Bey was back at practice for the first time since being hospitalized by a helmet-to-helmet hit as the Oakland Raiders worked on fixing their problems during the bye week.
Editors note: I am proud to introduce to the Dark Side, Raider Nation Superfan himself; Darth Raider. Yes, THAT Darth Raider. The man in the black suit and cape who sits in the North endzone opposite the Black Hole aptly named "The Dark Side" merely because of his presence. He is home at last to take his post on the Deathstar at Thoughts From the Dark Side. The force is...
If the ghosts of past Denver Broncos and Oakland Raiders games were present Sunday at Mile High, they witnessed some ghastly playing by one team, and some devilishly good playing by another. Let's get right to it!The five major points of emphasis and things that were learned from the last installment of the rivalry between the Broncos and Raiders that dates back to the AFL are...
2012 Week 4 – Oakland Raiders at Denver Broncos – The BT GameBlog. We're trying a different format for this week. Follow me on Twitter @BroncoTalk for updates throughout the game, otherwise keep it locked into the comments below. We'll be here discussing the game through all four quarters, posting stats, and more!
Raiders News

Delivered to your inbox

You'll also receive Yardbarker's daily Top 10, featuring the best sports stories from around the web. Customize your newsletter to get articles on your favorite sports and teams. And the best part? It's free!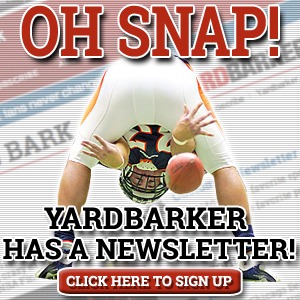 Latest Rumors
Best of Yardbarker

Today's Best Stuff

For Bloggers

Join the Yardbarker Network for more promotion, traffic, and money.

Company Info

Help

What is Yardbarker?

Yardbarker is the largest network of sports blogs and pro athlete blogs on the web. This site is the hub of the Yardbarker Network, where our editors and algorithms curate the best sports content from our network and beyond.