Found November 21, 2012 on The Other Paper:
Via The Other Paper:
he survey, released Wednesday by Destination America, shows Obama was also soundly beaten out by Big Bird (23%) and Lady Gaga (15%).

In Obama's defense, many of those polled probably thought Big Bird meant a succulent Butterball turkey and Lady Gaga — a walking ham sandwich.

For any of those Americans saving a seat for Tebow, hold your stuffing. The closest you'll get to saying grace with the Wildcat quarterback is praying for him to get into Thursday night's game on TV. The Jets play the New England Patriots in the third game of the annual football extravaganza. It'll be about the same time the third round of leftover turkey sandwiches come out.

Other fun facts discovered from the multi-selection survey include:

—44% said pumpkin was their favorite pie.

—64% of men said they were looking forward to watching football on TV, with 43% of women preferring the Macy's Thanksgiving Day parade.

—"Family" beat out "food" as the favorite part of the holiday — but it was close 68% to 53%.

While a large percentage of Jets fans would probably say that Mark Sanchez was the cause of a lot of indigestion so far this season — 15 percent of those surveyed said the in-laws made them reach for the Pepto.
Original Story:
http://ihatelupica.blogspot.com/2012/...
THE BACKYARD
BEST OF MAXIM
RELATED ARTICLES
Tim Tebow received a "You're Special" balloon bouquet from an anonymous fan today at the Jets' training facility.  Tebow said that it was a nice gesture and it wasn't the first time he had received a gift from an anonymous fan.  Perhaps now Tebow will feel better about his teammates talking behind his back, but I wouldn't count on it.H/T: Deadspin
Sometimes, we all just need a little pick-me-up at the office. Just something to know people care. Well, Tim Tebow got exactly that on Tuesday, as an "anonymous fan" sent him a bouquet of balloons bearing the phrase "You're special" on them, according to the New York Post's Bart Hubbuch. After Tebow's previous week, in which he was bashed by anonymous teammates, it's...
'YOU'RE SPECIAL'
Via Helmet2Helmet:
Tim Tebow has been unhappy as of late due to his ever-shrinking role in the Jets' offense, showing disinterest both through the press and on the sidelines.
Leave it to one of his devout followers to turn the backup quarterback's frown upside down.
On Tuesday, New York Post reporter Bart Hubbuch snapped a photo of a "You're Special" balloon bouquet, which was sent to Tebow by an anonymous fan.
Hubbuch's colleague, Jane McManus, noted that Tebow thought it was "nice," and said these kinds of things "happen sometimes."
Hey, they don't call them 'Tebow-maniacs' for nothing.
If you didn't notice, New York Jets quarterback Tim Tebow didn't play in last night's blow out loss to the Patriots.  He revealed after the game that he has two broken ribs and that he had to talk head coach Rex Ryan into letting him dress. "I had to do a little bit of talking just to dress but I just want to be there for my teammates in case they needed me in an emergency...
Sometimes, we all just need a little pick-me-up at the office. Just something to know people care. New York Jets backup quarterback Tim Tebow received exactly that on Tuesday. An "anonymous fan" sent Tebow a bouquet of balloons bearing the phrase, "You're special," according to Bart Hubbuch of the New York Post. Hubbuch posted on Twitter (with the photo...
As we are only one day away from Thanksgiving, this story about New York Jets quarterback Tim Tebow is a rather-heartwarming one. According to Bart Hubbuch of the New York Post, some random fan (or kissing-up teammate) sent Tebow the below bouquet of balloons back on Tuesday: We'll keep you updated if we find out anymore news.... (Courtesy of Fox Sports)
Rex Ryan anticipates Tim Tebow will be ''ready to go'' in the New York Jets' next game against the Arizona Cardinals in spite of the backup quarterback's two broken ribs. The Jets coach said Monday that the team will see how Tebow does during the week. Tebow was in uniform but didn't play Thursday night in the Jets' 49-19 loss to the New England...
If you tuned into the Turkey Day tilt between the Patriots and Jets, you might've noticed the conspicuous lack of playing time for Tim Tebow. In fact, the highly-publicized backup quarterback played zero -- read 'em zero -- snaps in New York's 49-19 blowout loss to the Pats. And now we know why. After the game, Tebow revealed to reporters that he has two fractured...
'U R RIDICULOUS'
New York Jets tight end Dustin Keller took to Twitter to call out Jets fans who apparently booed when it appeared that Mark Sanchez went down with an injury.
New England tight end Aaron Hernandez is active for the Patriots' game against the New York Jets after missing the last three because of a sprained right ankle. Tight end Rob Gronkowski is not active Thursday night, as expected, after breaking his left forearm in the Patriots' win over Indianapolis on Sunday. Rookie defensive end Chandler Jones (ankle), guard Logan Mankins...
On this fine Friday after Thanksgiving I have a few questions I need answered pertaining to the fine world of sports. Please feel more than free to answer any of these should you know the answers. Q: I really don't like the guy, but why did the Jets trade for Tim Tebow if they are [...]
The New York Jets looked a lot like the team we all know they are tonight. This team has some serious problems and the answer is NOT Tim Tebow! I think it starts at the top, so Rex Ryan is going to have to face the facts: his team is in disarray and he has no idea how to fix it.On the other side of the field was the New England Patriot, leader of the division and clearly on their...
NFL News

Delivered to your inbox

You'll also receive Yardbarker's daily Top 10, featuring the best sports stories from around the web. Customize your newsletter to get articles on your favorite sports and teams. And the best part? It's free!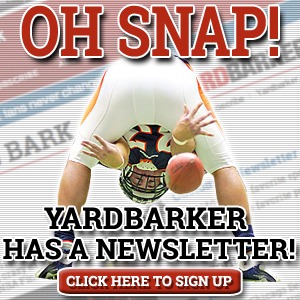 Latest Rumors
Best of Yardbarker

Today's Best Stuff

For Bloggers

Join the Yardbarker Network for more promotion, traffic, and money.

Company Info

Help

What is Yardbarker?

Yardbarker is the largest network of sports blogs and pro athlete blogs on the web. This site is the hub of the Yardbarker Network, where our editors and algorithms curate the best sports content from our network and beyond.