Found March 24, 2013 on SteelBlitz Steelers Blog:
Pittsburgh Steelers fans are still fuming about some of the Steelers recent personnel moves. The uncertainty and concern surrounding the team likely has more to do with the Steelers 8-8 record in 2012 than actual concern with the moves the team is making. Many fans are concerned that the Steelers need to drastically improve their roster to return to the playoffs in 2013, but the Steelers roster is still plenty good enough to win the AFC North division and make a run at another Super Bowl title. However, a disappointing 8-8 season chalked full of close losses can make a typically optimistic fan base turn rather pessimistic. Most of the Steelers personnel moves so far this off-season have been receiver with ridicule and many fans are upset with the lack of moves the Steelers are making. There is no reason to get too upset though and here is an educated look at the Steelers recent personnel moves to clear up some of the growing pessimism: Weslye Saunders - The Steelers released Weslye Saunders part way into the 2012 season which sparked a lot of anger with Steelers fans. Saunders looked to have some promise as a young tight end, but the Steelers chose to go with Heath Miller, Leonard Pope and David Paulson as their tight ends. Saunders signed with the Colts and recorded two receptions during the 2012 season moving his career reception number up to six. Paulson, who was kept over Saunders, recorded seven receptions last season and is held in high regard by the Steelers coaching staff. Saunders is a very good player off the field and has shown promise on the field, but losing a third string tight end is not quite the major loss that many fans have made this move seem. This move may receiver more disdain this coming training camp if Miller is expected to miss a lot of time due to his knee injury. In that case Steelers fans will be upset that Saunders can't step in and start for him. However, even if Saunders was still on the roster Paulson would be ahead of him on the depth chart. Chris Rainey - The Steelers were forced to cut Rainey because of off-the-field issues. Rainey was arrested shortly after the Steelers 2012 season ended. What many fans don't know is that Rainey also had off-field issues during college and had two minor incidents during the 2012 season. The Steelers typically are willing to give players second and even third chances, but a player like Rainey who came in with question marks and had three incidents in his rookie season had worn out his welcome. Other teams may agree with the Steelers as well because Rainey is still sitting on the free agent market. Alameda Ta'amu - Many fans wonder why Ta'amu, who also had off-field issues his rookie season, was not cut when Rainey was. First he only had one incident to Rainey's three which is one of the reason. Another reason is that the Steelers are thin at nose tackle and may be willing to give Ta'amu a second chance if they think he is the nose tackle of the future. They drafted Ta'amu with the hopes of having him hold down the middle of the defense in a few years and the fact that the have kept him on the roster means they still have faith that he can be that player. Keenan Lewis - Keenan Lewis tweeted after signing with the New Orleans Saints that the Steelers didn't even make him an offer in free agency. This has caused a lot of fans to get very angry at the Steelers front office. However, before free agency began Steelers general manager Kevin Colbert said the team would not make an offer to Lewis and would allow the market to set his price. The contract Lewis signed would have been near impossible to fit into the Steelers cap space so it makes sense that they didn't make an offer to him. Losing Lewis hurts, yes, but at least the Steelers have quality depth at the corner back position. William Gay - Brining back William Gay has been met with more hate than any of the others moves on this list. Many Steelers fans hate Gay for unknown reasons. He struggled at times during the 2009 and 2010 seasons, yes, it's impossible to argue that fact because it did happen. However, in 2011 which was his only season under new defensive backs coach Carnell Lake Gay had an very good season. Gay started alongside Ike Taylor in 2011 and was part of a defense that ranked first against the pass. Contrary to popular belief Gay was not cut by the Steelers he was a free agent after the 2012 season. The Steelers wanted to bring him back, but he signed with the Arizona Cardinals and the Steelers replaced him with Lewis. Lewis has now left in free agency and the Steelers have replaced him with Gay who started ahead of him in 2011. Matt Spaeth - With Heath Miller expected to miss some time at the start of the 2013 season due to injury and Leonard Pope a free agent the Steelers are in need of tight end depth. To fill that hole they have brought back Matt Spaeth and David Johnson. Like Gay above the Steelers never wanted to lose Spaeth and really liked him when they had him in Pittsburgh. However, Spaeth as a free agent chose to leave for hopes of more playing time in Chicago with the Bears. When he was cut this off-season he decided to return to Pittsburgh and the Steelers were happy to have him. Larry Foote - Many fans have questioned why the Steelers brought back the soon to be 33 year old Foote. However, with Sean Spence's potential career-ending injury and Stevenson Sylvester not being resigned the Steelers have no experienced depth at middle linebacker. There are also not many top-tier middle linebacker prospects in the draft so keeping their leading tackler in Foote made sense for the Steelers. Jarrod Johnson - Johnson showed some flashes last pre-season and when he was cut it was received with scorn by the fan base. Many saw Johnson as the potential future starter for the Steelers. Johnson, however, has yet to catch on with another team and is currently a free agent. The Steelers could possibly bring him back this off-season if they think that he has promise, but it is more likely they will sign an undrafted free agent quarterback instead. Hopefully that new quarterback doesn't perform in the pre-season because if he does and the Steelers cut him we will have to hear about them cutting a future star once again. Mike Wallace - When Wallace refused to sign the contract the Steelers offered him last off-season his time in Pittsburgh was cut to one year. There was no way the Steelers were going to sign him to a bigger deal and Wallace was not willing to take a discount to stay in Pittsburgh. Therefore, many fans think the Steelers should have found a way to trade Wallace and at least get something for him. However, it's unlikely any team would have given an early pick for Wallace. They may have received a third or fourth round pick, but they should receive a third round compensatory pick for losing him in free agency anyway. A third round pick and a year of Wallace is worth more than just the pick and that's likely the reason he remained in Pittsburgh in 2012; that and a lack of interest. Brian Hoyer - This is the most recent move to upset Steelers fans and we can thank Ed Bouchette of the Pittsburgh Post-Gazette for that. Bouchette wrote that the Steelers were hoping to bring back Brian Hoyer as Roethlisberger's back-up in 2013, but he has a second round tender and the team is not willing to give up a draft pick for him. The Steelers had Hoyer on the roster last season, but were forced to cut him to open space for another corner due to injuries. Hoyer signed with the Arizona Cardinals and they placed a second round tender on him this off-season. Fans are now mad that the Steelers didn't keep Hoyer some have even said they think Hoyer had the promise to be the Steelers future quarterback. The problem with that is that Hoyer is a career back-up and will turn 28 this season. Hoyer is inexperienced and would not have a chance to take over for a few years at least as Roethlisberger still has a good three or four years left. At that point Hoyer would be 32 so, no, as far as I'm concerned the Steelers didn't lose a prized player. In fact, Bruce Gradkowski, who the Steelers signed to be Roethlisberger's back-up, is more experienced and may be the better of the two players. Both are nothing more than back-up quarterbacks and I'd take the more experienced player every time.   Any time a team finishes below expectations, as the Steelers did in 2012, it causes fans to panic. However, the Steelers aren't in anywhere near as bad of a situation as many fans and even analysts would have you think. As long as they have Ben Roethlisberger at quarterback they will have a chance to win each and every week. You also have to take into account the Steelers salary cap issues. Their salary cap problems aren't due to bad accounting or planning it's due to the fact that they have star players such as Troy Polamalu, LaMarr Woodley, Lawrence Timmons, Ike Taylor, Ryan Clark, Antonio Brown Heath Miller, Ben Roethlisberger, etc… singed to big deals. Teams like the Cleveland Browns and Miami Dolphins who have lots of cap space would likely trade places with the Steelers in a heart beat if given the chance. It can be hard to watch the Steelers lose stars and not replace them in free agency year after year, but they always find themselves in the playoff race at the end of the year and that's all that matters. Remember the Steelers biggest rivals for the division are the Super Bowl champion Baltimore Ravens. The Ravens have had a much harder to swallow off-season and the Steelers beat them with their third string quarterback a season ago. An 8-8 record was hard to stomach last season. The Steelers also suffered five loses by three points all of which they could, or should, have won. If the Steelers can stay healthy in 2013 and not suffer the major, or multitude of injuries, that have plagued the team the last two years they will be right back in the thick of things. Even so, injuries often have more to do with luck than anything the team can do to prevent them. At this point the best off-season move the Steelers can make is to get their players conditioned and ready for next season.  
Original Story:
http://steelblitz.com/an-educated-loo...
THE BACKYARD
BEST OF MAXIM
RELATED ARTICLES
If the Pittsburgh Steelers aren't serious about adding a quarterback at some point during the upcoming draft, they sure are putting up a fantastic smokescreen. Gil Brandt of NFL.com reports on Monday that Steelers quarterbacks coach Randy Fichtner was present this past Thursday at the Miami of Ohio pro day to observe quarterback Zac Dysert throw. As Brandt points out, Dysert...
The Pittsburgh Steelers re-signed wide receiver Plaxico Burress to a one-year contract a few weeks ago, but it appears that he might need a teammate to give him rides to practice this year. TMZ reports on Monday that Burress has had his drivers license suspended after failing to settle a judgment against him stemming from a 2008 traffic accident. Burress, who did not have insurance...
Tammy Nunez of The Times-Picayune reported Friday that Pittsburgh Steelers quarterback coach Randy Fichtner will be in attendance for the Tulane Pro Day this upcoming week to watch quarterback Ryan Griffin. Not only will Fichtner be present for the workout, but he will also be having dinner with the 6-foot-5, 206-pound Griffin in addition. "I'm headed to San Diego on April...
According to Ed Bouchette of the Pittsburgh Post-Gazette, the Steelers really wanted to sign quarterback Brian Hoyer, but the Cardinals placed a second round tender on him, since he was a restricted free agent. I'm sure Cardinals' head coach Bruce Arians knew the Steelers wanted Hoyer, that's why he placed such a high tender on him. The ironic part is that Hoyer was on Steelers'...
When the Pittsburgh Steelers cut Joey Porter during March of 2007 there were a lot of questions as to who would step in to replace him. Porter was considered one of, if not the, best players on the Steelers defense and their biggest off-season need immediately became finding a replacement. However, what analysts and some fans failed to realize was the Steelers already had their replacement...
The Pittsburgh Steelers have been linked to linebacker Brian Urlacher. Urlacher was recently released by the Chicago Bears to save money against the cap and because the linebacker is getting older and isn't the same player he used to be. The Steelers are rumored to be looking for linebacker depth, but a 34 year old linebacker with not much playing time left doesn't exactly fit...
Since Kevin Colbert became the Pittsburgh Steelers' director of player personnel in 2000, they have not missed on a first-round draft pick, although it's too early to tell on Cameron Heyward and David DeCastro. The 2013 NFL draft is no time for the Steelers to snap that first-round streak. Coming off an 8-8 season, the 2013 draft is a pivotal one for the franchise. As frustrating...
On Friday, Ed Bouchette of the Pittsburgh Post-Gazette reported that the Pittsburgh Steelers were really wanting to get back quarterback Brian Hoyer, who spent a short time on their roster last season when Ben Roethlisberger and Byron Leftwich were both sidelined by injuries. That want was made impossible recently when the Arizona Cardinals put a second-round tender on the 27-year...
For the last few years there has been talk about the Pittsburgh Steelers' aging defense. ESPN and NFL Network have made their cases the last few years as to why the aging Steelers' defense would fall from grace, but the Steelers' defense continues to come through. During the 2012 season the Steelers' defense struggled compared to recent performances and they still ranked...
Pittsburgh Steelers safety Ryan Clark was a guest Monday morning on NFL AM to talk about several things related to the team, and he made it point to say that he was glad that the Baltimore Ravens decided to trade away wide receiver Anquan Boldin to the San Francisco 49ers before the start of the free-agent signing period. "I'm not upset about it at all — I think that was...
Hot News for TE Matt Spaeth
Ryan Clark and the Steelers are the Baltimore Ravens most fierce rival, so any subtraction from the Ravens is seen as an addition for the Steelers. Clark was on NFL AM and according to Pro Football Talk, did not hide his joy when the topic of Boldin being traded came up. "I'm not upset about it at all — I think that was a very good move by the Baltimore Ravens," Clark said...
Steelers News

Delivered to your inbox

You'll also receive Yardbarker's daily Top 10, featuring the best sports stories from around the web. Customize your newsletter to get articles on your favorite sports and teams. And the best part? It's free!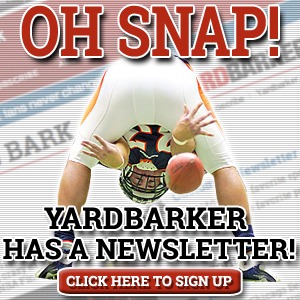 Latest Rumors
The Backyard

Today's Best Stuff

For Bloggers

Join the Yardbarker Network for more promotion, traffic, and money.

Company Info

Help

What is Yardbarker?

Yardbarker is the largest network of sports blogs and pro athlete blogs on the web. This site is the hub of the Yardbarker Network, where our editors and algorithms curate the best sports content from our network and beyond.