Found September 21, 2012 on Rams Herd:
PLAYERS:
Lance Kendricks
,
Brandon Gibson
,
Danny Amendola
,
Brit Miller
,
Ryan Kerrigan
,
Perry Riley
,
DeJon Gomes
,
Barry Richardson
,
Harvey Dahl
,
Quinn Ojinnaka
,
Barry Cofield
,
DeAngelo Hall
,
Daryl Richardson
TEAMS:
St. Louis Rams
,
Washington Redskins
Situation: 1 & 10 from the Rams 41, with 4:07 left in the 3rd Quarter, Rams trailing by 5. Personnel: 21  Play: Flex Left Pro Slot 18 Stretch Zone Defense: 3-4, Cover-2 Man Pre-Snap The Rams come out in 21 personnel (2 running backs, 1 tight end) with tight end Lance Kendricks to the left and Brandon Gibson split wide right and Danny Amendola inside of him in the slot. The backfield is in an offset-I with fullback Brit Miller flexed to the field.
The Redskins are in their base 3-4 defense, but with outside linebacker Ryan Kerrigan (91) bumped out over slot receiver Danny Amendola. The Rams are running an outside zone play to the field side. One of the weaknesses in a 3-4 defense is that there is no edge defender. In a 4-3, defensive ends set the edge up front, but in a 3-4 defense, the edge defender has to be manufactured. With the Redskins alignment in this particular play, they are asking inside linebacker Perry Riley (56) to be guy. Riley's responsibility is to get to the outside and force the play back inside. Next to Riley is London Fletcher (59). Fletcher is what is known as secondary contain man. His assignment is to work inside out, staying on the inside hip of the running back, and looking for any cutbacks. DeJon Gomes (24) should be supplying run support in the alley from his safety position. Post-Snap Offensive Line - The offensive line is blocking a zone concept up front. The key in the zone concept is to realize that the line are not locked into a man pre-snap but rather the line works in conjunction with either 2, 3, or 4-man calls. The number of linemen in a call are responsible for the same amount of defenders.
On this particular play, the Rams have two two-man calls. The first pairing is the right tackle, Barry Richardson and the right guard, Harvey Dahl. This call is known typically as a "GUT"-call. (G-guard / T-tackle….yes it is that simple). In a 2-man group working together, the pair is typically responsible for a player at the first level (defensive linemen) and a player at the second level (linebacker). However, given the play call and the defensive alignment, there was most likely a stay on call. Thus, Richardson and Dahl's sole responsibility is to hook the 4-i technique defensive end Kendric Golston (64). Given the outside leverage the tackle has on a 4-i technique, this is an easy block.
Center Rob Turner and backside guard Quinn Ojinnaka have what's known as an "ACE"-call. These two are responsible for zero-technique, Barry Cofield (96) and insider linebacker, London Fletcher. In a perfect world, Turner wants to punch up through Cofield, slowing Cofield's momentum down and allowing Ojinnaka to take over the block and Turner then works to cut-off a flowing London Fletcher. Off the snap Cofield runs the line well and Turner is unable to slow his momentum. This leaves Ojinnaka with the tough assignment of getting to an inside linebacker who already has considerable leverage on him. Ojinnaka is unable to get there, but as I discuss later, it doesn't matter. Brandon Gibson: Gibson's responsible for the man over him on this play. It happens to be DeAngelo Hall (23). Gibson does a good job staying on Hall and finishing his block. With Gibson occupying Hall for as long as he does, Hall is unable to retrace and catch Richardson.
Danny Amendola: Amendola's job is to push-crack up to the safety. The technique he should use is to push off the line of scrimmage, bringing his defender with him and while the whole time eyeing the safety. Amendola should release to the safety once he sees that the safety is coming up to be a run defender. Amendola recognizes that Kerrigan is manned up on him. He does a great job taking an outside release. This requires Kerrigan to flip his hips and turn his back to play. Now with his eyes no longer is the backfield, Kerrigan is no longer a run defender at the first level. Amendola is unable to crack Redskins safety DeJon Gomes. However, as I discuss below, the missed block doesn't matter.
Brit Miller: Miller's sole responsibility is to block force (Perry Riley). Miller's aggressive cut-block takes Riley off his feet and now the edge at the first level is open for Richardson to run through.
Daryl Richardson: On any stretch play like this, the running back's aiming point is the outside hip of the tight end. Despite the fact that a tight end is no in place, the aiming point remains the same. Zone plays typically give the running back three options: bend, bang, or bounce. "Bend" refers to cutting back against the grain of the play. "Bang" refers to running through the original hole of the play call. "Bounce" refers to cutting outside of the original hole. Richardson elects to bounce this run to the outside away from two linebackers flowing over the top. Result This isn't the best-executed play from the Rams this past Sunday. As discussed above, both London Fletcher and DeJon Gomes go unblocked. However, there are three important things that happen on this play that allow the result to come out the way it did. First, a great block by fullback Brit Miller. Miller's ability to take Perry Riley off his feet not only gave Richardson the edge he needed, it slowed down London Fletcher on his way to the ball. Second, a terrible route to the ball by safety DeJon Gomes. Gomes gambles. Inside of working over the top of Amendola, and playing in the alley like he is supposed to, he avoids Amendola by going inside of him and Ryan Kerrigan taking him out of position to make the tackle on Richardson. And finally, the speed of Richardson makes this happen. Richardson's speed burns Gomes's poor route choice. Unfortunately for Gomes, probably any running back of lesser speed and Gomes is able to do more than just two-hand touch the ball carrier. Richardson's speed and ability to get to the edge is what allows this play to go for 53-yards. The Rams may have very well struck gold in the 7th round when they choose Daryl Richardson. Definitions Flex Left Pro Slot 18 Stretch: "Left Pro" tells us two things. First, that the formation is 21 personnel (two RBs, one TE) with the tight end on the line. The second thing it tells us is that the tight end is to the left. Because there are two receivers away from the tight end side, we get a "Slot" call, which brings Danny Amendola to the right of the formation. "Flex" tells us that the fullback is in an off-set I. The "18 stretch" tells us that this is a zone, boundary play to the right. Edge Defender: A player on defense who is responsible for outside contain. The edge defender's responsibility is to force the play back inside. 4-i technique: Refers to the alignment of the defensive end. A defensive end playing a "4-i technique" is lined up with the crown of his helmet on the inside eye of the offensive tackle. GIF courtesy of @Squick3n.
Original Story:
http://www.ramsherd.com/2012-articles...
THE BACKYARD
BEST OF MAXIM
RELATED ARTICLES
ST. LOUIS (AP) Steven Jackson's status is day to day after the nine-year veteran sat out his second consecutive practice Thursday with a groin injury. The same problem forced him to miss most of St. Louis' 31-28 victory over Washington on Sunday and he is a game-time decision for Sunday's game at Chicago. "I've played with worse injuries before," Jackson...
The St. Louis Rams are brushing aside comments questioning their style of play by Washington quarterback Robert Griffin III. Griffin told reporters Wednesday the Rams were ''dirty'' and ''unprofessional'' during their 31-28 victory on Sunday. He claimed he was hit after plays and in other unnecessary ways during the game. The Rams denied breaking...
The St. Louis Rams are brushing aside comments questioning their style of play by Washington quarterback Robert Griffin III. Griffin told reporters Wednesday the Rams were ''dirty'' and ''unprofessional'' during their 31-28 victory on Sunday. He claimed he was hit after plays and in other unnecessary ways during the game. ''I remember one...
ST. LOUIS The memory remains. But it has been cut and creased and crumpled and buried deep in Danny Amendola's mind, because this is a new week and life goes on. He dresses near his locker Wednesday at Rams Park, to the right of a flatscreen television that replayed his Week 2 performance as he scrambled for a mid-afternoon meeting two days earlier. Amendola caught 15 passes...
For the second straight day, St. Louis Rams running back Steven Jackson didn't practice because of a groin injury.  He could end up being a game time decision on Sunday. If Jackson can't go, we might see Daryl Richardson step in and get significant time like he did last week.
Steven Jackson To RG3: This Isn't The Big 12 - We told you on Thursday that Robert Griffin III was not a fan of the "dirty extracurriculars" and the "unprofessional" late hits from the St. Louis Rams in Week 2. "It was weird," the Washington Redskins quarterback said. "… People want to hit me because they don't think I can take a hit." On Thursday, Rams RB Steven...
St. Louis running back Steven Jackson is dealing with a groin injury and missed practice on Wednesday, Thursday and Friday, but coach Jeff Fisher has said he didn;t need to practice during the week to play on Sunday.Fantasy Spin:The running back will be a game-time decision Sunday. Grabbing backup Daryl Richardson is a good idea off his impressive nine-carry, 58-yard effort.
ST. LOUIS (AP) It's only Week 3 and Harvey Dahl is the last man standing on the offensive line the St. Louis Rams envisioned at the start of training camp. All they can do this week at Chicago is keep patching things together in hopes of keeping Sam Bradford upright. Short-handed or not in last week's 31-28 victory against Washington, it worked just fine. "I think...
Steven Jackson was excused from their recent victory over the Redskins due a "sore groin" although it certainly looked as if he was benched due to getting flagged for spiking the ball after what appeared to be a touchdown. They did not rule it a touchdown and the Rams were fortunate to get a call in their favor after Cortland Finnegan baited Josh Morgan into throwing the ball...
St. Louis Rams (1-1) at Chicago Bears (1-1) In 2010, I consistently ranked the Bears lower than most and lower than their record would have suggested because I simply didn't trust the combination of Jay Cutler, that offensive line, and Mike Martz to consistently win 3 or 4 games in a row against playoff caliber teams, so I didn't like their Super Bowl chances. This year, I thought...
All the news, notes, quotes and injury informtion you need to prepare for this weekend's NFC matchup between the Chicago Bears and St. Louis Rams at Soldier Field.
The biggest story nobody is talking about from the St. Louis Rams' 31-28 victory over the Washington Redskins last Sunday was the running back situation. Yes Sam Bradford showed why he was drafted #1 overall, Danny Amendola set a career high in receiving yards, the Rams came back from..blah…blah…blah. And definitely not the Steven Jackson benching/growing pull saga...
NFL News

Delivered to your inbox

You'll also receive Yardbarker's daily Top 10, featuring the best sports stories from around the web. Customize your newsletter to get articles on your favorite sports and teams. And the best part? It's free!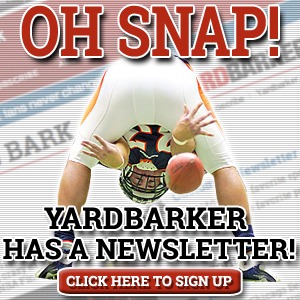 Latest Rumors
Best of Yardbarker

Today's Best Stuff

For Bloggers

Join the Yardbarker Network for more promotion, traffic, and money.

Company Info

Help

What is Yardbarker?

Yardbarker is the largest network of sports blogs and pro athlete blogs on the web. This site is the hub of the Yardbarker Network, where our editors and algorithms curate the best sports content from our network and beyond.