Found December 26, 2012 on Grits Blitz:
Let's take a look back at the play that resulted in a Matt Ryan 44 yard TD pass to Roddy White against the Lions this past week. The Falcons started out by lining up in 22 personnel with 2 TEs, 2 backs, and 1 WR out wide (White).  The Lions come out in a cover one scheme which means they'll have one deep safety and everyone else will be playing man. Originally Atlanta stacks the formation to the left but then Matt Ryan motions Michael Palmer to the right side and sees that the Lions are in a cover one after Louis Delmas follows him across the line. The Falcons are going to run PA with Turner which causes the linebackers and the deep safety to step up. As you can see the Falcons are in max protection with only 2 men going out on routes. For this reason the Falcons and QB Matt Ryan will live or die based on how effective the PA is on this play. If the LBs bite up then Matt will likely have the one on one match up that he wants. The key here will be getting the lone safety to bite to one side of the play and leave the other one in a clear one on one.   The playaction works to perfection and all of the linebackers and the lone safety bite up. This allows Tony Gonzalez to get a clean release on his corner route and get behind the defense. This puts the SS Don Carey in a tough spot. He can either roll towards his left and double Roddy White, who is running a double move route, or he can roll towards his right to try and catch up with Gonzalez who is running a corner route to the end zone.  Carey chooses to roll to his right but he's late getting over there as well so Tony Gonzalez has a clean break to the end zone. However, Matt Ryan has already made up his mind and is throwing to his go-to-guy Roddy White who is matched up with Chris Houston. Carey notices that Ryan has chosen to go to Roddy White but he's already out of the play since he initially rolled to his right to try and pick up Gonzalez. Roddy was running a route which had a double move in it but doesn't get the necessary separation he needs from the double move so instead he employs a veteran push off which allows him to get just enough separation.    Ryan drops the ball into White who now has a step on CB Chris Houston and gets into the end zone for six. You can see at the bottom of the screen is Lions SS Don Carey who was too little to late getting over to the play. The main reason this play worked was the playaction fake. The man assigned to cover Tony Gonzalez bit on the play fake which allowed Tony to get behind him. Carey had to roll that direction which gave Matt a clear one on one with Roddy to his right side. If the linebacker doesn't bite on the fake and sticks with Tony off the snap then Carey can likely stay in the middle of the field and read the QB the entire way. That would have led to a much more difficult pass. Follow Zach on Twitter @GBBZach.
Original Story:
http://www.gritsblitz.com/2012-articl...
THE BACKYARD
BEST OF MAXIM
RELATED ARTICLES
Three members of the Atlanta Falcons who have already secured home-field advantage throughout the NFC playoffs and are currently tied for the best record in the NFL were named to the Pro Bowl team, but none came on the defensive side of the football. Tight end Tony Gonzalez, playing in what is expected to be his final season, highlighted the trio, earning his 13th berth to the...
FLOWERY BRANCH, Ga. Falcons safety Chris Hope said on Wednesday that he will appeal the 30,000 fine that the NFL levied against him for an unnecessary roughness foul he received on Dec. 16 against the New York Giants Victor Cruz. Oh, yeah, Hope said of his decision to appeal. Im not looking into it right now. Pure focus is on finishing the season strong and making sure we get the...
Tony Gonzalez hasn't changed his stance on retirement since the first day of training camp. The 13-time Pro Bowl tight end remains 95 percent certain he will walk away from football after the season, though everything still hinges on whether the Atlanta Falcons advance deep into postseason as a No. 1 playoff seed. At 36, Gonzalez continues to make enough big plays that he was...
Out of all of the teams in the playoffs currently, none gets more disrespect that the Atlanta Falcons. Sporting the league's best record and being undefeated at home has done little to impress the national pundits who clamor for the Packers, Niners and even Redskins more than Atlanta. A close loss to division rival New Orleans and one really bad showing in Carolina are the only...
Matt Ryan and the Atlanta Falcons disagree with the idea they have little to play for in Sunday's regular-season game against Tampa Bay. Ryan threw seven touchdown passes with no interceptions the past two weeks while completing 80 percent of his passes. Coach Mike Smith says that ranks as the fifth-year quarterback's best back-to-back games. The Falcons (13-2) have home...
While calling it "championship-caliber" may still be somewhat of a stretch, the Atlanta Falcons' defensive unit is playing much better this year than it had the first four years of Mike Smith's coaching tenure. You probably couldn't tell by looking at the statistics though. The Falcons rank 23rd defensively and have given up a lot of yards this season. CLICK HERE TO READ MORE »
With a convincing win over Detroit on Saturday night, the Atlanta Falcons took another step toward a championship by locking up home-field advantage throughout the NFC playoffs. So why isn't anyone buying Atlanta? The 13-2 Falcons have been dominant against teams they should beat this season, but have not played the most difficult of schedules. That's not their fault – you...
Athlon Sports' weekly rankings of NFL teams. The Atlanta Falcons have flown back into the top spot after locking up home-field advantage throughout...
Sunday Tampa Bay Buccaneers at Atlanta Falcons Falcons WR Roddy White (knee) Jock to Doc take: White did not practice Thursday, and while his knee issue does not seem like a big deal, the Falcons have already secured the NFC's top seed. He will likely be severely limited or scratched altogether. Health Rating: Roddy White @ 67% Baltimore Ravens at Cincinnati Bengals Ravens...
Last week: 3 (+0) Record: 13-2 Net points per drive: 0.77 (3rd) DVOA: 11.6% (7th) Weighted DVOA: 7.3% (11th) Studs QB Matt Ryan: 25 of 32 for 279 yards and 4 touchdowns, 105.6 adjusted QB rating, pressured on 13 of 35 drop backs (1 sack, 1 scramble, 6 of 11, 1 touchdown) LG Justin Blalock: Did not allow a pressure on 36 pass block snaps, run blocked for 4 yards on 1 attempt WR Roddy...
Win or lose, the Atlanta Falcons will finish the season with the NFC's best record. Still, given their lack of playoff success with Mike Smith as coach and Matt Ryan under center, the South champs definitely don't want to head into the postseason on a down note. The Falcons will try to match a team record for wins and finish 8-0 at home on Sunday when they close out the...
NFL News

Delivered to your inbox

You'll also receive Yardbarker's daily Top 10, featuring the best sports stories from around the web. Customize your newsletter to get articles on your favorite sports and teams. And the best part? It's free!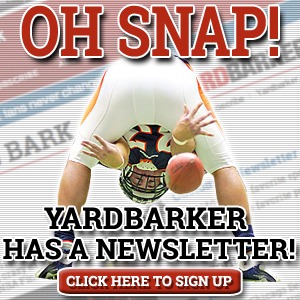 Latest Rumors
Best of Yardbarker

Today's Best Stuff

For Bloggers

Join the Yardbarker Network for more promotion, traffic, and money.

Company Info

Help

What is Yardbarker?

Yardbarker is the largest network of sports blogs and pro athlete blogs on the web. This site is the hub of the Yardbarker Network, where our editors and algorithms curate the best sports content from our network and beyond.