Found November 14, 2012 on Rams Herd:
PLAYERS:
Alex Smith
,
Michael Crabtree
,
Frank Gore
,
Vernon Davis
,
Bradley Fletcher
,
Jo-Lonn Dunbar
,
Trumaine Johnson
,
Craig Dahl
,
Cortland Finnegan
,
Colin Kaepernick
,
Robert Quinn
,
James Laurinaitis
,
Steve Spagnuolo
,
Gregg Williams
TEAMS:
San Francisco 49ers
,
St. Louis Rams
In some ways, watching game film of the Rams vs the 49ers is an absolute joy, to see a team execute its gameplan to perfection. In others, that same film is agony to watch. Most of the latter moments came on defense, which had a very uneven performance and put our offense behind the 8-ball throughout the second half. We'll write up examples of things the Rams did well in a related article. But this feature focuses on three examples of plays that the Rams failed to defend time and time again. These aren't individual effort plays, like missed tackles or dumb penalties; these are repeated problems that would appear to be coachable and fixable. In this game, they flat-out cost us a win. 1. An inability to defend the crossing pattern This happened multiple times in the game, but few were more critical than this 3rd-and-15 in the second quarter on what would be Alex Smith's only scoring drive of the day. As we mentioned in our QB comparison, the 49ers love to make life easy for Alex Smith by bundling at least one "hot read" into every passing formation. Michael Crabtree has become somewhat of a specialist in these routes, a big target that can power through the interior and make tough catches. On this play, he runs a short crossing route right through the Rams linebackers' kitchen, while the remainder of the receivers in the pattern (including Frank Gore out of the backfield and Vernon Davis in motion) flood toward the sticks. With the Rams in a solid zone, no one shifts when Vernon Davis motions away from Crabtree's side of the formation. This leaves three defenders on his side of the field for him to deal with. No problem, right? In fact, there are two major problems at play. One is the depth that the cornerbacks are playing, and the other is the zone handoff from Bradley Fletcher to Jo-Lonn Dunbar on this play. Let's tackle the second one first. As was their wont all game long, when the ball is snapped, the Rams linebackers both ran backward after the ball was snapped. Laurinaitis has to drop into coverage vs the tight end, while Dunbar's job is clearly to run to a spot, and then react to the play. The only problem is, he completely wipes himself out of the play as it happens. Here is a snapshot when Dunbar reaches his "spot." He is even with Crabtree, five yards behind, but his momentum is going completely the wrong way while Crabtree is steaming full speed toward Alex Smith's ideal throwing lane, and into a wide open space behind four well-positioned 49ers blockers. Meanwhile, both outside cornerbacks Bradley Fletcher and Trumaine Johnson are clearly told to backpedal full steam toward the sticks, which sounds like safe advice on a 3rd-and-forever. But by not pressing or playing his man, Fletcher is defending absolutely no one just a few steps into this play. The third defender on Crabtree's side of the field is our old friend Craig Dahl, whose job as safety is primarily "read and react." We like to pick on Dahl, and he has taken only two steps since the ball was snapped here. Perhaps he should have been more alert to Crabtree's route, but the primary fault on this play lies with Dunbar and Fletcher, and with the scheme they were asked to play. So who ends up making the tackle? None of these men. Cortland Finnegan has to fight off a chip from Vernon Davis and a block from Frank Gore, and chase down Crabtree from behind to clean up this mess, less than half a yard short of the sticks. 2. An inability to set the edge vs a mobile QB Early in the second half, I wondered aloud whether the Rams had a better gameplan for Alex Smith than for Colin Kaepernick. After all, pressure Smith and he rapidly turns into an ordinary quarterback, settling for a first read or, failing that, bailing out and/or taking a sack. With Kaepernick, advised Turf Show Times' Joe McAtee (@3k_), you play for pressure but you must contain the edge. They failed at this. Over. (19-yard scramble to the 49ers' 41.) And over. (10-yard scramble to the Rams' 45.) And over again. (12-yard pass to the Rams' 32.) Our defensive ends quite simply failed to heed this fundamental advice on nearly every down of the 49ers' final scoring drive of regulation, when the Rams had to defend only 69 seconds of the clock, holding a three-point lead. Robert Quinn was the most egregious offender, lining up in a wide-9 stance and consistently choosing the outside lane (or path of least resistance, freely offered by the left tackle). By contrast, the one play of this drive that Quinn chose the more patient inside lane, the knot of interior pressure kept Kaepernick planted in the pocket and hurried his throw. To his credit, Kaepernick is not Alex Smith, and he completed a 4-yard pass to Vernon Davis on that play. But that remained a successful outcome for the Rams, a short completion that stayed in bounds and runs the clock is exactly what a "prevent" defense is supposed to allow. These long, ridiculous gashes of turf that the Rams gave up on these misdirected pass rushes, are not. 3. Where's James going? James Laurinaitis is having by far the worst season of his career as a Ram, and it's coming at the worst possible time - immediately after signing a long-term contract extension. Laurinaitis was one of Billy Devaney's few successful high-value picks, and was a perfect choice to quarterback Steve Spagnuolo's defense. He is intelligent and instinctive, and was able to direct his teammates and simply flow to the ball. Despite his other faults as a head coach, Spags provided strong leadership on the defensive side of the ball, which made Laurinaitis' job far easier than it would have been. But watching him struggle now, it's fair to wonder whether any player has been more hurt than JL55 by the "coordinator by consensus" model that the Rams have had to adopt in Gregg Williams' absence. After all, it's hard to conceive of any properly coordinated defensive scheme that asks your middle linebacker to sprint backwards twenty-five yards behind the line of scrimmage on a third-and-eighteen. Certainly, this is no decision that any "instinctive" player would ever possibly make on his own. But this is exactly what happened on the 49ers' touchdown drive that brought them within 17-14. Pre-snap: Cortland Finnegan, not Laurinaitis, is directing traffic with the play call coming in to defend the sticks (highlighted in yellow). Post-snap: Vernon Davis runs unimpeded down the seam precisely to the spot that Laurinaitis has vacated, and Kaepernick makes the easiest "must-have" throw you'll ever see. Where's James? Standing harmlessly behind the play, ten full yards behind where he started and completely out of position to make a play. This happened on multiple occasions, and is absolutely baffling play design. Why did the Rams fail to come away with a win in this game? Here are four of our top five playmakers (Dunbar, Laurinaitis, Long and Quinn) consistently running themselves out of position to make plays. That's why.  Can they fix it? All three of these issues are related, directly or indirectly, with the Rams' defensive scheme. Clearly, something isn't working the way it should, particularly in their cover-two and other zone looks that they like to employ on third down. Whether that's on the players or the coaches I don't know, and am not expert enough to say. But just as clearly, the Rams' opponents have picked up on these bad habits, and are picking them apart. As Mike Sando pointed out in a recent article, our defense has fallen from 7th in the league in expected points allowed to 24th, in just three games. Even with the tag-team of Marc Sanchez and Tim Tebow coming to town this week, the Rams will have to clean up their own house before they can expect to regain their swagger against the pass.
Original Story:
http://www.ramsherd.com/2012-articles...
THE BACKYARD
BEST OF MAXIM
RELATED ARTICLES
San Francisco quarterback Alex Smith already cleared his first hurdle toward returning to the field after sustaining a concussion Sunday in the 49ers' 24-24 tie with the Rams. Coach Jim Harbaugh said Monday that Smith got a good night of sleep and that his symptoms were "good." The first step in getting cleared to return after a concussion is the absence of symptoms...
San Francisco 49ers quarterback Alex Smith took another step toward being ready to suit up Monday when his team takes on the Chicago Bears. Smith was cleared for non-contact drills and was able to return to practice Wednesday, reports Kareem Copeland of NFL.com. "Contact is kind of like the final straw," Smith said, via The Bee. "But I was able to go out there...
According to ESPN's Adam Schefter, 49ers quarterback Alex Smith has passed his concussion tests and has been cleared for contact.  He's now on track to play against the Bears on Monday night. 49ers QB Alex Smith has passed concussion tests this week and, so far, is on track to start Monday night vs. Chicago. — Adam Schefter (@AdamSchefter) November 14, 2012   var _CI ...
San Francisco 49ers quarterback Alex Smith plans to seek a second opinion for his concussion, according to ProFootballTalk.com. Smith suffered a concussion against the St. Louis Rams on Sunday. The 49ers are off until they face the Chicago Bears next Monday night. Before he can be cleared to play, he must be given an OK from an independent neurologist. Even so, Smith is seeking...
San Francisco 49ers quarterback Alex Smith went through position work in a non-contact black jersey Wednesday, his status still unclear for Monday night's NFC showdown with the Chicago Bears after he sustained a concussion Sunday against the Rams. Coach Jim Harbaugh kept an eye on Smith from several yards away as he worked with backup Colin Kaepernick and No. 3 QB Scott Tolzien...
Alex Smith is trying to understand how he lost his job as starting quarterback of the San Francisco 49ers a month after being named the NFC's offensive player of the week. It's not an easy thing for the NFL's fifth-ranked quarterback to deal with this week, even though Smith already has experienced plenty of ups and downs in his tumultuous career since the 49ers made...
San Francisco 49ers coach Jim Harbaugh told reporters, including Cam Inman of The Oakland Tribune, that quarterback Alex Smith is recovering well from a concussion he sustained during last weekend's contest against the St. Louis Rams. Quarterback Alex Smith is recovering well from a concussion that knocked him out of the 49ers' 24-24 tie with the St. Louis Rams, according...
49ers QB Alex Smith has passed all his concussion tests and should be on track to play Monday night against the Bears according to ESPN.Fantasy Spin:Smith injured himself about halfway through Sunday's tie against St. Louis. His 104.1 QB rating through nine games is the highest of his career.
Cam Inman reports that 49ers QB Alex Smith has been cleared for non-contact drills following a concussion that he suffered against the Rams last Sunday. Smith has a decent shot of playing against the Bears this weekend, but his performance in the team's upcoming practices will probably determine his status for Week 11.  
Surprises arise every week in the National Football League. It was no different Sunday, as upsets were abound and teams played out of their character.Coming off the bye week with a home game against a losing team, the San Francisco 49ers were set to route an outmatched divisional rival. Guess again! While the Rams clearly entered Candlestick Park ready to play, the Niners started...
The San Francisco 49ers and Chicago Bears are two of the top teams in the NFC, but that's with their respective starting quarterbacks. Concussions may make both unavailable come Monday night. With Alex Smith and Jay Cutler potentially adding to the national viewing audience, it could be up to Colin Kaepernick and Jason Campbell to solve two of the toughest defenses in the league...
NFL News

Delivered to your inbox

You'll also receive Yardbarker's daily Top 10, featuring the best sports stories from around the web. Customize your newsletter to get articles on your favorite sports and teams. And the best part? It's free!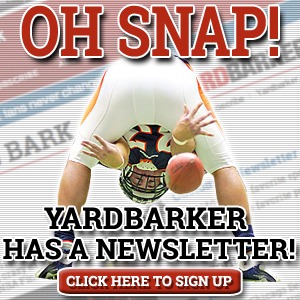 Latest Rumors
Best of Yardbarker

Today's Best Stuff

For Bloggers

Join the Yardbarker Network for more promotion, traffic, and money.

Company Info

Help

What is Yardbarker?

Yardbarker is the largest network of sports blogs and pro athlete blogs on the web. This site is the hub of the Yardbarker Network, where our editors and algorithms curate the best sports content from our network and beyond.