Found April 11, 2012 on Lost My Way:
Sapp, pictured here in a suit presumably rented from a homeless man. It seems like every week there is another future Hall of Famer filing for bankruptcy. Not long ago,
Terrell Owens came out and told the public his sad story
, now we have Warren Sapp - a Super Bowl and National Championship winner claiming that he is $6.7 million in debt. I said it before and I'll say it again, it's hard to feel bad for people who go broke after earning multi-millions over the course of several years. However, I completely understand how it happens. You see, when they're used to living the lifestyle of a millionaire, they forget how to live any other way. So when their money stops rolling in and they live the same way, they climb into a serious amount of debt. Also, they have mad babies and ****. And as we all know, babies ruin everything.
Some of you brighter folks might bring up the point that Sapp has been working at NFL Network as an analyst making $540,000 a year, which is more than enough money for normal people. But not for a guy that has $6.4 million in assets, including 240 pairs of Jordans, a lion skin rug, a large nude women painting, a De Grisogono watch, a Super Bowl ring, and a National Championship ring. Why doesn't he just sell that ****, you ask? Sapp claims that the watch has scratches on it and, I **** you not, he's telling everyone the rings are "missing". Sure they are, Warren. Good luck settling your debts with your 4 different baby mamas while I head to Mordor and search for your "missing rings".

TL;DR Warren Sapp is filing for bankruptcy because he bought too many Jordans and had too many babies and again, I don't feel even a little bad.

Warren Sapp files for bankruptcy? [HuffPost Sports]

Posted by Anthony under Sports
Original Story:
http://www.lmwlostmyway.com/1/post/20...
THE BACKYARD
BEST OF MAXIM
RELATED ARTICLES
After taking a look at Warren Sapp's bankruptcy filing you have to assume that a lot of this comes down to the back child support he owes in the amount of $876K to his former wife Jamiko Sapp and the fact that he maybe job free soon. I thumbed through the bankruptcy documents and found it interesting that Sapp lists his cash on hand at $100 although he does cite having a few thousand...
According to Greg Bedard of the Boston Globe, Warren Sapp will likely be let go by the NFL Network in the near future. The last time Sapp was on the air, was during the week when he claimed that former New Orleans Saints tight end Jeremy Shockey was the whistle blower that led to bounty gate. Right now, no one knows when Sapp will be back on the air. As much as I loved watching...
Already filing for bankruptcy last week, Warren Sapp could be facing additional problems in his future. The Boston Globe reports Sapp's stint as an analyst with NFL Network is "likely over." This comes in the wake of Sapp's controversial accusation last month that Jeremy Shockey was the whistle blower in the Saints' bounty scandal. The network reprimanded Sapp, saying he...
Two weeks after calling out Jeremy Shockey as the snitch in Bountygate, Warren Sapp's appearances on the NFL Network have been few and far between, with him not having been on air after the week of his inflammatory comments. Rumors are circulating that Sapp is done with the network. Sources told the Boston Globe that Sapp may indeed be finished at NFL Network. TMZ reported...
    Not too long ago NFL Network analyst (for now) Warren Sapp claimed via Twitter that he knew who the "snitch" in the New Orleans Saints bounty scandal was. That person, according to Sapp, was former Saints tight end Jeremy Shockey. Commissioner Roger Goddell would refer to the claim as inaccurate. Shockey requested punishment for [...]
Bengals News

Delivered to your inbox

You'll also receive Yardbarker's daily Top 10, featuring the best sports stories from around the web. Customize your newsletter to get articles on your favorite sports and teams. And the best part? It's free!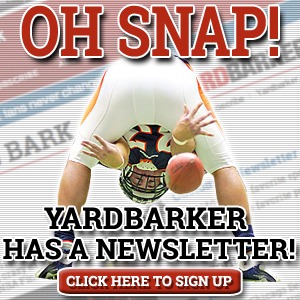 Latest Rumors
Best of Yardbarker

Today's Best Stuff

For Bloggers

Join the Yardbarker Network for more promotion, traffic, and money.

Company Info

Help

What is Yardbarker?

Yardbarker is the largest network of sports blogs and pro athlete blogs on the web. This site is the hub of the Yardbarker Network, where our editors and algorithms curate the best sports content from our network and beyond.