Found December 19, 2012 on The Rhino and Compass:
Robert Griffin is having a tremendous year. Andrew Luck, too, is having a tremendous year. There is some argument over to which one of those two young men will win the Rookie of the Year award, and both are deserving, no doubt. If you hold their statistics side by side, they are very similar, but Luck throws a lot more interceptions. I, for one, think Griffin should win the award, despite my being a Colts fan. The Colts are still, in a way, built like Peyton Manning's team, and it will take time to adapt, but the team Griffin went to in Washington hasn't been good, had no system of success and the franchise was moribund. Griffin made it his own and gave the team a spark it hasn't seen in decades. Give that man the ROY award. The reason that Colts and Andrew Luck fans may not be willing to admit that Griffin deserves the award is because of who they are comparing Luck to. The Indy QB is being compared to two players, and he has exceeded both of their success. First is Curtis Painter, the biggest disaster to afflict either Purdue or Indianapolis. Ryan Lindley is challenging Painter's status, but he may still be one of the 5 worst quarterbacks to ever start an NFL game. He made the Colts look bad. A mediocre quarterback would have extracted more wins out of last year's team. Heck, when they went to Dan Orlovsky, they DID start to win a couple of games. Andrew Luck looks so much better than what the team had last year. How could he not be a candidate for Rookie of the Year? Speaking of rookies, the other quarterback that Andrew Luck will inevitably be compared to is Peyton Manning. In the Colts offense, Manning was an interception machine. He threw 17 in his final season playing in Indianapolis. In his rookie season, he threw 28! Not only that, he lost 13 games. If we are going to hold the Luck-Manning comparison to the same interception criteria, then Andrew Luck has been better as a rookie than Manning was. And he's not far off from what Manning was in his final season in Indianapolis. Yes, Manning had more touchdowns, but Luck has averaged nearly as many yards a game as Manning's final season, and more than 50 more than he had in his rookie year. I'm losing track of my point. What I'm trying to drive home is that Colts fans aren't concerned with interceptions. Indy is used to it. The Colts still run a high volume passing attack that opponents can definitely game plan for. To put up the numbers that he has, in an offense designed around a wily veteran, and one of the best quarterbacks to ever play the game, is nothing short of impressive, even if Luck doesn't deserve Rookie of the Year honors yet. (On that same token, one benefit that Griffin does have in Washington is Alfred Morris. At least the Redskins have some semblance of a ground game. Manning didn't turn it around, truly, until the Colts added Edgerrin James.)  
Original Story:
http://ryanhenning.com/?p=5045
THE BACKYARD
BEST OF MAXIM
RELATED ARTICLES
After calling Robert Griffin III "kind of black, but not really" because he is engaged to a white woman, ESPN's Rob Parker has apologized today (Credit: AP Photo) Last Thursday, while on ESPN's First Take, columnist Rob Parker said Redskins quarterback Robert Griffin III was "black, but he's not really," because Griffin is engaged to a white woman. The company went...
ESPN today announced that it has suspended ESPN2 First Take analyst Rob Parker 30 days for comments he made last week about Redskins QB Robert Griffin III. Here is the official statement from ESPN: Marcia Keegan is a Vice President of Production for ESPN, who oversees First Take: "ESPN has decided to suspend Rob Parker for 30
Washington Redskins quarterback Robert Griffin III was listed a probable on the team's injury report Friday and coach Mike Shanahan indicated that there's a good chance the rookie will be cleared to play Sunday against Philadelphia. Shanahan told reporters Friday that Griffin looked good in practice but had not received medical clearance. He expected that to come Friday...
Washington Redskins quarterback Robert Griffin III fully practiced today after missing this past Sunday's game with a knee injury. Full practice today for @rgiii, which makes it look promising for him to start Sunday vs. Philadelphia. — Adam Schefter (@AdamSchefter) December 19, 2012 If I had to guess right now whether Griffin will play or not this week against the Eagles, I'd...
If you thought Robert Griffin III could do no wrong, well, you're still mostly right. The NFL announced Griffin was fined $10,000 on Wednesday, but it wasn't for anything he did on the gridiron. Griffin wore an Adidas sweatsuit and t-shirt to the Redskins' Week 14 news conference, which the NFL considers unauthorized apparel. That's because the NFL has an official deal...
Washington QB Robert Griffin III (knee) was a full participant in Friday's practice and has been upgraded to probable for Sunday's game against Philadelphia.Fantasy Spin:Griffin missed last week's game at Cleveland due to a mild LCL sprain, but he fully participated in practice this week. Fantasy owners should prepare to have him back for the fantasy championship game...
Washington Redskins quarterback Robert Griffin III is listed as probable for Sunday's game against the Philadelphia Eagles.
Robert Griffin III The Redskins continued their strong push for the playoffs behind their rookie quarterback. However, it wasn't the former Heisman winner behind center but instead a guy taken 100 picks later. Kirk Cousins threw for 329 yards and two touchdowns filling in for the injured RGIII and could be in line for a second straight start. RGIII did not play after spraining...
Dig deep today. Put on your thinking caps and open your minds as I try to explain to you how the corruptive forces of America's illicit drug war and mass incarceration can be seen in ESPN's morning debate festival First Take. The show has been in the news the past week because its part-time clown, Rob Parker, gleefully swallowed Skip Bayless' bait and discussed Robert...
According to ESPN's Ed Werder, there's a chance Redskins quarterback Robert Griffin III could be ready to play in this week's game against the Eagles, but nothing is certain at this point. After speaking with an orthopedic surgeon that told him Griffin has a three-week injury, Werder isn't sure the Redskins will allow him to play.  With head coach Mike Shanahan relying on...
Houston Texans defensive end Antonio Smith was fined $15,750 for unnecessary roughness against Indianapolis Colts quarterback Andrew Luck. Smith was fined by the league Friday for his helmet-to-helmet hit during last Sunday's game. According to the Indianapolis Star, fines for hits against Luck have totaled $129,000 this season.
With Robert Griffin III stealing all of Tim Tebow's ESPN attention, the New York Jets quarterback has found a way to land himself back in the headlines. Tebow, who has only started for the Jets once this season, will reportedly request a trade or to be released if he doesn't get the chance to start over Greg McElroy in the final two games of the season. Since his tenure with...
NFL News

Delivered to your inbox

You'll also receive Yardbarker's daily Top 10, featuring the best sports stories from around the web. Customize your newsletter to get articles on your favorite sports and teams. And the best part? It's free!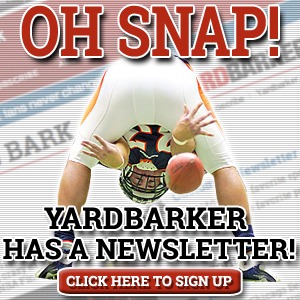 Latest Rumors
Best of Yardbarker

Today's Best Stuff

For Bloggers

Join the Yardbarker Network for more promotion, traffic, and money.

Company Info

Help

What is Yardbarker?

Yardbarker is the largest network of sports blogs and pro athlete blogs on the web. This site is the hub of the Yardbarker Network, where our editors and algorithms curate the best sports content from our network and beyond.