Found August 09, 2012 on Philly Sports World:
You always knew that Andy Reid would be back quickly. That he was back within 24 hours of burying his oldest son may have been a bit shocking, but Andy Reid is a rock. He's been described that way by many over the last few days. Andy Reid looked the same as he always does, but you got a sense in listening to his words that he has been changed forever. How could he not be? You don't lose a child and remain unphased. Reid expressed his gratitude for the overwhelming amount of love and support he and his family have gotten from the media, the Eagles family and his NFL family. I can't help but think that the biggest show of support Andy Reid will get will be from 68,000 fans tonight at Lincoln Financial Field when his Eagles take on the Pittsburgh Steelers in the 1st game of the NFL preseason. For once, it will not be about football tomorrow night. It will be about human beings connecting with a man who has been a part of the landscape in Philadelphia for 14 years. It will be people holding up, supporting and appreciating a man, a father, who has been through something no one should ever go through – burying a child. You see, Andy Reid is one of the family here in Philadelphia. Whether you agree with Reid's coaching decisions or football sense doesn't matter. The terseness and secrecy we have seen from him over the years doesn't matter either. Personnel decisions, bad time outs, questionable play calling. None of it is important. If one thing has been gleaned from this awful tragedy, it's that Andy Reid is a man. A man who is beloved by his family, his players and coaches, and an entire organization, not to mention numerous other people throughout the NFL. It turns out that Andy Reid is a pretty likable man with impeccable values and empathy, whether we get to see that side of him or not. I sometimes wish we could get to see that side of him more often. When he shows it, it's hard to dislike him. Just like any family, there have been bumps in the road and some disagreements along the way. Criticisms and things that have been said along the way are not so much said because family doesn't care for one of its own, it's usually because they care so much. That's how it is with Eagles fans. We all care. More than is sometimes logical. My criticisms of Reid have usually been born from passion for the team. In the end, we all want the same thing. We want Andy Reid to be successful. For me, now maybe more than ever. In life, there are good guys and bad guys. I'm still just naive enough to pull for the good guys. And Andy Reid is definitely a good man. Like any family, Philadelphia pulls together and protects our own. Andy is one of us, and tonight he'll feel the family's love. Similar Posts:
With Andy Reid in Charge, Opportunity for the Eagles Awaits
Andy Reid's Son Garrett Found Dead
Phillies Could Move Victorino; Hamels by Deadline
Who's to Blame for Phillies' Disaster?
Super Bowl for the Eagles? Losing Offensive Lineman Jason Peters Might Change Your Prediction
Original Story:
http://phillysportsworld.com/andy-rei...
THE BACKYARD
BEST OF MAXIM
RELATED ARTICLES
Philadelphia Eagles head coach Andy Reid and his family laid their eldest son, Garrett Reid, to rest on Tuesday. In a day of unimaginable sadness, over 900 people showed their support for the Reids. Their was a massive outpouring of support from the NFL. Current players attended en masse; former Eagles like Donovan McNabb, Jeremiah Trotter, and Brian Westbook were in attendance;...
Philadelphia Eagles head coach Andy Reid returned to the team on Wednesday a few days after his 29-year-old son's funeral. Reid claimed it was "the right thing to do" and he plans to coach the team's preseason opener against the Pittsburgh Steelers on Thursday night at Lincoln Financial Field. Reid's son Garrett was found dead Sunday morning in his dorm room at Lehigh University...
Image via CSNPhilly.com I've never been much of an affectionate person. I don't often hug people, or lean in for the kiss on the cheek when saying goodbye to someone. I'm not sure why, but from what I can remember I didn't really grow up with an overly affectionate family. I'm guessing that has something to do with it. I never met my biological father, and although I love...
AP Photo Philadelphia Eagles owner Jeffrey Lurie confirmed on Tuesday that head coach Andy Reid is expected to coach during Thursday's preseason opener against the Pittsburgh Steelers even though he just laid his son to rest. "By Thursday, Reid is expected to be back on the sidelines. Eagles owner Jeffrey Lurie confirmed that all indications point to Reid being on the sideline...
Just three days after Garrett Reid, son of Andy Reid, passed away, the Eagles' longtime head man was back on the practice field, much to the surprise of quarterback Michael Vick. "I was a bit surprised, but everybody is entitled to what they want to do, and how they feel," Vick said, via PhillyMag.com. "We don't know what he's feeling or his means of dealing with certain...
NFL Commissioner Roger Goodell, Browns President Mike Holmgren and Patriots coach Bill Belichick were among more than 900 people who packed the church for the funeral service of Garrett Reid, son of Eagles coach Andy Reid.
Philadelphia Eagles coach Andy Reid told the media that he hoped his son, Garrett's death would be a rallying point for those struggling with substance abuse.Michael Vick decided to take this a step further by stating: Our entire season will be dedicated to Garrett," Michael Vick said, via Zach Berman of the Philadelphia Inquirer. "And I'm personally dedicating my season...
            AP Photo/ Michael Perez In a game dedicated to Garrett Reid, it was the Eagles' third and fourth-stringers who saved the day.  If we didn't know any better, we would have thought Nick Foles and Trent Edwards were the first and second string quarterbacks. Michael Vick and Mike Kafka were dreadful as the first and second team offenses failed to score...
AP Photo The good news for the Philadelphia Eagles is that quarterback Michael Vick suffered a thumb contusion and is fine according to head coach Andy Reid. Reid also said that Vick was able to grip a football by the end of the game. Rookie Nick Foles looked impressive in his first NFL game, he may need to get ready for the regular season if Vick can't stay healthy.
NFL News

Delivered to your inbox

You'll also receive Yardbarker's daily Top 10, featuring the best sports stories from around the web. Customize your newsletter to get articles on your favorite sports and teams. And the best part? It's free!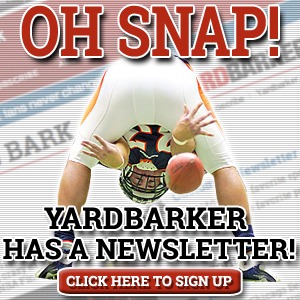 Latest Rumors
Best of Yardbarker

Today's Best Stuff

For Bloggers

Join the Yardbarker Network for more promotion, traffic, and money.

Company Info

Help

What is Yardbarker?

Yardbarker is the largest network of sports blogs and pro athlete blogs on the web. This site is the hub of the Yardbarker Network, where our editors and algorithms curate the best sports content from our network and beyond.