Found December 21, 2012 on Fox Sports Ohio:
PLAYERS:
Brandon Weeden
,
Brad Childress
,
Mitchell Schwartz
,
Andrew Luck
,
Philip Rivers
,
Eli Manning
,
Matt Schaub
,
Aaron Rodgers
,
Mark Sanchez
,
Colt McCoy
,
Peyton Manning
,
Tim Couch
,
Matthew Stafford
,
Carson Palmer
,
Robert Griffin III
TEAMS:
Cleveland Browns
,
Indianapolis Colts
,
San Diego Chargers
,
New York Giants
,
Houston Texans
,
Green Bay Packers
,
Detroit Lions
,
Oakland Raiders
,
Denver Broncos
,
Washington Redskins
BEREA -- Nobody takes a beating faster or harder than a Cleveland Browns quarterback. In a town starved for wins and long-suffering because of losses (54 the past five years alone), a failure of a Browns quarterback draws condemnation faster than the Tasmaniam Devil spins. Brandon Weeden suffered that fate this week. He played the second-worst game of his career against Washington, and the outcry was loud. It was not unwarranted based on that one game, because he played poorly. But were it not for ownership change and a coaching change that might follow, Weeden might be looked at a little different. Or at least given more time. Hes in a rookie season of learning what the drill is and getting that first lap around the track, offensive coordinator Brad Childress said. Thats no different than he or Mitchell Schwartz or Josh (Gordon) or anybody. Can we expect it to get better? You should expect it to get better. Because the expectation is things will get better, teams will stick with young quarterbacks provided they show something. Childress believes Weeden deserves that consideration. If you say, Geez, the guy has had time to do this, is one year time? Childress said. I dont think so. I think typically, youre judging those guys two and three and four year increments, if you give them that long. A look at the numbers shows that Weeden might not be setting the world on fire, but hes had a fairly decent season. Andrew Luck receives more plaudits (deserved) because the Colts are winning, but his and Weedens numbers are not that different: --Weeden ranks ninth in the league with 498 attempts, ahead of Philip Rivers, Eli Manning, Joe Flacco, Matt Schaub and Aaron Rodgers. This might be the single most amazing stat Weeden has. With a back taken third overall on the roster, the Browns are asking Weeden to throw 35.6 passes per game. --Weedens completion percentage is not good: 57.2. That ranks him 30th, and only guys like Josh Freeman, Mark Sanchez, John Skelton and Chad Henne are worse. Oh Andrew Luck also is worse. For Weeden, this could be the combination of adjusting to a new offense and working under center, but its a number that must improve. --Weeden is 17th in the league with 3,281 passing yards, which is partly a result of the number of throws. But its way ahead of fellow rookies Ryan Tannehill, Robert Griffin III and Russell Wilson. Weeden has more starts than any other rookie in Browns history, and more yards. In fact, if he averages 297.5 yards the final two games (which is a lot) he would have the second-best single-season passing yardage total by any Browns quarterback (Brian Sipes 4,132 is first). The guy clearly has the arm and ability to make the throws. --His yards per attempt is 6.59, which is too low and well behind RG3s 8.21. This yards per attempt is typical of Shurmurs quarterbacks, and system. The previous two seasons he called plays for Colt McCoy and Sam Bradford, and they averaged 5.9 and 6.0 per attempt. Weedens seems Favre-like in comparison. --Weeden has 14 touchdowns, which is 23rd, and 17 interceptions, which is tied for third. Thats not good, but as a rookie Peyton Manning had 26 TDs and 28 interceptions and won three games. Go down the list. In their rookies seasons, Tim Couch was 15 TDs and 13 INTs, Eli Manning six and nine (and 1-6), Cam Newton 21 and 17, Matt Stafford 13 and 20, Carson Palmer 18 and 18 and David Carr nine and 15. All were highly drafted. As well as Luck has played, he leads the league in interceptions with 18. Weeden suffers by comparison with RG3, who has 18 TDs and four INTs. But then Luck suffers in that comparison as well. The big difference: Luck has nine wins, Weeden five. --Because of the interceptions Weedens ranking is a brutal 72.4, which puts him 32nd in the league. One ahead of him? Luck. As for the issues most complained about, Childress said he does not agree that Weeden holds the ball too long, but he admits Weeden has had too many passes batted down at the line. They havent quit on the rush and from our standpoint, we probably cant be staring in the same spot for too long, Childress said. One large question about Weeden that wont go away is his age. At 29, if he does not go on a the positive progression next season, hes already 30. His age drove teams from drafting him, but the same Denver Broncos team that won with Tim Tebow and then signed Peyton Manning had Weeden high on their draft boards last April. The age issue affects patience, and makes it important that Weeden not plateau. Will he get better next season? Im not going to say leaps and bounds, Childress said. I would say youd see a different guy come to training camp, and progress through the preseason and into the regular season. Thats provided things stay static around him, which theres no guarantee there either. This is a fluid business as we all know. Yes, as we all know. No team should ever stop looking at acquiring better players -- at every position. McCoy could tell Weeden a thing or two about that reality. Weeden has ways he can improve, no doubt. But hes done enough as a rookie to be given another season -- provided the team does not bring in someone who is clearly better. If there were no ownership change, though, another season would probably be a given. At this point nothing is a given with the Browns. With ownership and front office change, change for the sake of change always remains an option.
Original Story:
http://www.foxsportsohio.com/12/21/12...
THE BACKYARD
BEST OF MAXIM
RELATED ARTICLES
Over the past two weeks (part 1 and part 2), my good friend and colleague Rick has posted updates on some historic NFL records being accomplished by the current trio of rookies on the Browns offense: QB Brandon Weeden, RB Trent Richardson and WR Josh Gordon. In his initial post, I helped to provide some of the backbone research. Yes, I never gave enough credit to Rick for his research...
The Browns weren't going to be favored this week regardless of the outcome last week against the Redskins. After a three game winning streak ends and with two tough games and a presumably lame duck coach, will the wheels come off? Will this team continue to play hard to the final whistle this season? We'll know soon enough, but I want to know what you think right now. Will Peyton...
Despite rumors that Alabama head coach Nick Saban is considering a return to the NFL, one of his star pupils, Cleveland Browns running back Trent Richardson thinks he's staying put with the Crimson Tide. "I can't see him coming to the NFL," Richardson said, via Tom Reed of the Cleveland Plain-Dealer,. "I can see him staying at Alabama and retiring at Alabama. That's...
Mohamed Massaquoi, Jordan Cameron and Tashaun Gipson will not travel with the Cleveland Browns to Denver. Coach Pat Shurmur announced Friday that all three are out for the game against the Broncos (11-3) on Sunday. Massaquoi, a starting wide receiver, has a knee injury. He missed five games earlier this season with a hamstring problem. Cameron has a concussion, sustained last week...
Despite rumors that Alabama head coach Nick Saban is considering a return to the NFL, one of his star pupils, Cleveland Browns running back Trent Richardson thinks he's staying put with the Crimson Tide. "I can't see him coming to the NFL," Richardson said, via Tom Reed of the Cleveland Plain-Dealer,. "I can see him staying at Alabama and retiring at Alabama. That's...
Welcome to the latest edition of X's and O's with the Bros by X's and O's editor @rodofdisaster. This feature represents a basic attempt to look deeper into the game of football, learn something about the X's and O's that make it go, and better appreciate the games within the game. It's called "X's and O's with the Bros" because you don't have to be a player...
Last week: 26 (+0) Record: 5-9 Net points per drive: -0.11 (20th) DVOA: -12.4% (25th) Weighted DVOA: -5.5% (19th) That 17 point loss to the Redskins was actually the first time this season the Browns had been blown out. Their previous biggest loss was 14 and their biggest win (23) is still bigger than their biggest loss. Even that 14 point loss wasn't as bad as the final score...
When the Denver Broncos chose to go with Peyton Manning as their quarterback of the near future over Tim Tebow, very few questioned their decision. While Tebow had just led Denver on an improbable run to the divisional round of the playoffs, Manning is a future Hall of Famer who has already won a Super Bowl. Opportunities like that don't come around all that often for a franchise...
Peyton Manning against starting safeties Eric Hagg and Usama Young. Brandon Weeden against a Broncos pass rush led by Von Miller and Elvis Dumervil. The Cleveland Browns are in Denver and altitude sickness is the prognosis. This is your game day open thread for Week 16. Hopefully you're with family and special holiday-sized bottles today. Tweet
NFL News

Delivered to your inbox

You'll also receive Yardbarker's daily Top 10, featuring the best sports stories from around the web. Customize your newsletter to get articles on your favorite sports and teams. And the best part? It's free!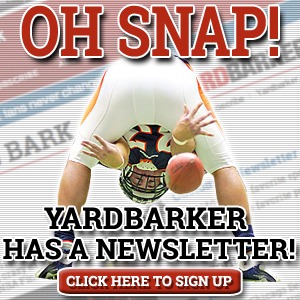 Latest Rumors
The Backyard

Today's Best Stuff

For Bloggers

Join the Yardbarker Network for more promotion, traffic, and money.

Company Info

Help

What is Yardbarker?

Yardbarker is the largest network of sports blogs and pro athlete blogs on the web. This site is the hub of the Yardbarker Network, where our editors and algorithms curate the best sports content from our network and beyond.