Found August 01, 2012 on Read And React: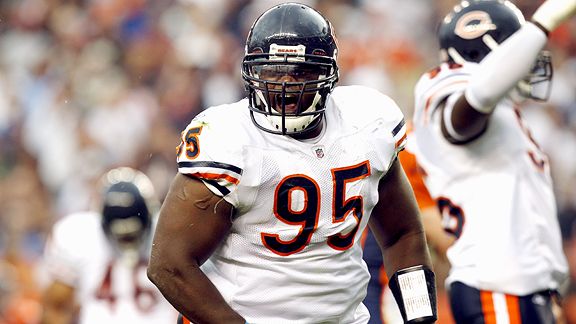 (AP Photo/David Zalubowski via ESPN.com)
Free agent DT Anthony "Spice" Adams – who was released by the Bears in February after 5 years with the team - has also been using the summer months to catch up on some life maintenance. The 32-year-old Adams has yet to latch on with a new ball club for 2012, and fortunately for us, he used his downtime to create this hilarious "Stuff NFL Free Agents Say" video.
Adams might be a little bit late to the party on the whole "Stuff _______ Say" trend, but here he delivers in a big way. While waiting for that fateful call from an NFL team, among other things, Adams has been practicing his swim move on his baby, brushing up on his video game skills (BANG BANG!), watching the waiver wire like a hawk, putting off his diet until next week, fretting about the power bill, and of course, playing words with friends. It's a bit long at over 5 minutes, but trust us, it's worth it:
VIDEO AFTER THE JUMP
Somebody need to sign Adams up … and I'm not even talking about for football. This guy needs his own show, stat.
PS – noting that Adams is a Penn State alum, we can only assume that he edited out the sections of himself crying himself to sleep over the whole Sandusky/JoePa scandal, and having all of his college wins wiped out.
[H/T Deadspin]
Original Story:
http://readandreact.net/2012/08/01/an...
THE BACKYARD
BEST OF MAXIM
RELATED ARTICLES
Perhaps no player has been more maligned than rookie defensive end Shea McClellin.  After all when you're the first draft pick of draft guru and newly minted GM Phil Emery, and you're lining up on the other side of Julius Peppers big things are expected. McClellin has struggled but experience a bounce back day today notching numerous pressures, two tackles for a loss...
After the first few days of practice, the Chicago Bears receiving corps has looked dominant. This is what the team's coaches and management was hoping for when they went out and brought in multiple weapons in the offseason. Brandon Marshall dominated every defensive back that lined up against him during drills on Sunday. However, corner Kelvin Hayden had him on lockdown,...
Newly appointed Chicago Bears offensive coordinator Mike Tice has been in constant contact with quarterback Jay Cutler throughout training camp thus far.   Tice, who was the team's offensive line coach for the past two seasons, has said he wants Cutler to indicate his 'likes' and 'dislikes' about the plays they run. He wants his quarterback to be comfortable...
Shea McClellin should send a thank you card to Brian Price because Price's workout on Tuesday was bad enough that it knocked the rookie off the front page of Bears camp reports. Brian Price struggled mightily in his first full practice in pads with the Bears, raising early alarms about the young players skills.  The naysayers should relax a little, it was one practice and...
JAY CUTLER 2011 Statistics: Games Played: 10 Completions-Attempts: 182-314 Completion Percentage: 58% Passing Yards: 2,319 Touchdowns: 13 Interceptions: 7 QB Rating: 85.7 Analysis Last season, Cutler had to deal with a below-average offensive line and an offensive coordinator who called pass plays that had him running for his life, but still had a pretty impressive year. Cutler...
It's been a rough start for new defensive tackle Brian Price. After getting traded to the Bears last week from Tampa, Price has yet to really wow anyone at camp. Price suffered through notable growing pains during his first practice with the team but he made no excuses for it when asked about it after. "Ain't no asterisks next to your name when you're out there on...
If there's a sense that Shea McClellin is getting piled on by me writing this blog, then throw another log on the fire. I don't want to sound overly dramatic because there is plenty of that going around as well. There's no reason to panic because we're only four practices into camp and there's a long long ways to go. The best way to evaluate this is to say...
Let's just go ahead and fast forward to the good part of the New York Jets adding Tim Tebow to their roster this offseason.  Whether we want to admit it or not, it's a known fact that Tebow and the Jets are not in a 'til death do us part kind of commitment so inevitably the [...]
Bears first rounder Shea McClellin has participated in exactly four padded practices to this point, so the fever pitch surrounding his recent struggles is wildly premature.
Boundless speculation will come out of today's practice as J'Marcus Webb is practicing ahead of Chris Williams at LT.   With Mike Tice saying earlier that Williams and Webb will split reps at LT and split days and Webb practicing with the first team for the second consecutive day, Tice is not sticking to his words. Further adding to the speculation is Chris Williams...
With a quarterback that has been sacked 110 times in the last three seasons in Chicago, you wouldn't point to the Bears offensive line as being its strongest suit. Despite not making any major additions to the offensive line during the offseason, the team feels good about the direction the offensive line is headed. Here are some reasons why the offensive line is not as bad as you...
Bears News

Delivered to your inbox

You'll also receive Yardbarker's daily Top 10, featuring the best sports stories from around the web. Customize your newsletter to get articles on your favorite sports and teams. And the best part? It's free!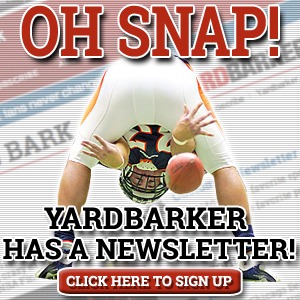 Latest Rumors
The Backyard

Today's Best Stuff

For Bloggers

Join the Yardbarker Network for more promotion, traffic, and money.

Company Info

Help

What is Yardbarker?

Yardbarker is the largest network of sports blogs and pro athlete blogs on the web. This site is the hub of the Yardbarker Network, where our editors and algorithms curate the best sports content from our network and beyond.