Found December 06, 2012 on BroncoTalk:
Big Pete of the comments has a guest piece for your reading pleasure this morning. Thanks Pete for volunteering to do this! Let him know what you think in the comments! Since earlier in the week seemed to be "Nit-Pick Day", here is a list of the things I nit-pick the Broncos about. #1. We seem to always play down to our opponent's level. What is it with the Broncos for the last 15 years that makes us play either up, or more frustrating, down to our opponent's level? It seems that since Elway rode out on his white horse, the Broncos can't seem to dominate the teams they are suppose to dominate, and regularly lose to teams that they are suppose to dominate. Whether it's Brian Griese, Jay Cutler, Kyle Orton, or Peyton Manning, we seem to make games far closer than they should be. Who remembers us losing to woeful Dolphins teams when we were still coached by Shanahan and in the playoffs yearly? Who remembers late season meltdowns against horrible, horrible teams like K.C. last year, the Bills and Panthers in 2008 (the slide that got Shanahan fired), and pretty much the entire 2007 season when we lost to pathetic teams such as the Jags, the Lions, Bears, Texans, and Raiders? At least this year we are winning the games that should be blowouts instead of losing those games in the past, but the frightening trend of playing down to the competition remains. Tell me again how inept the Chiefs were this year, only to have us scratch and claw our way to victory. How about those slumping Panthers? Or maybe even the Bengals who still have a 2nd year QB? The point is that we should have blown the doors off of those teams. We can't struggle to beat the Chiefs when there are teams like the Patriots in the playoffs. Seven points in the first half won't cut it in the playoffs, and if anyone thinks that the Pats or Texans will allow us to stay in the game if we play abysmal in the first half, you're delusional. #2. Matt Prater still can't seem to kick a 40-49 yard FG. Prater is automatic up to 30 yards, pretty darn automatic from 30-39, and clutch as "you know what" from beyond 50… but those pesky 43 yarders, 47 yarders, and 49 yarders seems to be Prater's kryptonite. He is a pedestrian 56% from that range. Mark my words, this could very well cost us a playoff game if this struggle continues. At this point, I think that on 3rd downs where if you don't get the first, it's gonna be a 43-49 yard FG, I contend that we should use that down to take a shot to the endzone. If we don't hit it, I say we take delay of game penalties until we back it up into the 50+ yard range. Hell, at this point, if we are handling a team like Oakland come the 3rd or 4th quarter, I think we should prematurely end drives by having Prater attempt 47 yarders. I don't care if it's 1st and 10 at the 30, I say we trot Prater on the field to attempt a 47 yarder. We need to get him confident in these medium/long distance FGs. While it will stump the fans and media types, it is essential to end drives prematurely in the regular season in order to get Prater's head on right come the post season! I myself would stand up and applaud (and then give a 10 minute dissertation to my friends as to WTF John Fox was thinking) if we did this. Kickers are always the team's leading scorers for a reason, and we need our kicker to be 100% mentally ready come playoff time. #3. We need style points in our victories. What I mean by this is that we need to pretend that the BCS system is in place instead of a playoff format. We need to do our best New England Patriots impersonation and hang 55 on the Raiders, 40 on the Ravens, and 55 on the Browns and Chiefs. Do you know why? Because we need to put the fear of God into our opponents much the way the Patriots do in theirs. Sure, this might piss off a few fans or opponents, but personally, I think the reason why New England is so successful and gets so many points from boneheaded turnovers and mistakes is because their opponents are completely psyched out before they hit the field. They know that they have to play the game of their lives to even stand a chance at beating the Patriots. They know that they have to take unnecessary risks (which usually lead to careless turnovers) in order to match the Patriots point for point. Teams do this when it's still 0-0 or 7-0. There is no reason for their recklessness except for 1 thing… fear! They are afraid that if they don't try to return the kickoff the distance (which usually leads to the returner holding the ball loose), that they will get blown out 55-10. The QB knows that if he doesn't try to thread the needle into triple coverage, that they'll lose 45-6. Fear is the driver of the Patriots' wins, not actual scheming and talent (although both are definitely there). What do the Broncos opponents think going into the game? They think that if they keep it close, they'll have a shot! When you give a team hope, they'll eat you for breakfast. While we haven't lost but 3 games, we are allowing teams to think they have a chance against us until the clock hits 00:00. We need to start putting the pedal to the metal and deliver a good old-fashioned Beat Ass to teams. We need teams to know they lost before they leave their houses. If we do that, our path to the playoffs will be all the easier. It's a whole different ballgame when your opponents honestly believe that they have to take unnecessary risks from the get go, versus teams believing that if they just play fundamentally sound, they can pick us apart and win. What are your Nit-Picks for the Broncos? Let's hear 'em!
Original Story:
http://broncotalk.net/2012/12/43274/b...
THE BACKYARD
BEST OF MAXIM
RELATED ARTICLES
Running back Knowshon Moreno had a big night. Big Pete provides some post-game thoughts on tonight's game… Has a complete and utter domination by one team over another had such a close score? This felt like a 50-7 football game, yet there we were, giving the Raiders hope when there really was none. Like I said in my nit-pick article, we need to crush the souls of our opponents...
The Denver Broncos are fairly healthy for tonight's contest against the Oakland Raiders, as several regulars, including wide receiver Brandon Stokley and defensive lineman Robert Ayers are questionable and probable to play. The only player doubtful on the team's injury report is linebacker Wesley Woodyard. Woodyard sustained a sprained ankle during last weekend's win...
For those who live outside of Colorado and do not have DirecTV, we present this handy-dandy broadcast map, courtesy of the506.com: Those of you who live in the red areas will receive the Broncos/Raiders game on NFL Network this weekend.  Kickoff is scheduled for 6:20 p.m (MT) and we'll have complete coverage of the game here on the blog, on Facebook, and on Twitter.  See you at kickoff!
The last time the Denver Broncos won eight straight games, they raised the Lombardi Trophy, the second and last of John Elway's illustrious career.If these Broncos can continue to click on all cylinders, Peyton Manning will add a second Super Bowl to his legendary resume.Denver defeated the Oakland Raiders 26-13 to notch their eighth straight victory, their longest winning streak...
A football fan appeared to deliberately jump from the upper deck at the Oakland Coliseum during an NFL game between the Raiders and Denver Broncos, police said Friday. Police initially called the Thursday night fall an accident. But a preliminary investigation revealed the man either jumped or climbed over a wall on the third deck and fell to the concrete of the lower concourse...
In a game of AFC West rivals, the Denver Broncos came into Oakland searching for their tenth victory. The Oakland Raiders came home desperately in the need of win, and why not against an old foe to get them right back on track. But once again, the Raiders failed to hold on and took another loss 26-13. The Broncos set the stage from the start as they moved quickly down the field...
Fantasy playoffs are on the line. It begins with the Thursday night football game. The red hot Denver Broncos meet the ice cold Oakland Raiders. If it wasn't Thursday night it would be a slam dunk.But it is a Thursday night game where the visiting team does not do so well. But this is not Tim Tebow's Broncos. This is Peyton Manning's team. Is there anyone you can...
I gotta be honest, Raider Nation. I'm running out of things to talk about, report, and analyze in the AFC West. It's pretty simple, really. The Denver Broncos are good. The Chargers, Chiefs, and Raiders are not. The Broncos clinched the division title this past weekend and now set their sights on a 2 or 3 seed in the playoffs. The [...]
For more thougts from Brad, follow him on Twitter @jazzhessian Summary A spirited effort by the Raider defense against Peyton Manning and the Broncos proved not to be enough as the Raiders fell again, bringing their record to 3-10. After a rough week for Dennis Allen dealing with the unexpected loss of his father Grady, the Raiders seemed to come into the Thursday night matchup...
NFL News

Delivered to your inbox

You'll also receive Yardbarker's daily Top 10, featuring the best sports stories from around the web. Customize your newsletter to get articles on your favorite sports and teams. And the best part? It's free!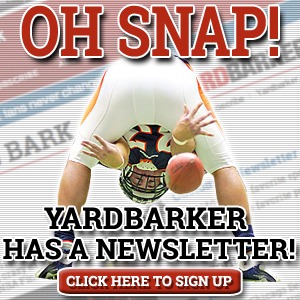 Latest Rumors
Best of Yardbarker

Today's Best Stuff

For Bloggers

Join the Yardbarker Network for more promotion, traffic, and money.

Company Info

Help

What is Yardbarker?

Yardbarker is the largest network of sports blogs and pro athlete blogs on the web. This site is the hub of the Yardbarker Network, where our editors and algorithms curate the best sports content from our network and beyond.