Found April 16, 2012 on Waiting For Next Year:
PLAYERS:
Brandon Jackson
,
Greg Little
,
Jordan Norwood
,
Mohamed Massaquoi
,
Colt McCoy
,
Tom Heckert
,
Montario Hardesty
,
Braylon Edwards
,
Chris Ogbonnaya
,
Eddie Williams
,
Armond Smith
TEAMS:
Cleveland Browns
How much of the plan includes Brandon Jackson in 2012?
One thing that persists as a dark cloud over the Browns is the wide receiver situation from last season. The Browns drafted Greg Little and brought in Jordan Norwood, but the statements that will forever hang in the air are words of confidence in a depth chart featuring Mohamed Massaquoi and Brian Robiskie at the top. Of course MoMass suffered through some injuries and went on to combine with a battered Colt McCoy for a pretty bad passing attack while Robiskie was cut loose altogether. I still have hopes for Massaquoi when he's cast in the right spot in the offense, but there's really no doubting that overall Tom Heckert and company mis-read the abilities of the receiver group as a whole a season ago. When Brian Robiskie got cut, it was pretty much an admission of guilt by the Browns brass, I think. Which brings me to the question about running backs coming into 2012. The Browns have let Peyton Hillis go without much fight and they are rumored to like Trent Richardson, but what do you think they're thinking for real with regard to their own depth chart? I have a sneaking suspicion that their confidence level is higher in the existing crew than fans might think. If I am right, I think the Browns could be headed for another mistake.
In fairness, my inkling could be totally false. The draft season is the season for misdirection, obviously. The Browns were reportedly impressed by Trent Richardson. Also even if they bypass Richardson or miss out on him with the fourth pick, they'll have chances at some other pretty highly ranked running backs. Point being, I might be sounding the alarm for no reason. But follow me for a bit.
The Browns still like Montario Hardesty. I'm convinced of it. I'm also convinced that they're giving Hardesty something of a mulligan for last season. The retrofitted goal after last year was for Hardesty to play through a year relatively healthily. Hardesty only played in ten games, but considering that he was coming off ACL surgery, it was a pretty healthy year. As far as we can tell, there were no new serious injuries introduced. Also, ACL patients are notorious for being back on the field and then "being back" for real six months to a year later. Say what you want about Braylon Edwards, but his recovery from ACL surgery was a thing to behold. It isn't that quick for most guys.
I have had two ACL surgeries so I can attest to the fact that even though you're back running and cutting 6-8 months after surgery, you probably don't hit full speed for a full year at least. Granted my "full speed" was a fraction of Hardesty's in order to play in the NFL, but I think my experience is still applicable. If I had to guess, I would think that the Browns, their medical staff and Tom Heckert are very optimistic that Montario Hardesty will have his best chance to be the player they drafted this upcoming season. That thought could give them a (false?) sense of security at the spot and keep them from drafting Richardson.
In another area, I think the Browns feel as if they did sign a free agent this off-season in a way. Brandon Jackson never made it out of training camp when he contracted turf toe. The Browns say he is healthy and ready to go this season. While he may not be a guy that you and I want to hang our hats on, you have to think the guys who felt the need to sign him last year still value him pretty greatly as a major contributor for the 2012 season. To the Browns side of the ledger it is in fact another contract year for Jackson, which is something.
After that you have Chris Ogbonnaya who had two pretty good games in four starts against the Rams and Jags. Don't count me in the camp that wants to have to count on Ogbonnaya this upcoming season, but I'd also be lying if I said I didn't want him on the depth chart. He showed some small flashes and at least could be counted on to protect in the passing game.
You also have Eddie Williams with two career attempts in three NFL seasons. None of those attempts occurred last year or with the Browns at all. Armond Smith who I've overrated myself after seeing him in training camp last season is still in my plans, but even I can't speak his name with regard to the depth chart with a straight face at this point.
That doesn't mean that the Browns aren't feeling pretty good about the prospects of Hardesty, Jackson and Ogbonnaya. Certainly their inability to sniff out busts in the receiving game a year ago at least open the door to entertain the fear. And fear is the right word, I think. The Browns have decent depth at running back, but no answers. I won't pin the Browns to a failing grade if they don't get Trent Richardson in the upcoming draft, but I do have my fears that the Browns won't address the running back position seriously enough this off-season.
Original Story:
http://www.waitingfornextyear.com/201...
THE BACKYARD
BEST OF MAXIM
RELATED ARTICLES
On the second day of off season workouts, Browns WR Jordan Norwood signed his tender as an exclusive rights player. His salary for 2012 will be $465,000. Norwood was 6th on the team in catches with 23 and in receiving yards with 268. He was second on the team in yards per catch at 11.7 and scored his first career touchdown against the Bengals. He was originally signed by Cleveland...
After listening to the interview that Adam the Bull and Dustin Fox conducted with Justin Blackmon, I am thinking that he could have been one of the top ten draft picks that didn't want to come to Cleveland. When asked about his visit to Cleveland, Blackmon first seemed reticent to even acknowledge that he had visited the team. Then when pressed for elaboration, Blackmon told Dustin...
According to PFT, the San Francisco 49ers and the Dallas Cowboys will both be bidding to host Super Bowl L in 2016. For those who aren't good with Roman numerals, that means Super Bowl 50. We all know that the Browns have never appeared in a Super Bowl or hosted one. While we can't guarantee that the Browns will ever compete in a Super Bowl, recent history with Indianapolis...
Look, we're not here to tell athletes how to spend their paychecks. It's their money. Burn stacks of $20s to light water bongs for strippers for all we care. Want to knock up 10 broads and have 12 total kids? Have at it, brah. Want 15 cars that instantly decrease in value? What are you waiting on? Just don't cry – like Warren Sapp – that you're broke and it's either...
If the Cleveland Browns want to go toe-to-toe with the upper-echelon teams and compete for postseason contention in the upcoming 2012 NFL season, then it's probably a good thing the club has a chance to get its feet wet right out of the gate against four potential playoff teams in preseason action. Photo Credit: John H. Reid III/ClevelandBrowns.com Cleveland's 2012 preseason...
The Supreme Court won't hear an appeal from the Cleveland Browns in the team's attempt to force into NFL arbitration a lawsuit by former center LeCharles Bentley over his career-ending staph infection. The high court's decision Monday keeps the case - and lawsuit - in Cuyahoga County court in Cleveland. The team had appealed a July ruling by an Ohio appeals court that...
The Supreme Court won't hear an appeal from the Cleveland Browns in the team's attempt to force into NFL arbitration a lawsuit by former center LeCharles Bentley over his career-ending staph infection. The high court's decision Monday keeps the case -- and lawsuit -- in Cuyahoga County court in Cleveland. The team had appealed a July ruling by an Ohio appeals court...
While We're Waiting serves as the early morning gathering of WFNY-esque information for your viewing pleasure. Have something you think we should see? Send it to our tips email at tips@waitingfornextyear.com. Good analysis of the Browns LB corps and those available in the draft- "In most respects, the Browns have been victims of poor timing. Two years ago, Eric Mangini and pseudo...
This isn't a surprise at all, but it is the first report we've heard that Ohio State offensive tackle Mike Adams has indeed already visited the Browns- "Ohio State offensive tackle Mike Adams has visited the Pittsburgh Steelers, St. Louis Rams, Detroit Lions, Buffalo Bills and the Cleveland Browns, according to a league source." This comes from Aaron Wilson, who writes...
So it seems the leaked schedule wasn't accurate at all. Greg Aiello and the NFL weren't fibbing at all when they said so. Here's the real thing. PRESEASON Fri., Aug. 10 at Detroit Lions 7:30 p.m. Thur., Aug. 16 at Green Bay Packers 8:00 p.m. Fri., Aug. 24 PHILADELPHIA EAGLES 7:30 p.m. Thur., Aug. 30 CHICAGO BEARS 7:30 p.m. REGULAR SEASON Sun., Sept. 9 PHILADELPHIA EAGLES FOX...
Browns News

Delivered to your inbox

You'll also receive Yardbarker's daily Top 10, featuring the best sports stories from around the web. Customize your newsletter to get articles on your favorite sports and teams. And the best part? It's free!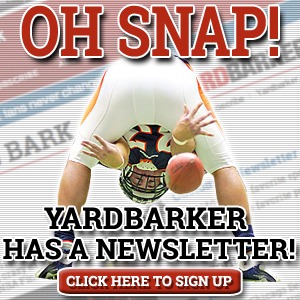 Latest Rumors
The Backyard

Today's Best Stuff

For Bloggers

Join the Yardbarker Network for more promotion, traffic, and money.

Company Info

Help

What is Yardbarker?

Yardbarker is the largest network of sports blogs and pro athlete blogs on the web. This site is the hub of the Yardbarker Network, where our editors and algorithms curate the best sports content from our network and beyond.