Found March 19, 2012 on The Sports Headquarters:
PLAYERS:
Peyton Manning
,
Alex Smith
,
Jim Harbaugh
,
Brett Favre
,
Michael Crabtree
,
Vernon Davis
,
Randy Moss
,
Mario Manningham
,
Bill Belichick
TEAMS:
San Francisco 49ers
,
Minnesota Vikings
,
Baltimore Ravens
,
New England Patriots
Over the weekend the 49ers finally made an official leap into the Peyton Manning sweepstakes which is only a smart decision with Alex Smith still unsigned. Save for a handful of teams, the Manning we all know and most of us loved watching every Sunday would be a massive upgrade over their starting quarterback(s) from 2011. Clearly spending some time with Jim Harbaugh is an effective recruiting tool since it reportedly vaulted the team to the head of the line for Manning's signature. Though as an homage to Brett Favre, I think the makeup of that line changes daily if not hourly. Looking at it purely from a 49ers perspective, I am still left with the thought that maybe they would have been better off sticking with Alex Smith this year instead of going after Peyton Manning. Alex Smith's Last Game for San Francisco? (Yahoo) Before everyone starts abusing me and calling me insane, there is some logic to this line of thought. Let's look at facts we absolutely know for sure from last season. Last year, with Smith at quarterback, the 49ers defense and running game carried them to a 13-3 record and second seed in the NFC. The 49ers were a mistake on a punt return away from a Super Bowl appearance against the Patriots. Smith had his best season as a pro and was asked to simply compliment the more skilled areas of the team by not screwing up. He did a great job with that, starting all 16 games and only throwing 5 interceptions, while completing over 60% of his passes to what was a crappy group of receivers. Michael Crabtree lead the team with 72 catches for a mediocre 874 yards while Vernon Davis was the only legitimate threat. In the NFC Championship game, Smith completed a grand total of 0 passes to his receivers as they struggled to get open. This team was very good in 2011 and Alex Smith was part of the reason why they were good, even if it was by not losing games. Nobody in their right mind could argue that in a vacuum or on any other team in the league, Peyton Manning is not the better quarterback. The only real similarity they have is that they were both drafted number 1 overall. In 2011 Smith finally matured into a leader on his team and not re-signing him could set the team back, even if they get Manning. This situation is similar to the Baltimore Ravens team in 2001 which was coming off an amazing season where they won the Super Bowl thanks to a ferocious defense and a just good enough offense. Looking to improve they got rid of Dilfer who had been good enough in his role but overall mediocre and replaced him with former Chiefs starter Elvis Grbac. That season in 14 games Grbac threw 18 interceptions and the Ravens season ended with a whimper. Of course there were other factors such as injuries that played a role however the change in quarterback lead to a massive disruption in the team chemistry for the season. That crazy little thing called chemistry is exactly why the 49ers should stick with Alex Smith and let Peyton Manning search elsewhere. By all accounts Smith was a very popular figure in the 49ers locker room last season (funny what winning can do) and he already has built up a rapport and chemistry Alex Smith TD Run (Denver Post) with the team. The line knows his cadence already, the receivers know what he will be thinking (ok maybe Davis does & the others are still clueless). Add into that, Coach Harbaugh has already got a solid, workable offensive system in place and most reports have it that Manning would want his own spin on how things were run if he was under center. With that defense already in place all they need to be is a complimentary unit who is good for 20-24 points per game. With the two major splashes made in the wide receiver market so far, signing Randy Moss and Mario Manningham, the 49ers have made enough moves already to bring out a better product than what fans saw in 2011. Moss may only be able to run go routes anymore but his competitive fire has been lit once more as he tries to end his NFL career on a high note. Mario Manningham meanwhile should have his confidence sky high thanks to that miraculous (/fluke) sideline catch in the Super Bowl and he should be more than capable of beating a defence's third corner. Ask Bill Belichick how well leaving Manningham on his own works. If this team is in the NFC Championship again, I assure you that there will be more than1 catch by a wide receiver.   The other unknown for this year is how well Peyton Manning will be when the season rolls around. Most of the reports I have read so far have said, "He's getting close but he's not there yet." Is it crazy to wonder whether or not he will ever get 'there' again? How many players have said they wouldn't even try to come back from something like that because of the risks involved? Manning's legendary competitive spirit is coming back to haunt him here. He wants to prove to everyone (including himself) that he is the best by coming back to the NFL after this career threatening injury. I admire Manning for the amazing career he has and I hope that he comes back healthy and safely but every time I imagine Manning coming back in 2012, I see him getting sacked from his blindside off a corner blitz in week 3 and not getting back up. If the 49ers front office has any sense they will call up Alex Smith, give him a decent, 3 year deal (for less than half of what Manning will cost) and remind him that he is at home in San Francisco. Manning will go off and have success wherever he lands, but the 49ers team will be very good, even great without him.
Original Story:
http://feedproxy.google.com/~r/TheSpo...
THE BACKYARD
BEST OF MAXIM
RELATED ARTICLES
Now that we know the final field of three for the Peyton Manning sweepstakes, it's time to be logical about this thing. Manning has stated that Monday or Tuesday is the day that he will sign with his new club. So the time is now to sit back and compare some data and predict a winner. Each team has is built uniquely and each team has its own share of pros and cons. We will take...
Cradle of the quarterbacks?Some unknown player named Peyton Manning agreed to join the Denver Broncos today, ending weeks of speculation where he would end up.  Peyton's arrival in the AFC West makes the division a sudden powerhouse in the arms race that is the NFL.  With Manning, Palmer and San Diego's Rivers three of the four AFC teams have QB's that were taken in...
According to Mike Florio of ProFootballTalk.com,free agent wide receiver Mario Manningham has signed a two-year deal with the San Francisco 49ers. There was simply no way the Giants were going to retain Manningham. He was looking for a lot more money then they could offer. Even though I believe he didn't get the kind of pay day he was looking for. Right now we don't have...
Englewood, CO (Sports Network) - Peyton Manning is officially a member of the Denver Broncos. The four-time MVP and future Hall of Fame quarterback signed with the Broncos on Tuesday, less than two weeks after being released by the Indianapolis Colts. "I'm very excited to begin the next chapter of my playing career with the Denver Broncos," Manning said at an afternoon...
After going after Peyton Manning, and then hosting Matt Flynn and Alex Smith, the Dolphins landed a quarterback on Monday with multiple reports indicated they have come to terms with former Jacksonville starter David Garrard.
He was regarded as the second best free-agent quarterback on the market. I'm not quite sure why since he hasn't proven anything, but nonetheless many people regarded him as the No. 2 guy on the market behind Peyton Manning. The Seattle Seahawks agreed that he was a top free-agent quarterback as they signed Matt Flynn to a three-year deal worth $26 million, $10 million of...
Adam Schefter reports that Peyton Manning has called John Elway this morning and told him he is looking forward to playing for Denver.
So in one of the more strange, weird, wacky QB free agency shuffling going on right about now, the Seattle Seahawks may have struck first as the NFL waits for Peyton Manning to make up his mind already.  Peter King, among many, is now reporting that Matt Flynn has agreed to a 3-year, $26 million dollar deal with the Seahawks, but only $10 million of it is guaranteed.  And per King...
SAN FRANCISCO, March 21– There has to be a lot of loyalty in quarterback Alex Smith's heart as he will remain with the 49ers after the team openly romanced Peyton Manning. Smith did meet with the Miami Dolphins as that drama came to an end and at one point probably took a serious look at the Fins. However, be it common sense or letting bygones, be bygones, Smith will stay...
Re-signing Alex Smith may very well have been Plan B for the 49ers, but San Francisco made sure it didn't have to turn to a Plan C. Smith has agreed to a new contract to stay with the 49ers, according to ESPN's John Clayton. The deal will pay the quarterback an average of roughly $8 million annually, according to ESPN's Chris Mortensen. Smith, who was a free agent, had...
The San Francisco 49ers flirted with a future Hall of Fame quarterback last week as they were in the chase for QB Peyton Manning. Ultimately, the 49ers missed out on Manning and in their actions, bruised the ego of one Alex Smith. Smith reportedly was looking to change agents on Saturday night, being represented by the same agent as Peyton Manning, Tom Condon. Alex Smith...
NFL News

Delivered to your inbox

You'll also receive Yardbarker's daily Top 10, featuring the best sports stories from around the web. Customize your newsletter to get articles on your favorite sports and teams. And the best part? It's free!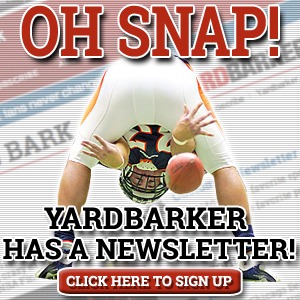 Latest Rumors
Best of Yardbarker

Today's Best Stuff

For Bloggers

Join the Yardbarker Network for more promotion, traffic, and money.

Company Info

Help

What is Yardbarker?

Yardbarker is the largest network of sports blogs and pro athlete blogs on the web. This site is the hub of the Yardbarker Network, where our editors and algorithms curate the best sports content from our network and beyond.