Found January 09, 2013 on The Sports Headquarters:
PLAYERS:
Kevin Kolb
,
Ryan Lindley
,
John Skelton
,
John Clayton
,
William Powell
,
Anthony Sherman
,
Alfonso Smith
,
Beanie Wells
,
Ryan Williams
,
LaRon Byrd
,
Early Doucet
,
Larry Fitzgerald
,
Michael Floyd
,
Andre Roberts
,
Kerry Taylor
,
Jim Dray
,
Rob Housler
,
Jeff King
,
Mike Leach
,
Kory Sperry
,
Levi Brown
,
Daryn Colledge
,
Blake DeChristopher
,
Mike Gibson
,
Senio Kelemete
,
Bobby Massie
,
Nate Potter
,
Lyle Sendlein
,
Adam Snyder
,
Calais Campbell
,
David Carter
,
Darnell Dockett
,
Ricky Lumpkin
,
Dan Williams
,
Sam Acho
,
Tim Fugger
,
Zack Nash
,
Colin Parker
,
Reggie Walker
,
Daryl Washington
,
Justin Bethel
,
Patrick Peterson
,
Kerry Rhodes
,
Adrian Wilson
,
Stewart Bradley
TEAMS:
Arizona Cardinals
One of the hardest things to discern when looking forward for a team that, as newly minted GM Steve Keim put it, re-tooling, is understanding what the roster and cap numbers look like going forward. Well fear not loyal #Birdgang, as I am here to do my best with what I can to figure out a way for the Cardinals to get back under the salary cap. Yes, you heard right the 2013 Arizona Cardinals as constructed below are already $723K over the cap.  In other words, it's time to get creative and get rid of some… dead weight. As always you can reach me on Twitter @SethCoxFB with questions regarding anything Cardinals. Let's break this down:  I will give you the players name, how long their contract runs through in parentheses, after that I will break down what I would like to see worked out at the position. The contract numbers I am using are courtesy of Rotoworld.com and reflect only the base salaries, any bonuses I am counting as being paid still because they are very convoluted to figure out what does and does not get paid out, so let's take a look at the Arizona Cardinals 2013 salary cap.  Quarterbacks: Kevin Kolb (2016) Ryan Lindley (2015) John Skelton (2013) My thoughts: Lindley and Skelton are gone, but more importantly the Cardinals need to cut the Kevin Kolb salary by half.  John Clayton and Darren Urban are reporting Kolb's cap number in the $13 million range, and he needs to be willing to drop his base down from $9million to about $4.5 million, add in his bonuses, and 8.5 million is much more palatable for 2013, but also saves $4.5 million, taking us down to: -723,000 +4,500,000= $3.777 million Running Backs: William Powell: Exclusive Rights Anthony Sherman (2014) Alfonso Smith: Exclusive Rights Beanie Wells (2013) Ryan Williams (2014) Fozzy Whitaker (2013) My Thoughts: Obviously I have told people I believe the Cardinals should keep Beanie, and I know that is not a popular sentiment, and is obviously one Beanie shares with most fans, that he needs to go, but he is a bargain at a little over $1 million.  At this point though I think he is gone. That leaves only Sherman, Williams, and Fozzy Whitaker as contracted RBs. I'd love to see the Cardinals offer Powell and Smith minimum deals, and they likely will Powell.  That leaves the Cardinals to add another one in the draft or in free agency.  But we are making cuts, so let's do so, and get rid of Beanie. $3,777,000+ 1,670,000= $5,447,000 Wide Receivers: LaRon Byrd (2014) Early Doucet (2013) Larry Fitzgerald (2018) Michael Floyd (2015) Andre Roberts (2013) Kerry Taylor (2013) My Thoughts: Entirely too much money wrapped up in wide receivers, but that is the cost of doing business in the NFL when you have a talent like Larry Fitzgerald. I think we can safely assume they move on from Early Doucet at this point, and that will knock off a cool $2 million, but after that I think we can say they are stuck. $5,447,000+ $1,950,000= $7,397,000 Tight Ends: Jim Dray (2013) Rob Housler (2014) Jeff King (2013) Mike Leach (2014) Kory Sperry (2013) My Thoughts:  Need to cut loose Jeff King, who is a solid veteran, but every penny at this point matters.  And Mike Leach is the long snapper for those that don't know, but I am listing him as a TE for this exercise. $7,397,000+ $1,500,000= $8,897,000 Offensive Line: Levi Brown (2016) Daryn Colledge (2015) Blake DeChristopher (2014) Mike Gibson (2013) Senio Kelemete (2015) Bobby Massie (2015) Nate Potter (2015) Lyle Sendlein (2015) Adam Snyder (2016) Scott Wedgie (2014) My Thoughts:  First off I want to say that my thoughts are my own, and I know that A LOT of people are going to disagree with me coming up, but I was asked who I would cut, and I am going to tell you.  As the off season goes along I will go more in depth with my reasoning. Lyle Sendlein, Scott Wedgie, Mike Gibson, Blake DeChristopher. $8,897,000+ $2,400,000+ $480,000+ $715,000+ $405,000= $12,897,000 Defensive Line: Calais Campbell (2016) David Carter (2014) Darnell Dockett (2015) Ricky Lumpkin (2013) Everette Thompson (2013) Dan Williams (2014) My Thoughts: Man this is tough… I like this rotation, but it is THIN at the defensive end position.  Like paper thin.  Can the Cardinals get similar production out of a rookie and some veteran minimum free agents as they did out of Darnell if they are able to move Darnell? I say they need to see, because even for a 4th or 5th rounder they can save over $4 million off their cap this year, because they owe him every penny if they cut him. $12,897,000+ $4,450,000= $17,347,000 Linebackers: Sam Acho (2014) Stew Bradley (2015) Tim Fugger (2013) Zack Nash (2013) Colin Parker (2013) O'Brien Schofield (2013) Reggie Walker (2013) Daryl Washington (2017) My Thoughts: Well… It was… interesting Stew Bradley. If I am reading what has been paid out thus far to Bradley it is only $7 million and he was guaranteed $10 million, meaning he is getting $3 million to go away, but he still gets to count against the Cardinals cap. Consider it a parting gift from Rod Graves Stew. $17,347,000+ $2,500,000= $19,847,000 Defensive Backs: Justin Bethel (2015) Williams Gay (2013) Patrick Peterson (2014) Kerry Rhodes (2013) Adrian Wilson (2015) My Thoughts: Again another position that will be tough to decide.  They just paid Wilson and would he take another pay cut?  Can they get a deal done with Rhodes?  How much do they owe all these guys in bonus money that changes their cap hits? My goodness, with the lack of depth you can't do anything yet. If the Cardinals were to cut loose John Skelton, Ryan Lindley, Beanie Wells, Early Doucet, Jeff King, Lyle Sendlein, Scott Wedgie, Mike Gibson, Blake DeChristopher, and Stewart Bradley PLUS trade Darnell Dockett for nothing but a day 3 pick, as well as getting Kevin Kolb to cut his base salary in half they still wouldn't get to $20million in cap space coming into the 2013 off season. That doesn't factor in the likely $6 million in rookie pool money the Cardinals will have to pay out for their 2013 draft class, and it is looking more and more likely that the Cardinals will either have to drastically change the look of a talented, yet ill fitting 5-11 squad, or stay status quo as some big contracts come off the books.
Original Story:
http://feedproxy.google.com/~r/TheSpo...
THE BACKYARD
BEST OF MAXIM
RELATED ARTICLES
Katherine Webb — Alabama quarterback AJ McCarron's girlfriend — fired back at Arizona Cardinals defensive end Darnell Dockett for his offensive tweet during the BCS National Championship Game Monday night. Dockett tweeted his phone number to Webb and invited her out for a dinner of wings and a visit to a strip club.  
The hunt for a coach will probably intensify as the Arizona Cardinals named Steve Keim as the new general manager. The Cardinals announced Tuesday that Keim, who was the vice president of player personnel will take an in-house promotion and become the Cardinals top personnel executive. Keim has been with the team since 1999. The word had leaked out the Keim and the Cardinals...
Since AJ McCarron's girlfriend is really really hot, I'm pretty much on top of any news she has.  Arizona Cardinals defensive end Darnell Dockett noticed along with the rest of the nation that Katherine Webb was a dime piece.  Kinda hard to miss her when Brent Musburger and Kirk Herbstreit are talking about Webb all night long because the BCS title game itself was so boring...
Now that the Arizona Cardinals have their general manger in Steve Keim, the head coaching search intensifies. Todd Haley, offensive coordinator of the Pittsburgh Steelers will interview for the job today according to Ed Bouchette of the Pittsburgh Post-Gazette. Haley was once a coordinator in Arizona and has some familiarity with the management. Haley is highly regarded by the...
Darnell Dockett was among the millions of viewers infatuated with A.J. McCarron's girlfriend during the BCS National Championship Game on Monday. The Arizona Cardinals defensive lineman even attempted to hit on Katherine Webb via Twitter, inviting her to go to Wing Stop and King of Diamond: Aye @_katherinewebb hit me (240) 464-4150 when game over, lets go to wing stop then King...
During the BCS Championship Game, Brent Musberger and the producers of the game did what they do best during blowouts, drooling over attractive women in the stands. The object of their creepy affection this time was the girlfriend of Alabama quarterback AJ McCarron and Miss Alabama, Katherine Webb. Of course, the internet did what the internet does whenever there's an attractive...
After a largely tame early portion of the season, Cardinals defensive tackle Darnell Dockett returned to his more vocal and sometimes outrageous self as Arizonas season spiraled out of control. First, there was the incident against the Jets where he refused to obey a direct order from the coaches to let New York score late in the game so that the Cardinals would have a chance -...
The search continues. For a head coach. And a general manager too. The Arizona Cardinals are scheduled to interview Cincinnati Bengals offensive coordinator Jay Gruden this week regarding their head coaching vacancy. Former head coach Ken Whisenhunt was fired on Dec. 31. Gruden, 45, is the younger brother of former Raiders and Buccaneers head coach Jon Gruden. He has been the offensive...
Last week the Arizona Cardinals asked the Pittsburgh Steelers for permission to interview offensive coordinator Todd Haley for their open head coaching position, and according to Ed Bouchette of the Pittsburgh Post-Gazette, Haley is interviewing for the position today. The report by Bouchette came minutes after Ian Rapoport of NFL.com reported on Twitter that Haley will not proceed...
via USA Today As if Brent Musburger's infatuation with Alabama quarterback A.J. McCarron's girlfriend Katherine Webb wasn't enough for you last night, he wasn't the only one publicly fawning over her. Arizona Cardinals stud defensive lineman Darnell Dockett took a run at her last night as well.  But instead of drooling over his microphone like Musburger, Dockett was a sneaky...
It appears that Lebron James wasn't the only spots athelete day dreaming over Katherine Webb last night during the BCS title game.Arizona Cardinals defensive end Darnell Dockett is shocking his head (at himself) today, as it appears that a secret direct message to Alabama's QB girlfriend Katherine Webb was broadcast TO THE WORLD, which reveled him asking out, the ALREADY...
Cardinals News

Delivered to your inbox

You'll also receive Yardbarker's daily Top 10, featuring the best sports stories from around the web. Customize your newsletter to get articles on your favorite sports and teams. And the best part? It's free!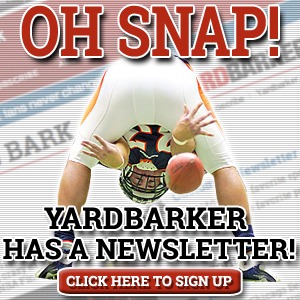 Latest Rumors
The Backyard

Today's Best Stuff

For Bloggers

Join the Yardbarker Network for more promotion, traffic, and money.

Company Info

Help

What is Yardbarker?

Yardbarker is the largest network of sports blogs and pro athlete blogs on the web. This site is the hub of the Yardbarker Network, where our editors and algorithms curate the best sports content from our network and beyond.