Found October 23, 2012 on isportsweb.com:
With six teams on a bye, week seven was three games short of a full complement of games. Where the games lacked in number, they made up for in suspense. During the week, 13 games were played.  Of those 13 games, 11 were decided by one score. Two went into overtime, one was decided by a single point, and another was decided by the white paint that lines the back end of the end zone at Raymond James Stadium. The Buccaneers lost their game to the Saints 35-28, but not without two very close calls.  After quarterback Josh Freeman drove the Bucs down the field to New Orleans' 9-yard-line, he threw a dart to wideout Vincent Jackson in the back of the end zone.  Jackson hauled it in for an apparent touchdown, but it was waived off by the official, as Jackson's foot hit the paint just before he was able to touch his other toe down in bounds. Freeman then rolled out of the pocket in desperation on fourth down with just seconds left, looking for a receiver to get open.  One did, and Freeman found him.  Mike Williams made the catch clearly in bounds for the score, but a flag for illegal touching nullified the reception, giving the resurgent Saints the win. Replay showed that Williams did in fact step out, but was aided slightly by the New Orleans defensive back.  The controversial call drops Tampa Bay's record to 2-4 while New Orleans improves to that same 2-4. Matt Hasselbeck found himself backing up Jake Locker earlier this year, but an injury to Locker has given the veteran a chance to play, and play he did this Sunday.  Hasselbeck was efficient early on, as he watched running back Chris Johnson rack up more than 150 yards and two touchdowns in the first half. Then, he came alive late, throwing the game-winning touchdown pass to WR Nate Washington with just 1:03 remaining.  The pass came on fourth-and-ten from Buffalo's 15-yard-line, and lifted the Titans to a 35-34 win. After seeing what happened in Foxboro this week, I'm off the Patriots' bandwagon.  After surrendering over 400 total yards to Mark Sanchez and the Jets, I don't believe that Sanchez's fumble in OT lost the game for New York New England's defense is good enough to get them deep into the postseason.  More worrisome than that, the Patriots didn't run the football as well as I thought they would against a team that had been very generous against the run.  Even worse than that, the Patriots fumbled a kick return with 2 minutes remaining in the game which nearly cost them the game. Not Belichick football. The Jets kicked a field goal to take the 26-23 lead, but luckily for Patriots fans, Tom Brady led a last-minute field goal drive to send it into OT, where the Pats eventually won. This game wasn't a good grind-it-out win by New England, they just held on long enough so that Sanchez and the Jets could blunder the game away (Sanchez fumbled on 2nd-and-10 in OT). The Baltimore Ravens miss Ray Lewis and Lardarius Webb.  Without their two defensive studs, Baltimore was wrecked by Houston 43-13.  It seems all that elite quarterback talk went to Joe Flacco's head- he posted a QBR of 0.3 on Sunday, the worst by any QB since 2008. Eli Manning may be the best fourth-quarter quarterback of his generation, and he proved it once again on Sunday.  With less than 2:00 on the clock and trailing by three, Manning hit WR Victor Cruz with a beautiful deep ball, then watched Cruz race 77 yards to the house, giving the Giants another come-from-behind win.  A great throw and a great read by Manning, but how the Redskins allow Cruz to get behind them with 1:13 left is beyond me. While Washington lost the game, I believe we will see great things from Robert Griffin III.  He has continued to improve, and just before Manning found Cruz for the game-winning score, RGIII found Santana Moss for what everyone thought would be the game winner. Last but not least, the Indianapolis Colts keep winning.  I know it was only the Browns, but Andrew Luck seems to have found his niche.  In spirit of their head coach Chuck Pagano, the Colts have put together an inspiring 3-3 record after finishing 2-14 last year.  Indy puts that record on the line next week against Tennessee.     Follow me on twitter @ScottPeceny  
Original Story:
http://feedproxy.google.com/~r/isport...
THE BACKYARD
BEST OF MAXIM
RELATED ARTICLES
Considering that the New England Patriots have been the most dominant NFL team of the 2000's, you can understand why some fans are frustrated with a team currently only a game above .500. After the Pats overtime victory over the New York Jets, Tom Brady was being interviewed on WEEI "The Dennis & Callahan Show" and discussed the possibility that Pats fans have...
If you check Tom Brady's stat line from Sunday, you may be wondering what was wrong with the Patriots' future Hall of Fame quarterback, but to quote Bill Belichick, "stats are for losers." Well, some stats. The Patriots' receivers dropped a season-high five passes against New York, which didn't do Brady's numbers any favors, nor did...
Are the Patriots wins and losses still determined by how productive Tom Brady is under center this season?Large in part, yes if Brady has a **** game then things don't look good for us. But consider this:The Patriots are now carrying the 5th best rushing offense in the NFL, averaging about 149 yards per game between Ridley, Vereen, Woodhead, and Bolden. In comparison to the past...
Tom Brady and his New England teammates escaped Week 7 with an overtime victory over the Jets .. but that doesn't tell the whole story. Plus, Cam Newton is lame.
While it hurts to fathom, especially from the eyes of a New England native, Eli Manning is undoubtedly the best clutch quarterback going right now in the NFL. Yes, Tom Brady led the Patriots to a comeback victory on Sunday over the hated Jets, but it marked the first time he had done so since the AFC title game last year against Baltimore. Most importantly, in...
WHAT DID HE SAY?
Washington Redskins rookie quarterback Robert Griffin III has proved to be a very mature, highly savvy young man that belies his age and experience, both on the field and off of it. But if he's anything like most people — which is arguable — RG3 probably cringed after recently taking part in an interview with [...]
FOX: The Patriots gained at least 350 yards for the 16th straight regular-season game, tying the St. Louis Rams of 1999-2000 for the most in NFL history. (Bottom of article) A.B. Everyone in New England seems to be down on the Patriots right now. The local radio stations are filled with calls about Tom Brady being too old, Belichick losing touch, the horrible secondary and even...
After the Patriots subpar start to the season, some fans are ready to throw themselves off a cliff.Everyone has gotten play in the blame game - from Bill Belichick to the secondary to the pass rush to Brandon Lloyd to even Tom Brady. With a 4-3 record and some devastating losses, I think this team deserves criticism. Some people disagree. What say you, Patriot fan?Are fans getting...
For the fourth time in just seven games, the Patriots nearly blew another fourth-quarter lead. And for the first time all season, the team found a way to close in crunch time. As ugly as it could have been, Tom Brady made sure the Pats avoided their fourth loss of the season and their place atop the AFC East. After struggling to get anything going in the fourth quarter...
Photo via Jim Rogash/Getty Images   Sigh…yesterday's  NY Jets 26-29 OT  loss to the New England Patriots was tough to digest. Actually, it still is.  Mark Sanchez and co. had so many opportunities to pull out the win, but just couldn't get it done.  And as everyone knows, when you're playing against Tom Brady, you have to play for the win.  Not for the tie, or not to...
People are starting to catch on to this game that the NFC West is playing with everybody. As soon as the talk arises of this division being the best in football, they combine to go 2-6 in two weeks.There are still three teams above .500, but after a couple of rough weeks, three teams are heading into this weekend as underdogs. All four squads are at their best with their backs against...
Despite Woes Patriots Defense Still Creates Turnovers We all have our feelings on the Patriots defense, especially the secondary and the gaping amount of yardage they yield.  But as a whole the New England defensive unit is among the league leaders in turnover ratio. They came into the Week 7 matchup with the New York Jets tied for first with a plus 10. The offense had given up...
Patriots News

Delivered to your inbox

You'll also receive Yardbarker's daily Top 10, featuring the best sports stories from around the web. Customize your newsletter to get articles on your favorite sports and teams. And the best part? It's free!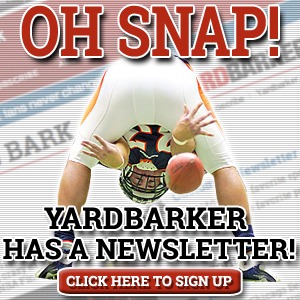 Latest Rumors
Best of Yardbarker

Today's Best Stuff

For Bloggers

Join the Yardbarker Network for more promotion, traffic, and money.

Company Info

Help

What is Yardbarker?

Yardbarker is the largest network of sports blogs and pro athlete blogs on the web. This site is the hub of the Yardbarker Network, where our editors and algorithms curate the best sports content from our network and beyond.