Found November 27, 2012 on Ravens Football Machine:
It may be no coincidence that as 3rd-year defensive end Arthur Jones seems to be blossoming as an impact player on the Ravens 3-man line, Baltimore's run defense has gotten better, they are generating more pass rush... and overall team performance has improved. People always ask me lately---"are the Ravens playing better defense because they are without Ray Lewis [triceps] ?.." I tell them no. The difference is Arthur Jones is playing the best defensive end of his life right now. That, plus Terrell Suggs is getting faster and stronger at OLB...and LB Paul Kruger is getting better as the season goes on, too. Having Ray Lewis back in time for the 2012 playoffs will only end up making something that is now good even better.       Arthur Jones, DE, 6-3, 315, age 26, 3rd year out of Syracuse, drafted 5th round of the 2010 Draft...Jones had 5 tackles and 2 sacks against the Chargers in the win at San Diego last Sunday. Jones has come a long way from hardly playing at all to making a huge difference in the current Baltimore mix on defense. Don't believe me? Let's hear from John Harbaugh himself in a press conference held earlier this week: Arthur Jones has had two really strong games in a row. Do you think with him, it's his having more opportunity to have more playing time than he's had in the past? Or what have you seen in his development? (question from Luke Jones)--- "I've just seen in the last three, four weeks, he's taken a huge leap technique-wise. His feet and his hands are tied together way better now than they were, and that's a credit to [defensive line coach] Clarence Brooks and to Arthur in just deciding that he wanted to play with great technique. He's got long arms, a powerful lower body. You've seen the way he's built; he's got that great lower body. So, it's really heartening for a coach to see a guy playing that well and to make the strides that he's made, and it's huge for our defense." Harbaugh went on to single out other guys who are playing at a higher level on defense at this point in the season. They are elevating their games to help fill the void from the injuries to Ray Lewis and Pernell McPhee--- Do you think a large portion of the defense's progress has been on run defense? It looks like you mentioned yesterday kind of getting in more third-and-long situations. (Ryan Mink) "We did toward the end of the game. Early in the game was a little more third-and-medium; toward the end of the game was a little more third-and-long. Anytime you can get in third-and-long, you can kind of get after them a little more with the pass rush, because they can't get the ball out usually quite as quickly, so we always try to do that. That's what stopping the run is all about." Speaking of neat stories, [Terrell] Suggs came back earlier than anticipated, and now you're talking about Ray [Lewis] coming back way earlier than people anticipated.  Are there some medical miracles going on inside the building or what's going on? There are two special cases here, because … (Jerry Coleman) "We'll see about Ray [Lewis], first of all. That has yet to play itself out. I just have so much confidence in who Ray is as a person and a man, and the same thing for Terrell Suggs. [What] a guy like you would never be able to understand is that these guys are physically genetic, special DNA-type guys. (laughing) I can't relate to that either. They work, and they work harder than anybody in this room physically – that's for sure. Give credit where credit is due. We'll just see how Ray [Lewis] does. I know one thing: He's working. He's working harder than any of us can imagine to try to get back and get healthy." We saw a lot of Paul Kruger early in the game. Is he becoming more and more of an impact player, or did we just see some isolated plays? (Peter Schmuck) "No, Paul's playing really well. The last two, three weeks he's really, really played well. He's been a huge impact in our sub packages. He's getting better every week rushing the passer. He's playing the run, especially in the sub packages really well. The fact that we've … We've had some other guys step up like Courtney Upshaw, Albert McClellan. We've even got some guys that are pushing their way up through in practice. That allows guys to spread their reps out a little bit and kind of show up a little more in certain areas. That's probably what Paul's done with the pass rush stuff." Brendon [Ayanbadejo] and Josh Bynes stepped up once the injury did happen to Dannell [Ellerbe] out there … (Jason Butt) "They stepped up really well. Josh [Bynes] played really solid, physical, downhill football like he always does. Brendon Ayanbadejo really played well. He was all over the field. Made a huge stop on that run that they had there on second down; I think it was second-and-four or -five. [He] stopped it for no gain – just really stepped up like you would expect a veteran leader to do. He played really well." It's called team defense. And predictably it will get better as the season and the team peaks entering the playoffs, and they get back Ray Lewis and McPhee. That is basically the trademark of John Harbaugh's coaching style---building a team that gets better as the season gets older.  
Original Story:
http://www.ravensfootballmachine.com/...
THE BACKYARD
BEST OF MAXIM
RELATED ARTICLES
Baltimore Ravnes head coach John Harbaugh told Michael Silver of Yahoo! Sports that his players almost turned on him before their bye week. Harbaugh told his players that they would be practicing in pads after getting blown out and embarrassed by the Houston Texans.  It didn't go over well and things almost got really ugly. Practicing in pads did not go over well with some of...
Baltimore Ravens linebacker Ray Lewis is a warrior and we all know that. So its not surprising that what would have been a season-ending injury for most players might just be a setback for Lewis. Please Click Here To Read This Story
Ray Rice has been my favorite running back in the NFL for a long time now.  This is one of the reasons.  The man is a strait up beast and has determination on every run.  Never seems like the guy takes a play off.  The Ravens were in a dog fight yesterday with the San Diego Chargers.  Rice grabbed this screen pass in the video below and took it 29 yards for a 1st down.  Oh...
Ravens middle linebacker Ray Lewis might not return to practice this week even though he's expected back soon from a torn right triceps. Lewis underwent surgery and is on injured reserve-designated to return. He's eligible to start practicing Thursday and can't play in a game until Dec. 16 against the Denver Broncos. "Ray Lewis is here, he's rehabbing,...
The Baltimore Ravens were hoping former NFL Defensive Player of the Year Ray Lewis could return to practice this week after undergoing surgery last month to repair a torn right triceps tendon. The middle linebacker has been diligently rehabilitating, using a hyperbaric chamber and platelet-rich therapy to accelerate the healing process. On the injured reserve/designated to return...
The Baltimore Ravens started their practice preparations on Wednesday as they get set to host the Pittsburgh Steelers on Sunday. The Wednesday injury report for the Ravens shows that cornerback Jimmy Smith (abdomen) remains sidelined and has already been ruled out for the game as expected. Not practicing for the Ravens on Wednesday were tight end Ed Dickson (knee), linebacker Dannell...
Sources told Yahoo! Sports that Baltimore Ravens linebacker Ray Lewis, believed to be lost for the season after suffering a torn triceps in mid-October, is expected to return before the end of the 2012 campaign.
(Image courtesy of Shawn Hubbard/ShawnHubbard.Wordpress.com) When the Denver Broncos (8-3) face the Baltimore Ravens (9-2) in Week 15, Ray Lewis could be out on the field at middle linebacker for the Ravens. Lewis tore his triceps in October, but has been recovering well, according to ESPN: "Coach John Harbaugh now thinks Lewis will play in the regular season. "That's a best...
Hot News for GM Ozzie Newsome
Ravens News

Delivered to your inbox

You'll also receive Yardbarker's daily Top 10, featuring the best sports stories from around the web. Customize your newsletter to get articles on your favorite sports and teams. And the best part? It's free!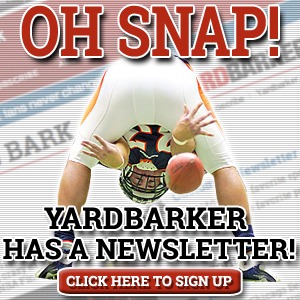 Latest Rumors
Best of Yardbarker

Today's Best Stuff

For Bloggers

Join the Yardbarker Network for more promotion, traffic, and money.

Company Info

Help

What is Yardbarker?

Yardbarker is the largest network of sports blogs and pro athlete blogs on the web. This site is the hub of the Yardbarker Network, where our editors and algorithms curate the best sports content from our network and beyond.