Found March 28, 2013 on Fox Sports Wisconsin:
GREEN BAY, Wis. -- The last two years of Don Majkowski's life have been what every current and former NFL player fears. The once-great quarterback who seemed poised to turn around the Green Bay Packers in the early 1990s is now experiencing nearly every possible downfall the game of football can present to those who played it. Only 49 years old, Majkowski has been in significant pain and agony. The player who used to attack defenses with reckless abandon struggles simply to leave his house these days. "I haven't worked, I haven't coached, I haven't done anything," Majkowski told FOXSportsWisconsin.com. "It's very difficult to even sit for five minutes. It's been a nightmare." The list of Majkowski's physical problems is lengthy and includes everything from degenerative disk disease in his neck and back to post-concussion syndrome. But his issues started with his left ankle. He's had 11 surgeries on it, including back-to-back fusions after the first attempt didn't work. "It's just locked in place now," Majkowski said. "I can't move my foot at all." Majkowski's ankle problems began on a memorable day in Packers history. On Sept. 20, 1992, he tore a ligament in his ankle, opening the door for 22-year-old backup Brett Favre to make his Lambeau Field debut. Favre led the Packers to a comeback win that day and started his next 297 NFL games. Majkowski a rare combination of talent and swagger dubbed the Majik Man while finishing second in NFL MVP voting to Joe Montana in 1989 -- never took another snap in Green Bay and signed on as a backup with the Indianapolis Colts the next season. Three years later in 1996, by then with the Detroit Lions, Majkowski damaged his ankle further. He underwent surgery by Dr. James Andrews in June of that year and was told it would be a three-month recovery process. Sitting out for three months would have meant not playing in the preseason, which could have cost the then 32-year-old a backup job with the Lions. "My ankle was 60 percent, and they needed me to start a preseason game in Detroit," Majkowski said. "They asked if I could be dependable. I went out there and played and it numbed up. I tore it up, and it's affected me the rest of my life. That's what messed it up real bad. "That was the start of the nightmare with my ankle. My ankle was so bad. It was awful. It got so swollen every day after practice. I could've easily played three more seasons without that." Majkowski knew he couldn't be a starting-caliber quarterback by that point in his career. Those days had passed several years earlier. Though he started eight games in 1991 and three games in 1992 with the Packers, Majkowski knew he was never going to make it to the Pro Bowl for a second time. The torn rotator cuff he suffered midway through the 1990 season destroyed his chances of maintaining an elite level of play. "That 1990 shoulder injury killed my career," Majkowski said of the damage caused to his throwing arm. "I played six more years, but it was through incredible pain in that shoulder. My shoulder never came back to its normal shape like it was before then. I always had to keep it to myself. I had to keep everything to myself because I wanted to continue to play." Unfortunately for Majkowski, the long-lasting damage to his ankle and shoulder is the least of his worries these days. Doctors discovered a couple years ago that Majkowski has degenerative disk disease in his back. Three months ago, he had fusion surgery in hopes of easing the discomfort. "I had no more disks in my two lower vertebrae, and it was so painful," he said. "It'll be close to eight months before it's fully healed. It's kind of a condition, though, because once you have two lower disks fused, it puts a lot of pressure on the disks above it. It compounds. "I have gotten quite a bit of relief since (the surgery), so that's a positive. Hopefully, I'll be able to move around better soon." Majkowski also has degenerative disk disease in his neck, but he's hopeful he can hold off on surgery on that for a few years. "All those blindside hits I took, it was brutal," Majkowski said. Those blindside hits also have Majkowski suffering from post-traumatic concussion syndrome. "They didn't have the concussion protocol then that they do now," he said. "If you get dinged up now, you come out and go through the whole procedure to be cleared to play. "When I played, you get hit and you see a flash of red light like someone is taking a picture of you with an old camera. You get dizzy for several minutes, and that happened to me several times. But you had to just shake it off and go back out there. Some guys just kept it to themselves so they didn't come out of the game. "I can't go on rollercoasters because my head hurts too bad. It just proves that it must have been really bad. I felt like I had the worst concussion in the world after getting off of one of those loopy rollercoasters years ago." Given all of his medical issues, Majkowski sought help from the NFL's workers compensation program. For 21 months, he battled with the league over his case, having to fly out to California -- the only state in which former players can receive workers compensation -- every time new information had to be presented or tested. At one point, Majkowski was put through three days of exams, ranging from neurological tests to scans of every part of his body. Majkowski, along with his attorneys, had to be able to prove that his medical procedures should be covered by the NFL's workers compensation program. "I won my case," Majkowski said. "I got a little lump sum, but more importantly, I get all of my medical expenses paid for. I know I'll need more ankle surgeries and back surgeries, so I needed it. "It was a grueling process." Majkowski, who lives in Atlanta, explained that he, like every player who files a claim, needed to have a local orthopedic physician represent him. Any time Majkowski needed any doctor appointment whatsoever, there was a two-month wait while the request was submitted to the insurance company. "It's absolutely ridiculous what former players have to go through to get workers comp paid for to win your case," Majkowski said. "I talked to so many guys going through the same thing. Owners are trying to get rid of workers comp totally for former players because it costs too much. They don't want to pay for any future health care." Other prerequisites for approval on his surgeries were undergoing three months of physical therapy and steroid injections. Neither treatment worked for Majkowski. "It was a tough couple years," Majkowski said. "Thank God it's over. I'm ready to hopefully resume some form of a normal life." That normal life, though, won't include many things that others his age can do. "I can't even come close to playing golf," Majkowski said. "I used to love it." Majkowski sold his real estate investment company a couple years ago because working was far too difficult given his multiple ailments. "I'm completely retired," he said. "I'm done. Fortunately, I've been smart with the money I made." He also can no longer coach his eighth-grade son Bo's football team. "I coached the year before, but I was in so much pain," Majkowski said. "I had to wear a back brace just to stand out there. I really enjoyed working with those kids." Bo Majkowski is the team's quarterback and is on track to be a four-year starter in high school and possibly be highly recruited by college programs. "He's following right in my footsteps," said Majkowski, who played college football at the University of Virginia. "I'm not one of those dads to push him to be like me. I want him to do what he wants, but he loves football." However, Majkowski is worried that his son's love of football could lead to the types of medical conditions that have affected his own life. "He's also a really good baseball player, and I'm trying to push him to play baseball, to be honest with you," Majkowski said. "It'll be tough as a parent watching my son play if he does end up being a QB because it's the most vulnerable position. You can't protect yourself. "I'm going to support him no matter what he chooses, but you should see how many of these kids in seventh grade get concussions. They were so bad. I had one kid who needed it completely black in a room. He couldn't watch TV, couldn't go on a laptop. These kids are getting so big and fast and it's getting so much more physical." As Majkowski waits to find out which sport his son chooses, Packers fans continue to remember the Majik Man for the player he was. Majkowski estimates that he receives four pieces of fan mail every day. Sometimes it's a request for his autograph on a football card or just a nice letter. Other times it's a DVD gift with compiled highlights from his career. "What was cool is I got to know the person who bought my old house in Green Bay," Majkowski said. "They wondered if there was any way I could sign some stuff for them. They've now got some autographed items hanging up in my old bar area in that house. "The fans are still so great to me. They're the best fans around." Majkowski isn't just thinking about the past. He has hope for his future, too. He'll never be physically active like he used to be, but there are some reasons for optimism. "I'm a little better now after the surgery, but it's got a ways to go," Majkowski said. "It's getting there. It takes time. I was miserable, but hopefully I'm on the road to getting much better. I haven't been out much in recent years, so I have a lot of catching up to do." Despite all the physical problems that have drastically affected his life, Majkowski wouldn't do a single thing differently. "I don't regret it," Majkowski said. "That's the sickening part of it. Of course I'd do it all again. It was my childhood dream and I worked extremely hard to achieve that and be in the NFL. It was a privilege and a dream that only a small percentage of guys ever get to do." Follow Paul Imig on Twitter.
Original Story:
http://www.foxsportswisconsin.com/03/...
THE BACKYARD
BEST OF MAXIM
RELATED ARTICLES
The second that Joe Flacco signed  his roster-busting new deal, you knew that Aaron Rodgers was somewhere taking notes. According to his current deal, Rodgers is not due to become a free agent until 2015. That is not stopping the Packers from extending to his contract in the now. Please click here to read this story. The post Green Bay Packers closing in on Aaron Rodgers contract...
It's one thing to depend on Aaron Rodger, it's another to live and die by his arm. It's a dangerous proposition to think every game could be pulled out by throwing 3/4th of the time. However, the past few years the Packers have done just that, throwing most of the time because the running game couldn't produce. Coach Mike McCarthy thinks it's time the running game kicks...
According to the Milwaukee Journal-Sentinel, the Green Bay Packers are not only working on extension for Aaron Rodgers, but for linebacker Clay Matthews Jr. The Packers have $18 million in salary cap space that is there for a reason. They have been working on deals for Rodgers and Matthews since the season ended and there's a chance that more details were worked out between negotiator...
According to Tom Silverstein of the Milwaukee Journal Sentinel, the Green Bay Packers are close to approaching a deal with outside linebacker Clay Matthews. Outside of Aaron Rodgers, Matthews is next priority for GM Ted Thompson, however, getting the linebacker done first gives the team flexibility towards the Rodgers deal. Silverstein writes: 'In Matthews' case, they had...
For those of you who didn't see the classic comedic flick, "Happy Gilmore", the main villain of the story was Shooter McGavin (who was played by actor Christopher McDonald) and thanks to Twitter these days, someone created a Shooter McGavin parody account. Recently, Green Bay Packers Aaron Rodgers (the actual one) got into an interesting conversation with Shooter...
There is a general inkling in fantasy football that the third year of a wide receiver's career can and usually is their breakout year in the NFL.  Over the course of the off-season, Razzball will take a look at some wideouts heading into their third year in the league and see if they're a breakout candidate for 2013 fantasy football.  This week we will review Randall Cobb....
On the heels of the deal which made Baltimore Ravens QB Joe Flacco the highest paid quarterback in the league, the Green Bay Packers seem to be on the brink of handing that title to their quarterback, Aaron Rodgers. Flacco inked a deal worth $120.6 million for six years, and sources suggest that Rodgers' deal will eclipse that mark. ESPN's Adam Schefter reports that the Packers...
Multiple sources are reporting that the Packers are close to reaching a contract extension with quarterback Aaron Rodgers.Fantasy Spin:ESPN's Trey Wingo was floating around "four years, $100 million" as a possible contract figure on Thursday afternoon's edition of NFL Live. If that comes to fruition, Rodgers would be getting the largest annual salary in NFL history...
NFL News

Delivered to your inbox

You'll also receive Yardbarker's daily Top 10, featuring the best sports stories from around the web. Customize your newsletter to get articles on your favorite sports and teams. And the best part? It's free!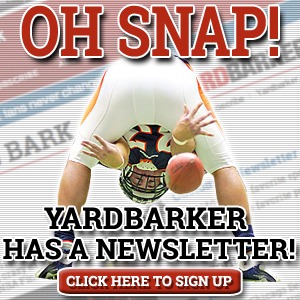 Latest Rumors
The Backyard

Today's Best Stuff

For Bloggers

Join the Yardbarker Network for more promotion, traffic, and money.

Company Info

Help

What is Yardbarker?

Yardbarker is the largest network of sports blogs and pro athlete blogs on the web. This site is the hub of the Yardbarker Network, where our editors and algorithms curate the best sports content from our network and beyond.