Found June 17, 2013 on isportsweb.com:
The morning show "Mayhem in the AM" on Atlanta sports station 790 The Zone, the home of the Atlanta Falcons, made news across the country this morning for all the wrong reasons, as they lampooned former Saints safety Steve Gleason's current battle with ALS. After mentioning that Gleason was Peter King's fill-in on Sports Illustrated's Monday Morning Quarterback (a story that Gleason wrote using his eyes due to ALS's horrible effects on his body), the 790 the Zone crew, comprised of Nick Cellini, Steak Shapiro, and Chris Domino, then announced that they had "Gleason" on the line. However, this was not the real Steve Gleason, but instead Cellini portraying a computerized voice that poked fun at Gleason's battle with the disease, saying things like "I wish I could play", "I may not be here on Thursday", and "smother me, do me a favor". (Audio is available here) The "skit" (if you could call it that) blew up immediately, leading to an indefinite suspension of the crew and an apology from 790 The Zone that states "We deeply regret the comments made by Mayhem In The AM this morning on 790 The Zone regarding former New Orleans Saints player Steve Gleason. 790 The Zone, Lincoln Financial Media, our sponsors and partners in no way endorse or support the unfortunate and offensive commentary concerning Mr. Gleason this morning. The members of the show involved with this incident have been suspended indefinitely pending further management review of their actions." While fans of the Falcons and the Saints both love to hate each other and will try and find anything to rile up the other side, the fact of the matter is that this stunt by 790 was not in any way appropriate, justifiable, or frankly funny at all. This situation also puts the Atlanta Falcons organization in a very strange situation, as the team's radio rights include broadcasting their games on this particular AM station. The Falcons obviously do not want to be linked in any way with a disgusting controversy such as this, which means that there has to be some kind of reaction to make the whole situation right. Fortunately for all sides involved, there seems like only one legitimate reaction possible: the station has to show these guys the door. Cellini, current Falcons RB Steven Jackson, Dimino, and Shapiro Sure, people make mistakes every day, but you have to understand something up front: 790's deal with the Falcons is probably one of their biggest money makers, as there will be a considerable amount of listeners who tune in on Sundays in the fall to listen to Atlanta rise up once again. However, with such a large amount of terrible publicity coming from this situation (see below), allowing these guys to remain on board will just leave a scar on the Falcons' deal with the Zone, and would lead some to conclude (although irrationally) that the team condoned this sort of talk (which it most certainly does not). The Falcons obviously would not push to opt out of their deal with the radio station for simplicity's sake, which means that it looks very likely that The Zone will have some new voices coming over the air in the very near future. UPDATE: While I was in the process of publishing this, 790 The Zone announced that all three of the station's employees involved have been fired. The station released a statement saying "We suspended the three individuals involved immediately following their comments and have since terminated their employment. 790 The Zone, our owners, sponsors and partners in no way endorse or support this kind of content. We sincerely apologize to Mr. Gleason, his family and all those touched by ALS."  
Original Story:
http://feedproxy.google.com/~r/isport...
THE BACKYARD
BEST OF MAXIM
RELATED ARTICLES
WORK OF ART?
The Atlanta Falcons announced Tuesday that a conceptual design by 360 Architecture of the new Atlanta stadium has been chosen and approved by the Georgia World Congress Center Board of Governors.  Construction will begin next year. 
The Atlanta Falcons released some photos of the conceptual design of the new Atlanta Stadium. The Atlanta Falcons announced today the completion of a conceptual design of the new Atlanta stadium and plans to immediately move into the schematic design phase of the project.  These actions follow conceptual design approval today by the Georgia World Congress Center Board of Governors...
According to Mike Florio of ProFootballTalk.com, contract talks between the Falcons and quarterback Matt Ryan are expected to heat up after July 4th. Per a source with knowledge of the situation, casual talks currently are occurring, with an expectation that things will heat up after the July 4 holiday. The Falcons and Ryan's agent will need to figure out if he's worth Aaron...
FLOWERY BRANCH, Ga. -- When the Falcons drafted cornerback Desmond Trufant in the first round and he was unable to participate in the early stages of offseason team activities because of a rule in the collective bargaining agreement, they did everything they could to get Trufant up to speed. To that end, a defensive coach used Skype to keep Trufant abreast of what the team was doing...
The Atlanta Falcons have signed tight end Colin Cloherty to a two-year contract. Cloherty, who went undrafted in 2009 out of Brown, has played for the 49ers, Colts and Jaguars. He most recently played with Jacksonville in 2011 and was cut before the 2012 season got underway. While we don't read too much into the signing for fantasy purposes, it's interesting to note that Cloherty...
((HT: CNN)) Wanetta Gibson accused Brian Banks of raping her as they were both in high school at Long Beach Poly in 2002. Banks was the high school football star who, seemingly, had his life in front of him at the time. Banks was convicted, only to be released ten years later after years of appeals, and found out that the allegations Gibson made on rape and kidnapping after...
Hey everyone it's me, Michael. Everybody's favorite ex-Falcon. Coming to you from inside an Arby's and outside of a job. Who would've known they had free Wi-Fi? First the Ultimate Angus and now this. Things are looking up.But seriously though, I need a job, fast. And I'll work for food.No need to overreact here people, just looking for a one-year deal, no guaranteed money...
ATLANTA (AP) Atlanta Falcons tight end Tony Gonzalez has won the 2013 Good Guy Award from the Professional Football Writers of America. Gonzalez, who recently announced he will play one more season after originally planning to retire, has been honored for his professionalism in helping pro football writers do their jobs. Gonzalez, a Kansas City Chief for 12 years before being traded...
It was brought to my attention this morning that the hosts of Mayhem in the A.M. on 790 The Zone in Atlanta decided to make fun of former Saints safety Steve Gleason since he wrote this week's Monday Morning Quarterback on SI.com for Peter King. Gleason can no longer talk since he's dying from Amyotrophic lateral sclerosis (ALS), often referred to as "Lou Gehrig's Disease...
According to Jason La Canfora of CBS Sports, free agent defensive lineman Richard Seymour told him that after talking with the Atlanta Falcons, they were able to agree on a contract. Falcons were trying to sign DL Richard Seymour but he tells me they couldn't agree on contract terms. "I thank them for their efforts." — Jason La Canfora (@JasonLaCanfora) June 16, 2013...
This is actually happening. Updated conceptual designs for a new billion dollar Atlanta Falcons stadium have been approved.
Falcons News

Delivered to your inbox

You'll also receive Yardbarker's daily Top 10, featuring the best sports stories from around the web. Customize your newsletter to get articles on your favorite sports and teams. And the best part? It's free!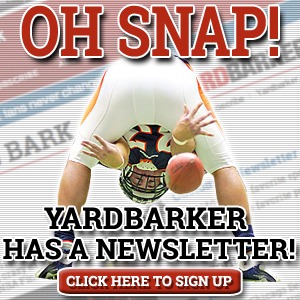 Latest Rumors
Best of Yardbarker

Today's Best Stuff

For Bloggers

Join the Yardbarker Network for more promotion, traffic, and money.

Company Info

Help

What is Yardbarker?

Yardbarker is the largest network of sports blogs and pro athlete blogs on the web. This site is the hub of the Yardbarker Network, where our editors and algorithms curate the best sports content from our network and beyond.