Found April 19, 2013 on Grits Blitz:
  Do you like luxury? Let's face it - WR isn't going to be a priority in this draft for the Falcons. They have 2 that are still at the top of their game, along with a nice slot option in Harry Douglas, a productive scatback in 'quizz,and...oh yeah...the greatest pass catching TE ever!  With that - my job is pretty easy here, as I can elminate pretty much all WRs that are likely to go on Thursday or Friday nights. Taking that into account, I looked at 3rd Round or lower guys who could provide interesting options going forward. That means someone who either posseses either ridiculous speed and thus allows offensive innovation, or even someone who might be able to help the Falcons make up for the now certain loss of Tony Gonzalez in 2014.   The Big Bodies: 1) Chris Harper, Kansas State - LIkely a 3rd or 4th Round Pick. A chance he's there when the Falcons pick at 92, and maybe even at 127. A big body in the mold of Anquan Boldin at 6'1", 229lbs. - he knows how to body up defenders and make the sure catch. Only 40 Catches for 547 yards & 5 TDs last year, but in an offense that relied heavily on the run. With Tony Gonzalez gone after 2014, this could be seen as an insurance for not having the firepower at TE that Falcons have become accustomed to. He can give Ryan safety valve over the middle, and received great praise for his ability to run block in K-State's read option offense. Also turned in a respectable 4.5 40 yd. dash time at the NFL Combine. 2) Aaron Mellette, Elon - An absolute catch machine at the SoCon school, Mellette posted a ridiculous SR line of 97-1398-18 in 11 games last year. Standing 6'3", 218, Mellette projects as a 5th Rounder with 4.45 speed. That round might make more sense than going early for Harper, and it's hard to ignore his statistics, and the potential to unearth a sleeper pick this late in the draft. Could be a long-term project - but with 3 solid WRs already in the fold, the Falcons could afford to take one. 3) Mark Harrison, Rutgers - Potential UFA pick-up with the measurables to make scouts drool. Unfortunately, his production hasn't matched that. At 6'3" 233 with 4.4'ish speed, he should've dominated in The Big East. He did not. That said - despite turning out productive NFL WRs like Mohammed Sanu and Tiquan Underwood, Rutgers hasn't been known for an explosive pass attack. Harrison might be worth bringing into camp, but probably not at the expense of a draft pick. The Burners: 1) Ryan Swope, Texas A&M - Decent size at 6', 205, Swope posted big numbers in both Mike Sherman's and Kevin Sumlin's offenses in College Station. He followed that up with an impressive 4.28 40 at the NFL Combine. He's projected to be a 3rd Round pick, so unlikely the Falcons might get shot at him. Considering how pass heavy his offenses were in college though, he could be an interesting option for defenders to worry about in the slot. 2) Kenny Stills, Oklahoma - a lean 6'1", 194 target who helped fill the Ryan Broyles void for the Sooners this year with a 82-959-11 line. Turned in a 4.32 40 at the combine. A potential 4th Round pick, where the Falcons are currently* picking twice. With that kind of speed, part of me would like him to have a better YPC average, but he won't be the main weapon in Atlanta, and that could leave him more room to operate. 3) Denard Robinson, Michigan - The ultimate Wild Card. Actually played a good bit of Running Back in his last few games at Michigan, but his size is more suited to WR in the NFL. At 5'11, 199, he has only average size - but displays incredible burst, quickness, and ability to change direction. Likely a 5th or 6th Round pick - when the Falcons will have (ideally) addressed all their needs. For a team with an embarassment of pass catching riches, taking someone who could line-up in 3 or 4 spots on the field might be too hard to turn down late. Obviously - not a major position of need, but who would you like to see the Falcons take?  
Original Story:
http://www.gritsblitz.com/2013-articl...
THE BACKYARD
BEST OF MAXIM
RELATED ARTICLES
Atlanta Falcons Pro Bowl safety William Moore was arrested on Thursday for simple battery.   Moore is being accused of grabbing a woman's shoulder and throwing her cell phone on the ground in northwest Atlanta on Thursday. Please click here to read this story. The post Atlanta Falcons William Moore arrested for simple battery appeared first on Players View.
The Atlanta Falcons want to give Matt Ryan a new deal. Matt Ryan wants to stick with the Falcons longterm. With an emerging draft on the horizon, both parties decided that now is not the time to get this done. Please click here to read this story. The post Atlanta Falcons put Matt Ryan's new deal on hold appeared first on Players View.
FLOWERY BRANCH, Ga. The Atlanta Falcons have made a huge splash in the NFL free agency market this offseason, much of it in re-signing their own players, but having said that, they continue to face big questions on their roster at cornerback, on the offensive line and in terms of reaching a contract extension with quarterback Matt Ryan as the NFL Draft awaits one week from Thursday...
It's not like the St. Louis Rams didn't need running back Steven Jackson. The 29-year-old had 1,042 rushing yards and four touchdowns with the Rams last season. Marking his eight straight season with more than 1,000 yards rushing the Rams decided to go a different way and restructured his contract to allow his release. The Atlanta Falcons, who let Michael Turner walk, quickly...
Falcons Pro Bowl safety William Moore has been arrested on a battery charge, just a month after he inked a new 5-year deal worth around $30 million. According to The Atlanta Journal-Constitution Moore was arrested on Thursday and charged with simple battery. Moore was booked into Fulton County Jail and is due in court at 11 a.m. Friday, according to jail records. "We are aware...
Atlanta Falcons safety William Moore was arrested on a simple battery charge Thursday. Fulton County jail records showed Moore remained in custody Thursday night. No details of the arrest were immediately available. The Falcons released a statement saying the team was aware of the ''situation involving William Moore'' and was gathering more information. Moore,...
Atlanta Falcons safety William Moore was arrested on Thursday and charged with simple battery, according to the Atlanta Journal-Constitution. It's been reported that Moore got into an altercation with a woman and went on to grab her shoulder. The Falcons released the following statement regarding the incident. "We are aware of the situation involving William Moore and...
The Falcons signed Moore to a 5 year $30 million in the offseason, you would think that would be enough to keep him out of trouble. No word on what actually occurred, but according to Pro Football Zone, the Falcons are aware of the arrest. "We are aware of the situation involving William Moore and are in the process of gathering more information," a Falcons spokesperson said...
After running back Steven Jackson chose to leave the St. Louis Rams in favor of the Atlanta Falcons, fans in the Gateway City were left with mixed emotions regarding their franchise's all-time leading rusher. Some were happy to see Jackson move on to an actual Super Bowl contender as the Falcons figure to be one of the best teams in the NFL and with Jackson's presence, will...
With the draft being just around the corner, I decided instead of a full defensive end preview, I will incorporate a mock draft for defensive ends. The way this works is that for each draft pick I give a scenario where Atlanta would take a defensive end. Below is who I believe Atlanta will draft next week if they opt to take a defensive end in the first few rounds. There is a trade...
I thought it was crazy, but I think a lot of things are crazy. Could the Falcons really be considering another Julio Jones type trade only one draft removed from the actual Julio Jones trade. When Peter King first reported it my line of thinking was along the lines of, "Well, what he means is that they've probably have had some internal discussions about trading. I seriously...
NFL News

Delivered to your inbox

You'll also receive Yardbarker's daily Top 10, featuring the best sports stories from around the web. Customize your newsletter to get articles on your favorite sports and teams. And the best part? It's free!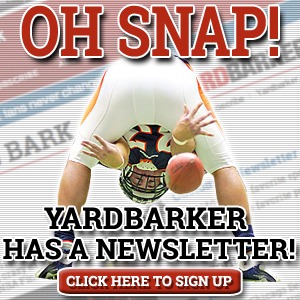 Latest Rumors
Best of Yardbarker

Today's Best Stuff

For Bloggers

Join the Yardbarker Network for more promotion, traffic, and money.

Company Info

Help

What is Yardbarker?

Yardbarker is the largest network of sports blogs and pro athlete blogs on the web. This site is the hub of the Yardbarker Network, where our editors and algorithms curate the best sports content from our network and beyond.