Found April 23, 2012 on Awful Announcing:
PLAYERS:
Lofa Tatupu
,
Jonathan Vilma
,
Matt Ryan
,
Mike Smith
,
Jim Harbaugh
,
Norv Turner
TEAMS:
Atlanta Falcons
,
New Orleans Saints
,
Baltimore Ravens
,
San Francisco 49ers
,
Houston Texans
,
San Diego Chargers
A couple weeks ago we told you HBO had finally come to a decision about the team they wanted to appear on the successful Hard Knocks series.  That choice was the Atlanta Falcons, who in spite of 3 playoff apperaances in 4 years, were a less than inspiring selection to the wide majority of those of you who responded to the news via Twitter and Facebook.  At that point, it seemed like a mere formality until the decision was made official.  
Now, it won't be made official as the Falcons turned down HBO and the starring role on Hard Knocks according to NFL Network's Albert Breer on the weekend.   
Falcons have officially turned down HBO for Hard Knocks. Orginizational call made by Blank, Dimitroff and Smith. Wanted focus on football.

— Albert Breer (@AlbertBreer) April 21, 2012
The Falcons organization isn't one that necessarily goes out and seeks publicity like others around the league, so maybe the decision isn't a massive upset.  Still though, it's not like Hard Knocks has been the source of major distractions in the past.  That now makes it three teams - Denver, the Jets, and Atlanta, that have all turned down HBO this offseason already.  
The loss of the Atlanta Falcons as Hard Knocks stars isn't a major blow to the series, although it's not looking good that so many teams are publicly turning down the show.  There just weren't that many interesting stories this offseason in Atlanta unless you consider the signing of Lofa Tatupu must see television.  Really, Atlanta has had one of the quietest offseasons in the league.  Can you tell me one time you've heard the name "Atlanta Falcons" this offseason, aside from their starting middle linebacker Curtis Lofton being the heir apparent to Jonathan Vilma in New Orleans?  There's only so many times the HBO cameras are going to be able to ask Matt Ryan about his "Matty Ice" moniker, Mike Smith about going for it on 4th down from his own 30, and Arthur Blank on his favorite Vincent Price movies.  It's a true blessing in disguise.
So where does HBO turn to now?  The idea of Harbaugh 2 Harbaugh has been floated out with the Ravens & 49ers taking on dual starring roles, so perhaps HBO goes in that direction for the show.  The Ravens were the first team to partake in Hard Knocks in 2001 so the franchise has experience.  And let's face it, Jim Harbaugh has never met a camera he didn't like.  In addition to Baltimore, Dallas (twice), Cincinnati and Kansas City have all taken turns in the spotlight and could be asked to return.
With the most compelling choices either already declining an invite (Denver/NYJ) or having no real possibility of saying yes (New Orleans), HBO appears to be back at square one.  There are still plenty of great choices for the network though.  The Colts and Redskins would be entertaining with Andrew Luck and RGIII.  The Texans and Lions could be profiled as young teams on the cusp of becoming elite.  We could finally get insights in San Diego as to how Norv Turner keeps his job year after year.  And, there's still time for HBO to come to an agreement with a team before training camp rolls around.
And then, if worse comes to worse... there's always the Jaguars.
Original Story:
http://www.awfulannouncing.com/2012-a...
THE BACKYARD
BEST OF MAXIM
RELATED ARTICLES
10) Afraid that the network would find out about the QB's shameful secret criminal activities9) Roddy White and a live mic isn't exactly a recipe for team harmony 8) Just not able to match Rex Ryan's standard for HBO-ready dialogue7) Worried that if they appear on the show, people would start noticing how they never actually win any playoff games6) Don't want the...
The Atlanta Falcons made quite a splash in last year's NFL draft. This year, they'll likely spend a lot of time sitting around. The Falcons are one of three teams that did not have a pick in Thursday night's first round. Considering what they gave up to get receiver Julio Jones in 2011, there's little chance of the team moving up to make another high-profile selection...
Their happens to be quite a pool of talent in this year class defensive tackle class with 3 to 4 being projected in the first round. The Talent continues on into the second and third rounds as well. Let's take a look at some of those second-third Round DTs that the Falcons might be targeting. A potential Falcons draft pick? Let's start off with Brandon Thompson, the...
Cornerback Brent Grimes signed his one-year franchise tender with the Atlanta Falcons, the team announced. Grimes will earn $10.3 million in 2012 if he doesn't agree to a long-term contract before mid-July. Grimes, an undrafted free agent in 2006 who was on the team's practice squad for all but the final two games of 2007, went to the Pro Bowl in 2010 and is considered one...
ATLANTA- The Falcons are no longer satisfied with making due with what they have when it comes to their secondary. It is becoming more than a possibility that could acquire CB Asante Samuel from the Philadelphia Eagles. The Eagles have been trying to move the disgruntled corner for almost a year now and now their asking priced has dropped dramatically. Please click the link below...
The Falcons made a mega deal - a 5-for-1 trade with Cleveland - to move up 21 spots to select wide receiver Julio Jones last April. Because they don't have picks in the first and fourth rounds of the 2012 draft, they must be prudent in order to fulfill some of their needs. Their first pick will be the 55th pick overall in the second round and they will look to add either a...
ATLANTA, GA - OCTOBER 16: Brent Grimes #20 of the Atlanta Falcons intercepts a pass intended for Steve Smith #89 of the Carolina Panthers at the Georgia Dome Earlier today, news broke that the Atlanta Falcons were in talks with the Philadelphia Eagles to acquire veteran corner, Asante Samuel. No sooner than a few hours after the media started reporting on it, Brent Grimes decided...
A person familiar with the talks says the Atlanta Falcons are trying to acquire cornerback Asante Samuel from the Philadelphia Eagles before the NFL draft. The person spoke to The Associated Press on condition of anonymity on Tuesday because the deal, which may include a draft pick, is not complete. The 31-year-old Samuel, a four-time Pro Bowl pick, would give the Falcons'...
Despite not having a very interesting off-season, the Atlanta Falcons have had some change at linebacker. The man that clogged up the middle under Brian Van Gorder, Curtis Lofton, was allowed to walk without much interest in keeping him from the Falcons. To replace him, the Falcons will go with second year player Akeem Dent or free agent signee Lofa Tatupu. The rest of the Falcons...
NFL News

Delivered to your inbox

You'll also receive Yardbarker's daily Top 10, featuring the best sports stories from around the web. Customize your newsletter to get articles on your favorite sports and teams. And the best part? It's free!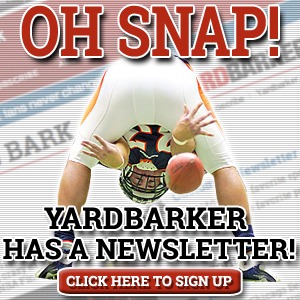 Latest Rumors
Best of Yardbarker

Today's Best Stuff

For Bloggers

Join the Yardbarker Network for more promotion, traffic, and money.

Company Info

Help

What is Yardbarker?

Yardbarker is the largest network of sports blogs and pro athlete blogs on the web. This site is the hub of the Yardbarker Network, where our editors and algorithms curate the best sports content from our network and beyond.