Found September 01, 2012 on CJ Sports NFL Talk:
Should Austin Collie be let go in Indianapolis? I say yes and the first reason, has nothing to do with his talent because he is a talented wide receiver. The problem is he can not stay healthy. Collie has been plagued by concussions and has not started in more than six games in his three year career. He his career high in receptions is only 60 and he has never had over 1,000 yards receiving. If the Colts can cut one of the greatest quarter backs of all time, Peyton Manning, they surely can cut Collie. The Colts have repeatedly given Collie a chance but, with all of these young up and coming wide receivers they can not afford to keep him. They have to many good young receivers on this roster to keep an older guy who has not done anything yet. The first such player to look at is LaVon Brazill, who is a 5'10"  192 pound rookie wide receiver from Ohio University. This young man had 72 receptions and 1,150 yards with 11 touch downs. He ran a good 40-Yard Dash time of 4.48 at the combine. Brazill is a very good route runner, he is both quick and explosive off of the line of scrimmage. Brazill is very good at changing his speed which will leave opposing corner backs guessing. He has very strong hands and is a good deep threat do to his ability to extend for the ball. He will also help the Colts in the return game and that is one thing Collie will not do. T.Y. Hilton was the twenty-ninth pick of the third round and he is no joke. The 5'10" 183 pound young man from Florida International is ready to play at the NFL level. Hilton is a very athletic player whose speed is known to take the top off on defenses. He has a great burst off of the line and can also help in the return game. T.Y. is a deep threat who creates separation very well do to his superior long speed. He is also a decent route runner who does well out of the slot and can help spread the field for first overall pick,  Andrew Luck. The Colts also signed, Donnie Avery, 5'11"186 pound wide receiver in the free agency who played for the Titians and the Rams during his career. Avery had a great combine going into being drafted by the rams, running a 4.2 40-yard dash. Avery is ready to break out this season he has large hands and is very strong for his size. He obviously displays great speed, quick feet and, excellent explosiveness and change of speed agility. Donnie is very good at running after the catch, he is an elusive rout runner and is another good deep threat for this young Colts offense. He is also a very good zone route runner which is what Wes Welker, of the Patriots, has made his carer doing. Last but not least, Kashif Moore who was recently cut by the Bengals do to their young depth at the position. Kashif is a small receiver at only 5'9" 175 pounds. Similar to the receivers mentioned above is a speedster, running a 4.42 40- yard dash. The difference between Moore and the other receivers on this team is he uses his speed to run short intermediate routes. Moore is very fast off the line and is a crisp route runner and is very good in and out of his cuts he also is not afraid to catch the ball over the middle and he does it well.   Related articles
Indianapolis's Luck as a "Newly Forged Horseshoe" for 2012 Colts Run (110sportztalk.com)
Indianapolis Colts: What they have to figure out before they can win the AFC South (110sportztalk.com)
NFL QB Breakdown- Andrew Luck-Indianapolis Colts (110sportztalk.com)
Original Story:
http://110sportztalk.com/austin-colli...
THE BACKYARD
BEST OF MAXIM
RELATED ARTICLES
The preseason has ended, and everyone can take a sigh of relief the games that don't count in the standings are over. The Indianapolis Colts picked up its second win of the preseason in defeating the Cincinnati Bengals 20-16 on Thursday, Aug. 30 at Lucas Oil Stadium. Andrew Luck and all players who appear to be the starters only played in the game's first series, with...
After running a list of cuts yesterday, today we'll be updating you all afternoon with the Colts' waiver claims, additional cuts, and practice squad additions. The Colts have first priority on waiver claims, so they will be awarded any player they put in a claim for, unless the accompanying roster move is invalid. Waiver Claims OL Mike Person (Former 49er, 7th round pick...
The Indianapolis Colts made a string of moves on Friday in order to reach the NFL league requirement to have rosters set at the 53-man limit by 9 p.m. Indianapolis removed OT George Foster from the injured reserve list and added WR Jabin Sambrano and CB Korey Lindsey to the IR list. The Colts also placed several players on the waived/injured list. RB Deji Karim, DE James Aiono, OLB...
The preseason is over. A week from today at Soldier Field in Chicago, Andrew Luck and the rest of the "new era" Indianapolis Colts will take the field for meaningful football. Before we begin our usual week of breaking down the opponent and analyzing that week's game, let's take a look back at the preseason as a whole and make some observations about what the Colts...
Indianapolis released its longest-tenured player, long snapper Justin Snow, as it reached the NFL roster limit of 53 on Friday. Snow had played in 192 consecutive games - the second-longest streak in franchise history behind Peyton Manning. The Colts also waived receivers Kashif Moore and Jeremy Ross; running back Darren Evans; tight ends Andre Smith and Kyle Miller; offensive...
The Colts announced their final cuts today. Some were surprising, and others weren't. Here's who got cut: DE James Aiono DT Chigbo Anunoby OL Steven Baker LB Jerry Brown RB Darren Evans OL George Foster LB Tim Fugger OL Hayworth Hicks RB Deji Karim CB Brandon King LB Greg Lloyd TE Kyle Miller WR Kashif Moore DB Mike Newton WR Jeremy Ross ...
The Indianapolis Colts have claimed safety Sergio Brown, offensive tackle Mike Person and nose tackle Martin Tevaseu off waivers. To make room on the 53-man roster, Indy waived safety Jermale Hines, cornerback D.J. Johnson and offensive tackle Ty Nsekhe. Brown started the 2010 season on New England's practice squad. He was promoted to the active roster in October that season...
In their final tune up before opening the season in Chicago, the Indianapolis Colts were anything but sharp. To this point, Chuck Pagano's patchwork squad had played with a precision that belied their inexperience. Thursday night against the Cincinnati Bengals, they looked lost. Andrew Luck's night would be a short one and he would get to work right away after the Colts...
Indianapolis Colts wide receiver, Austin Collie, could be ready to go next Sunday when the Colts play the Bears in their season opener. Collie, one of the most concussed players in the league, is coming off his 4th concussion in under 2 years. Since his most recent blow to the head, many, including us here at TGS, have wondered whether Collie should take whatever health he has...
Colts coach Chuck Pagano likes what he's seeing from veteran receiver Austin Collie in practice and says Collie should play in Sunday's season opener at Chicago. Collie's status has been in doubt since he left the second preseason game at Pittsburgh after taking a shot to the head. It was the third diagnosed concussion for Collie in a little more than 22 months. He left...
The Colts came back to beat the Bengals in one of the more boring Colts games in recent memory. Well, Andrew Luck and Drew Stanton didn't see much time on the field. Both saw a total of 3 series. It was Chandler Harnish who got most of the snaps, and actually didn't do that bad. His decision making wasn't great, but he made some great throws and his mobility was pretty good...
It's predictions week here at Everything-Colts.com, and today we predict how the Colts will do this season as well as how the starters will do.   Individual Player Predictions Offense Predictions Andrew Luck -- 373/602, 4103 yards, 23 TDs, 14 INTs (233 rushing yards, 2 TDs) Donald Brown -- (Starts until Week 8,) 123 rushes, 492 yards, 5 TDs (1 REC TD) Vick Ballard...
NFL News

Delivered to your inbox

You'll also receive Yardbarker's daily Top 10, featuring the best sports stories from around the web. Customize your newsletter to get articles on your favorite sports and teams. And the best part? It's free!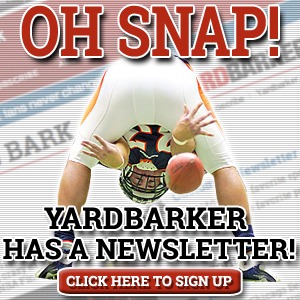 Latest Rumors
Best of Yardbarker

Today's Best Stuff

For Bloggers

Join the Yardbarker Network for more promotion, traffic, and money.

Company Info

Help

What is Yardbarker?

Yardbarker is the largest network of sports blogs and pro athlete blogs on the web. This site is the hub of the Yardbarker Network, where our editors and algorithms curate the best sports content from our network and beyond.