Found November 30, 2012 on Fox Sports:
PLAYERS:
DeMarco Murray
,
Darren McFadden
,
Marshawn Lynch
,
Matt Forte
,
Michael Turner
,
Pierre Thomas
,
Mark Ingram
,
Arian Foster
,
Adrian Peterson
,
Doug Martin
,
Frank Gore
,
Trent Richardson
,
Jamaal Charles
,
Bryce Brown
,
Chris Johnson
,
Alfred Morris
,
Stevan Ridley
,
Tom Brady
,
Shane Vereen
,
Ahmad Bradshaw
,
Eli Manning
,
Andre Brown
,
Mikel Leshoure
,
Kevin Smith
,
Joique Bell
,
BenJarvus Green-Ellis
,
LeSean McCoy
,
Reggie Bush
,
Michael Bush
,
DeAngelo Williams
,
Angelo Williams
,
Jonathan Stewart
,
Ryan Lindley
,
Bilal Powell
,
Shonn Greene
,
Ray Rice
,
Troy Polamalu
,
Steven Jackson
,
Ryan Mathews
TEAMS:
Dallas Cowboys
,
Oakland Raiders
,
Seattle Seahawks
,
Chicago Bears
,
New Orleans Saints
,
Houston Texans
,
San Francisco 49ers
,
Cleveland Browns
,
Kansas City Chiefs
,
Philadelphia Eagles
,
Washington Redskins
,
New England Patriots
,
New York Giants
,
Detroit Lions
,
San Diego Chargers
,
Miami Dolphins
,
Carolina Panthers
,
Minnesota Vikings
,
Arizona Cardinals
,
New York Jets
,
Baltimore Ravens
,
Pittsburgh Steelers
,
St. Louis Rams
,
Boise State Broncos
Fantasy owners are faced with numerous difficult choices at running back in this final week of the regular season. - Do you trust DeMarco Murray or Darren McFadden in their return to the field? - Do you dare dive into the Pittsburgh backfield after last week's eight-turnover debacle? - Are you fearful of Marshawn Lynch and Matt Forte in a battle of NFC playoff hopefuls? The games of Week 13 began with strong performances from Michael Turner and Pierre Thomas. Turner produced a fantastic opening drive that ended with a goal-line plunge. Mark Ingram scored the Saints' only touchdown in the 23-13 loss. Turn the page and buckle up. The schedule contains a number of potential pitfalls for owners as they vie for a playoff berth. Expect victory. Let's get inside the numbers to find the heroes and potential tales of woe for Week 13. Heroes (Exclude Arian Foster, Adrian Peterson, C.J. Spiller, Doug Martin, Frank Gore and Marshawn Lynch [even with the Bears on tap]) Trent Richardson at OAK Richardson delivered a strong performance in a tough spot during the Browns' Week 12 win over Pittsburgh. He rushed for 85 yards with a touchdown, adding four receptions for 27 yards. It was Richardson's fourth consecutive game with at least 112 total yards. This might be Richardson's best spot of the season, a glorious road date against the sieve-like Oakland run defense. The Raiders have allowed the third-most fantasy points to running backs, yielding an average of 111.5 rushing yards (157 total yards) per game. Jamaal Charles vs. CAR Charles is on a tear of late, producing at least 100 total yards in the past three weeks. He's also averaged 22.3 touches per game during this period. He's in a great spot against the dismal Carolina run defense. The Panthers have allowed the seventh-most fantasy points to running backs, including the breakout effort by Bryce Brown in Week 12. We have no confidence in the Chiefs to put up points overall, but we can reasonably expect a big effort out of Charles. Chris Johnson vs. HOU Johnson rumbled for 141 yards on 25 carries in the Week 4 road matchup against the Texans. He's rushed for at least 80 yards in seven of his past eight starts to quell the rumors of his imminent demise. Despite his awful start to the season, Johnson enters Week 13 ranked sixth in rushing (85.6 yards per game). The Texans are the top-ranked unit against opposing running backs (three total touchdowns allowed). However, the defense has slumped in the past two weeks because of injuries in the back seven. Take Johnson and his heavy workload for another 100 total yards this week. Alfred Morris vs. NYG The Giants were firing on all cylinders against the Packers in Week 12. However, the Packers possess a banged-up offensive line and no semblance of a running game. That's not the case here, so I offer an endorsement of Morris against the fourth-ranked New York run defense (only CHI, SF and HOU have allowed fewer fantasy points). Morris ran for a season-high 120 yards on 22 carries (he did lose a fumble) in the Week 7 meeting between these teams. He's also rushed for at least 76 yards in nine of his 11 starts this season. I shan't fear being Shanahaned with Morris needing just 18 yards to reach 1,000 for the season. Stevan Ridley at MIA Ridley has scored in four consecutive games entering Week 13, producing at least 98 rushing yards in three of those games. I understand that the Dolphins have allowed the sixth-fewest fantasy points to running backs, but this unit hasn't faced Tom Brady and this offense just yet. Brady opens it up against the weak Miami secondary and affords Ridley running room in the second half and multiple red zone touches. I fear Shane Vereen to a point, but Ridley's getting his 61 yards to reach 1,000 for the season at a minimum. Ahmad Bradshaw at WAS Bradshaw will always appear on the injury report and miss practice. He'll be fine for the Monday night tilt against the Redskins. Bradshaw ripped off a 59-yard reception early in the Week 12 thrashing of the Packers and later added a rushing touchdown (119 total yards on 12 touches). He's a big-time play this week despite Washington's lofty ranking against running backs (ninth-fewest fantasy points allowed). Eli Manning will move the ball in the air against the heretofore woeful Washington secondary, and Andre Brown is no longer around to vulture goal-line touches. Mikel Leshoure at IND Leshoure returned to practice on Thursday after missing Wednesday's workout because of an ankle injury. He produced 59 total yards on 14 touches, including a touchdown run, in the Lions' controversial loss to the Texans on Thanksgiving Day. Leshoure's performed well in three of his past four starts and gets on the board as a high-RB2 this week against Indianapolis. The Colts have allowed the eighth-most fantasy points to running backs, including 12 total touchdowns. - Kevin Smith would enter a timeshare with "Sleeper" option Joique Bell if Leshoure suffers a setback. BenJarvus Green-Ellis at SD I'll wager that Green-Ellis doesn't match the 48-yard sprint that he afforded fantasy owners in Week 12. However, he has run for 100 yards in back-to-back weeks against AFC West foes (Kansas City and Oakland) and has scored in each game against the AFC West (56 yards with a touchdown against the Broncos). The Bengals will move the ball in the air, and this has hardly been a rock-solid San Diego run defense (16th-most fantasy points allowed to running backs). The Chargers have allowed only four rushing touchdowns to date. Look for Green-Ellis to continue his recent surge and run the table against the AFC West. He runs for 85 yards with a touchdown plunge this week. Sleeper Options Bryce Brown at DAL Brown produced a tremendous breakout game off of the waiver wire in Week 12. He raced for 178 rushing yards, including runs of 65 (touchdown) and 23 yards with two touchdowns overall. Brown lost two fumbles, which is troubling, but where else can they turn if LeSean McCoy can't go? I don't anticipate that McCoy returns this week. As a result, Brown cracks a RB1 slot for me against the Cowboys. Dallas dominated opposing runners early in the season, but has regressed in recent weeks. The Cowboys have allowed the 16th-most fantasy points to running backs (tied), including nine touchdown runs. I fear the turnovers, but his big-play potential is mighty enticing. Brown's ripped off nine runs of at least 10 yards in his 51 carries this season. Matt Forte vs. SEA The Seahawks struggle on the road and have been more susceptible to opposing running games of late. You need only rewind to Week 12 to witness the success enjoyed by Reggie Bush and his Miami teammates. Forte will be cleared to play in tandem with Michael Bush, and though Bush logs the goal-line touches, I anticipate a high touch count for No. 22 this week. He'll be active in the passing game to stretch the interior and open cut-back lanes. DeAngelo Williams at KC Jonathan Stewart reportedly sustained a high-ankle sprain in Week 12 against the Eagles, thereby thrusting Williams back into the starting role against Kansas City. Williams averaged only 1.9 yards per carry in his 11 attempts last week and has logged only 45 rushing yards in his past 24 carries. Therefore, there's going to be some reticence about getting him back in the lineup. Still, it's a good matchup against the woeful Kansas City run defense. The Chiefs have allowed the 10th-most fantasy points to running backs, including a ton of yardage (158.6 total yards per game). Williams tops 100 total yards this week. Chris "Beanie" Wells at NYJ Wells returned to the fantasy scene in a big way against the Rams in Week 12. He generated only 48 rushing yards on his 17 carries (2.8 yards per carry), but he did find the end zone twice. That level of commitment to the ground game, combined with Ryan Lindley's inefficiency, puts Wells in line for a strong performance in Week 13. The Jets have allowed the sixth-most fantasy points to running backs this season. Wells is worthy of a back-end RB2 slot this week. Bilal Powell vs. ARI Powell has averaged 14 touches in the past two weeks, producing 56.5 total yards per game with three touchdowns. He's wrested a good chunk of the workload away from Shonn Greene, and Greene's inexplicable fumble against the Patriots obviously doesn't help his case for more touches. The Cardinals allow 111 rushing yards per game. Look for Powell to be active in this one and vulture any goal-line opportunities. Flops Ray Rice vs. PIT You will start Rice against Pittsburgh, as you should. I still have him as a back-end RB1 play this week. However, he's hardly a dominant option in this spot. Rice has topped 63 rushing yards only twice in his past six games, though he's been more active in the passing game of late. He produced 93 total yards against the Steelers in Week 11, including 53 receiving yards on five receptions. This Pittsburgh defense, while not flashy, has still allowed the fifth-fewest fantasy points to running backs this season. Add Troy Polamalu back to the secondary and you have a difficult spot for Rice. Steven Jackson vs. SF Jackson is on a roll and will hit most lineups in the RB2 slot. He's rushed for at least 81 yards in three consecutive games, a streak that began in the Week 10 matchup against San Francisco. This rededication to the longtime workhorse is music to the ears of fantasy owners, who will always side with a big touch count. Despite this optimism and rise in productivity (he averaged 6.2 and 5.8 yards per carry against the Jets and Cardinals, respectively), I have to put the advisory on Jackson this week. The 49ers have still allowed the second-fewest fantasy points to running backs this season (three total touchdowns). Jackson scored in that Week 10 game, so there's hope, but owners will more likely need to be content with 80-90 rushing yards. Ryan Mathews vs. CIN Mathews is a solid, albeit unspectacular, option for fantasy owners. He's topped 100 total yards only once since Week 5 despite logging a high touch count each week. Of course, Mathews doesn't find the end zone, either. As a result, the ceiling for Mathews is fairly low. The matchup dictates that you start him. The Bengals have dominated opposing passing games, but have allowed the 12th-most fantasy points to running backs. Opposing running backs have averaged 146.2 total yards and nearly one touchdown per game this season. The Bengals' numbers support starting Mathews this week. The offensive line issues in San Diego force you to temper your expectations.
Original Story:
http://msn.foxsports.com/fantasy/foot...
THE BACKYARD
BEST OF MAXIM
RELATED ARTICLES
ThePittsburgh Steelers may be only 6-5 entering this weeks game against rival Baltimore, but it's not unfamiliar territory for the six-time Superbowl champs. In 2005 the Steelers were 7-5 after three straight losses and rallied together to win out the remainder of the season and eventually go on to win the Superbowl. There is one more situation that is becoming eerily connected...
Yup, Sports Friends might be our favorite new thing ont he web. With Ray Lewis injured, Ray Rice asks Joe Flacco to give the team's pre-game speeches.
Any NFL team has its share of crazed fans, whether it's the guy that dresses like the team's mascot for every home game, or wears nothing but team colors all week at work, or the guys that constantly harass anyone wearing another team's colors. After reading a lot and browsing through friend's posts on Facebook I've come to realize there are four main points people make...
Season 3, Episode 49 of The Terrible Podcast is up and co-host David Todd and I start by talking about the Ray Rice incident with the Terrible Terrible from two weeks ago after hearing his side of the story. Was Rice respecting the towel instead of disrespecting it? We invite your comments on this as well. We also both agree that it really doesn't feel like "Ravens Weeks...
As the Ravens prepare for Steelers Week Part Two, one of their players won a weekly award for his performance last week. Running back Ray Rice has been named the AFC Offensive Player of the Week, according to reports. Rice single-handedly helped the Ravens win against the Chargers because of his conversion on 4th-and-29 last Sunday afternoon. And now for the injury report. For the...
Despite never considering the implications of the products hilarious name, the Jacksonville Jaguars have begun to sell team towels known as a "Jag Rag" (Credit: Dead Spin) In case you have not had enough news about NFL towels recently, we have one more. From Ray Rice "disrespecting" the Pittsburgh Steelers terrible towel to LaMarr Woodley "warning" Ray Rice over his treatment...
All my Vanderjacked fans were asking about week 11′s award…well with Thanksgiving around the corner I didn't feel it would be nice to single out one kicker when I am thankful for all kickers! This week all we heard about was Ray Rice making a 4th and 29 late in the game against the lowly Bolts, and as Rice said, "Hey Diddle, Diddle Ray Rice up the middle!" Well, Ray Rice...
Last week: 7 (+0) Record: 9-2 Net points per drive: 0.39 (9th) DVOA: 13.7% (9th) Weighted DVOA: 12.6% (9th) Tier 2: Quasi-Contenders Studs RB Ray Rice: Rushed for 97 yards (65 after contact) on 22 attempts, 5 broken tackles, caught 8 passes for 67 yards on 9 attempts, 1 drop, allowed 1 quarterback hurry on 10 pass block snaps WR Torrey Smith: Caught 7 passes for 144 yards on 11 attempts...
Did anyone watch the Chargers/Ravens game last week? If you saw last week's Backdoor Cover you know I had the home San Diego. What a way to lose a game. Much was made of Ray Rice converting a 4th and 29 to keep the game alive. He didn't even make it I mean, by at least a yard. By the time it was reviewed, the chains had already moved so the refs didn't know where exactly they...
Week 13 Ride 'Em Or Hide 'Em RBs You don't need me to tell you to start Arian Foster, Ray Rice, or Adrian Peterson…my mom could figure that out.  Let's look at some other matchups that could be favorable this week: Juan's Running The Rock With Jamaal Charles vs Car The Panthers run D was trashed by the speedy Brown last week and this week faces another back that they...
This Sunday, in NFL Week 13's late afternoon headliner, the 9-2 Baltimore Ravens have the opportunity to all but lock up first place in the AFC North division by knocking off the 6-5 Pittsburgh Steelers at M&T Bank Stadium in Baltimore. The Ravens look to cap off an undefeated three-game stretch, which has been described as the most difficult part of their schedule. They...
NFL News

Delivered to your inbox

You'll also receive Yardbarker's daily Top 10, featuring the best sports stories from around the web. Customize your newsletter to get articles on your favorite sports and teams. And the best part? It's free!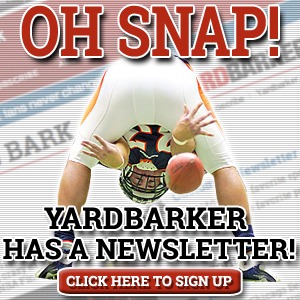 Latest Rumors
The Backyard

Today's Best Stuff

For Bloggers

Join the Yardbarker Network for more promotion, traffic, and money.

Company Info

Help

What is Yardbarker?

Yardbarker is the largest network of sports blogs and pro athlete blogs on the web. This site is the hub of the Yardbarker Network, where our editors and algorithms curate the best sports content from our network and beyond.