Found January 07, 2013 on WhoDeyFans:
The unholy stinkfest played by the Bengals' offense in Houston on Saturday has turned Bengals fans into a far less endearing version of Bob Wiley from one of my favorite comedies, What About Bob: neurotic and intensely needy. Yes, the performance by Gruden's crew was about as appetizing as a persimmon-flavored sucker chased by a stick of the dirt-flavored gum you passed off on one of your friends when you were 9 years old. This team clearly isn't where it needs to be yet on offense, and questions aplenty to address as we consider free agency and the draft. But balance is a healthy thing. Perhaps this is a bit early, but as that 17th roll of antacids finally calms your stomach, remind yourself that this team did see some baby steps in growth in 2012. It might not have been quite as much growth as we hoped for, but growth is still movement in the right direction. Double digit wins. Four months ago, most of the football brain trust expected the Bengals to take a step backward and was picking the Bengals to go 7-9 or 8-8 this year. Instead, they turned in their third double-digit win season in the past 8 years. This was made possible largely by a defense that became one of the stingiest in the league over the second half of the season. Dominating defense. It is fair to wonder if the return of Pat Sims didn't spark this unit's turn-around. Once they got going, they implemented a scorched earth policy that would have made General Sherman proud. Keeping the group together will begin costing money this year, but it ought to be money that the front office is glad to spend. Youth. Most of the playmakers on this team are still in their rookie contracts. The problem of paying the difference-makers and letting the good-but-replaceable guys walk is far preferable to the problem of overpaying an aging roster while trying to retain young talent, such as is facing the Steelers again this year. Resilience. This team didn't give up on themselves when we were ready to fold the tents on the season at the end of October. Bengals teams in years past would have imploded upon reaching the 3-5 mark. More than a couple of teams this year did. That this team could fight its way back and make the playoffs at all is a huge departure from the past. All of these are baby steps forward for a franchise that is steadily moving away from the Lost Decade. Again, there is plenty to dissect over what went wrong this season, and I (along with everyone else) will have plenty to say about it in the coming months. The team is not at all there yet, but that doesn't mean they aren't making progress. We need to recognize the good as well as the bad.
Original Story:
http://whodeyfans.com/2013/01/07/baby...
THE BACKYARD
BEST OF MAXIM
RELATED ARTICLES
There is going to be plenty of debate over the coming off-season over whether Marvin truly is the man to take this franchise into the future and beyond merely making the playoffs. It is a debate worth having. If you belong to the anti-Marvin camp, you have plenty of ammunition to use as you make your case. But if your debate is centered around the 2013 season, you are wasting your...
The defense was playoff-worthy for most of the season. Andy Dalton and the offense fell apart in the biggest moments. And the Bengals ended what appeared to be a breakthrough season with a familiar heartbreak. Still no playoff victory in 22 years, the seventh-longest streak in NFL history. Dalton and the offense imploded again during a 19-13 loss in Houston on Saturday, the second...
Geoff Hobson of Bengals.com writes that Cincinnati would like to keep DE Michael Johnson from hitting the open market in the next few months. According to Hobson, Johnson is the "leader-in-the-clubhouse to get franchised," assuming that a long-term deal isn't in place before then. Johnson, 25, put together a solid 2012 season for the Bengals that included a career high 11.5...
Cincinnati Bengals offensive coordinator Jay Gruden confirmed that he's been receiving a lot of interest from NFL teams that are looking for a head coach. Gruden did say he intends on staying in Cincy. "I got called to interview for these jobs. I figure I better say yes or they'll quit asking me," said Gruden, who turned down interview requests last year before signing a...
Bengals safety Robert Sands, who spent the entire 2012 season on injured reserve with a chest injury, was arrested on Friday and charged with assault and domestic violence in Florence, Ky. Media outlets reported that Sands' wife was treated for minor injuries following an alleged assault at the couple's home. Sands played in one game as a rookie in 2011. He was a fifth...
Immediately following Cincinnati's 19-13 loss to the Texans in Houston, the internet boards, chat rooms, blogs and radio shows were overwhelmed with irate fans beside themselves with frustration.  It quickly boiled over from the angry to the surreal.  I couldn't believe some of the things I heard.    But as the Bengal Universe spun way off its axis, I was most flabbergasted...
CINCINNATI (AP) -- The defense was playoff-worthy for most of the season. Andy Dalton and the offense fell apart in the biggest moments. And the Bengals ended what appeared to be a breakthrough season with a familiar heartbreak. Still no playoff victory in 22 years, the seventh-longest streak in NFL history. Dalton and the offense imploded again during a 19-13 loss in Houston on...
The Cincinnati Bengals just suffered another play off loss. Of course Bengals fans are already calling for a GM, new coaches, and another QB. This team, however, is a team on the rise, as most serious football fans can see.Owner Mike Brown and head coach Marvin Lewis have effectively put together a very solid core of young, talented players. Andy Dalton has put up numbers that rival...
Last week, Kiwis discovered what the American racing community already knows -- Kyle Larson is a wheelman. "Kyle Larson is a freak..." topped one of the message boards on the Macgors New Zealand Speedway website after the 20-year-old Elk Grove, Calif., native put on a show to close out 2012 and begin the new year. Before Larson returned to the United States on Sunday...
Leave it to Cincinnati Bengals fans to end the season swinging. Instead replacing HER (yes, this is a chick) Chad Johnson jersey with a new one of the second best wide receiver in football, AJ Green, she decided to throw some duct tape over the name and make light of the fact that Ocho got arrested for going all Jason Kidd on his fiance. Nothing say class like rocking a Wifebeater...
NFL insider Jason La Canfora reports that the Cardinals are set to interview current Bengals offensive coordinator Jay Gruden for their vacant head coaching position. The Cardinals had been favorites to land Andy Reid as their next head coach, but since then they have remained quiet. The team will interview Gruden this week after the Bengals were eliminated from the playoffs for...
Bengals News

Delivered to your inbox

You'll also receive Yardbarker's daily Top 10, featuring the best sports stories from around the web. Customize your newsletter to get articles on your favorite sports and teams. And the best part? It's free!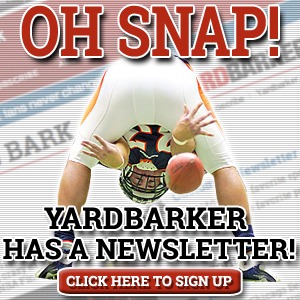 Latest Rumors
The Backyard

Today's Best Stuff

For Bloggers

Join the Yardbarker Network for more promotion, traffic, and money.

Company Info

Help

What is Yardbarker?

Yardbarker is the largest network of sports blogs and pro athlete blogs on the web. This site is the hub of the Yardbarker Network, where our editors and algorithms curate the best sports content from our network and beyond.