Found September 04, 2012 on Fox Sports Detroit:
PLAYERS:
Jeff Backus
,
Stephen Tulloch
,
Ronde Barber
,
Riley Reiff
,
Rob Sims
,
Ashlee Palmer
,
Justin Durant
,
Keith Bulluck
,
David Thornton
TEAMS:
Detroit Lions
,
New York Giants
,
Indianapolis Colts
,
St. Louis Rams
ALLEN PARK, Mich. Offensive tackle Jeff Backus will start his 177th consecutive regular-season game for the Detroit Lions Sunday in their opener against the St. Louis Rams. Linebacker Stephen Tulloch will be playing in his 97th straight game. Neither has ever missed a game during their NFL careers. I want to give everything I have while Im here, Tulloch said. He (Backus) wants to do the same thing. Nobody appreciates that durability and reliability more than their teammates, who dont take it for granted. To be one of these ironmen in a violent sport like the NFL, you obviously need extreme toughness and dedication, not to mention some good fortune. But you also have to be a little stubborn, greedy and protective of your job. Youre giving someone else an opportunity by coming out," Tulloch said. "So you play through it. Backus ranks third among active NFL players in consecutive starts by a non-kicker, behind only Tampa Bay defensive back Ronde Barber (199) and Washington linebacker London Fletcher (179). He already holds the Lions' franchise record. Coaches have to try to sit him down (in practice) to give him rest cause all he wants to do is work, work, work, Tulloch said. That motivates me to see a guy like him. Backus is entering his 12th year in the league. He turns 35 later this month. Theres no denying that his career is coming to an end in the near future. This could be his final year. I havent sat back and reflected too much, Backus said. I realize where I am in my career. My focus is on this year and just having the best year we possibly can have, me personally and as a team. A few weeks ago, one of the Lions younger employees referred to him as Mr. Backus. I didnt like it, he said. Im not that old. Not too old that he cant keep lining up in the trenches. Hes started every game for the Lions since the 2001 season opener. Rookie Riley Reiff, the club's first-round draft pick and the likely heir apparent at left tackle, was 12 years old when Backus made his debut. You dont hop out of bed as quick as you used to in your early 20s, but you learn how to deal with it all, Backus said. I just take a lot of pride in being there, where they can count on me, that they know Im going to be there every week. It's the attitude that I've always had, whether I was in college or now. Offensive guard Rob Sims called Backus the consummate professional in our room. He does everything the right way, Sims said. Tulloch is only in his second year with the Lions, but he already has earned similar respect from his teammates. Tulloch played his first five years with Tennessee before signing with Detroit as an unrestricted free agent before last season. He wants to play hurt, injured, whatever you want to call it, Lions reserve linebacker Ashlee Palmer said. Sore, tired, hes just going to be out there. Not just for games, but for practice, too. Just like Backus. We take a beating each and every day from hitting linemen to running backs on each play, Justin Durant, another linebacker, said when asked about Tullochs streak. Ive missed a couple games each season. I look at him and wonder how can he do it? The worst for Tulloch came during his third season when he played despite a torn labrum for about 14 weeks. Constantly making tackles and your shoulder popping out, popping it back in and keep going, Tulloch described. He kept going because thats what his mentors did. Tulloch learned from veteran teammates such as Keith Bulluck and David Thornton. Both were also linebackers for the Titans. Bulluck went seven straight years without missing a start, Thornton five. I saw how they take care of themselves and how they practice through injuries and played in games, said Tulloch, who has started 62 of the 96 games during his streak. They took pride in that. It kind of rubbed off on me." Now it's rubbing off on others.
Original Story:
http://www.foxsportsdetroit.com/09/04...
THE BACKYARD
BEST OF MAXIM
RELATED ARTICLES
When all is said and done, the preseason is not the actual season. The goal of training camp is to find out who belongs on your team, and who doesn't.  This, of course, is all done with a major emphasis on staying healthy. The Lions were able to accomplish their preseason goal in a healthy manner, making the 2012 preseason a success in my mind.  While the team didn't look as...
Since 2009 Detroit Lions fans have been clamoring for Matthew Stafford to complete an entire season. The number one pick could only show glimpses of greatness between the mounting injuries that threatened to relegate him to bust status. In 2011 Stafford was healthy…and the results were outstanding. Teaming up with superstar Calvin Johnson, Stafford led the Lions to the 5th...
As Matthew Stafford's level of stardom grows, he's going to need to become more comfortable in front of the camera.  Now, we know that he's more than comfortable chucking deep balls to Calvin Johnson and hitting Brandon Pettigrew over the middle.  And the guy is smooth and 100% class during interviews.  What we didn't know was if Stafford could work his way through a...
The hype leading up to EA Sports Madden NFL 2013 worked. The new version featuring Detroit Lions' wide receiver Calvin Johnson scored record day retail sales, record day online usage and is enjoying the best critical acclaim the game has seen in years. "It was a phenomenal first day for Madden NFL 13, and we have high [...]
Great new commercial for Monday Night Football. "Matthew Stafford had a big Sunday. He's a favorite for player of the week, so he does his favorite things"...   
After being released just three days ago from the Denver Broncos, Drayton Florence is reportedly already taking first team snaps with the Detroit Lions (Credit: AP Photo) According to ProFootballTalk, Drayton Florence is taking first-team reps in practice with the Lions, only three days after getting the boot from the Broncos. Dave Birkett of the Detroit Free-Press, is reporting...
Outside voices can say whatever they want about the Lions' need for a running game to complement quarterback Matthew Stafford. Those in charge of running this organization aren't sweating it. The Lions make no apologies for how they are built. They are built to pass the football. You don't use the first overall pick on a franchise quarterback as gifted as Stafford to...
APNewsNow. The Detroit Lions have signed cornerback Drayton Florence and released safety Ricardo Silva. The 31-year-old Florence has played nine seasons in the NFL with the San Diego Chargers, Jacksonville Jaguars and Buffalo Bills. He was released Friday by the Denver Broncos. Florence started all 16 games the past two seasons for the Bills. Lions coach Jim Schwartz says he can...
St. Louis Rams (0-0) at Detroit Lions (0-0) Buy tickets for this game For those if you who didn't follow me in the offseason, I did a lot of work in an effort to find the 5 most underrated and 5 most overrated teams going into the season. The idea is simple. Every year, 5 teams that didn't make the playoffs the year before make the playoffs, including one team with 5 or fewer...
Most LovedThe Detroit Lions are coming off their first playoff birth since the Barry Sanders era. That obviously gives fans in Detroit a lot to love.Matthew Stafford threw for 5,000 yards, Ndamukong Suh brings the nasty attitude that Detroit fans have always loved, and Jim Schwartz has turned an 0-16 disaster into a team opponents have to respect.But when it comes down to it, the...
The Detroit Lions' decade of losing football ended last season. It remains to be seen if new coach Jeff Fisher can help the St. Louis Rams end their string of sub-.500 campaigns. Looking to build off its first playoff appearance since 1999, Detroit opens its season with high expectations Sunday when the visiting Rams try to rebound from another last-place finish. After going...
NFL News

Delivered to your inbox

You'll also receive Yardbarker's daily Top 10, featuring the best sports stories from around the web. Customize your newsletter to get articles on your favorite sports and teams. And the best part? It's free!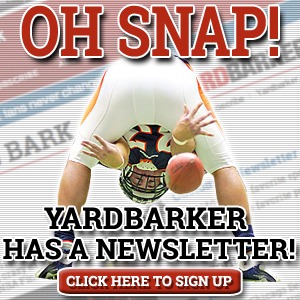 Latest Rumors
The Backyard

Today's Best Stuff

For Bloggers

Join the Yardbarker Network for more promotion, traffic, and money.

Company Info

Help

What is Yardbarker?

Yardbarker is the largest network of sports blogs and pro athlete blogs on the web. This site is the hub of the Yardbarker Network, where our editors and algorithms curate the best sports content from our network and beyond.