Found June 15, 2013 on Fox Sports:
The woman whose false rape accusation sent NFL player Brian Banks to prison for five years has been ordered to pay a $2.6 million judgement. Wanetta Gibson accused Banks in 2002 when they two attended Long Beach (Calif.) Poly High, where Banks was a star prep prospect. Banks was convicted of rape, and Gibson sued the Long Beach Unified School District for being unsafe and won a $1.5 million judgement. Gibson later admitted she lied and Banks was released in 2012. Gibson must repay a $750,000 settlement to the LBUSD plus attorneys fees, interest and more than $1 million in punitive damages. Banks, 27, got several NFL tryouts last year and played in the UFL before he signed with the Atlanta Falcons in April. Lawyers were unable to locate Gibson, who has a history of civil litigation claims by and against her, including temporary restraining orders and domestic abuse charges. She reported also is being sued by the county for child support after receiving public assistance. Banks was unavailable for comment. This fall he will continue pursuing his NFL dream, one of roughly 2,800 players vying for roster spots in NFL training camps. FOX Sports' Alex Marvez documented Banks' dramatic story in April. ''I felt at the time in order for me to exit prison with a sane mind and be able to just function as a person I had to let go of certain dreams and goals I once held in life, football being one of them,'' Banks said in April. Banks said he ''couldn't have asked for a better place to be'' than with the Falcons. ''I can't believe this is happening,'' he said. ''It's surreal.'' Banks was a 16-year-old junior and had made a verbal commitment to sign with Southern Cal when Gibson accused him of rape. She recanted her claim and offered to help Banks clear his name after he was out of prison. That helped lead to the conviction being overturned by a California court and Banks' record was cleared on May 12, 2012. Banks said he read every book he could find while in prison and also learned to value every opportunity. ''It's almost impossible to explain, the feeling of not having freedom, to be stripped away of your freedom, of your dignity, the respect you once had,'' he said. ''To lose it all and watch the world pass you by as you sit inside a prison cell, knowing you shouldn't be there, knowing you're there because of another person's lies, to lose it all and then get it all back, it's a very humbling, spiritual feeling that you just don't want to take anything for granted. ''I've had the opportunity to see both sides of the human spirit. ... My journey has been crazy but my journey has been a learning experience that is unlike any other.'' The 6-foot-2, 250-pound Banks will be given an opportunity to win a spot on the team at inside linebacker. He met with Falcons coach Mike Smith at the team's facility Wednesday. ''I had a really amazing one-on-one conversation with him,'' Banks said. ''He congratulated me and said he was happy for me to be here but this was just the beginning of a long road to making that next step and making that 53-man roster. We both agreed that I don't expect any handouts or any favoritism. I'm here to work like everybody else and the result of my hard work will be whatever they deem necessary. ''All I can do is my best and however the turnout will be, I thank God for the opportunity.'' Banks will participate in Atlanta's offseason workouts, which begin on April 22. The Falcons are the first NFL team to sign Banks, but he has had chances with other teams. He took part in the Seattle Seahawks' minicamp last June following workouts with Kansas City and San Diego. He had one tackle in two games with Las Vegas Locomotives of the United Football League (UFL). Banks also worked out for the Falcons before the 2012 season. ''We had a chance to work him out last year and have been monitoring his progress since then,'' said Falcons general manager Thomas Dimitroff in a statement released by the team. ''He has worked extremely hard for this chance over the last year and he has shown us that he is prepared for this opportunity. We are happy that Brian will have a chance to live out his dream of playing in the NFL and we look forward to seeing him on the field.'' Banks has become a spokesman for the California Innocence Project, which works to exonerate the wrongly accused. He said he is working with producer James Moll on a documentary about his story. He said publishing companies are interested in a book. The Associated Press contributed to this report.
Original Story:
http://msn.foxsports.com/nfl/story/br...
THE BACKYARD
BEST OF MAXIM
RELATED ARTICLES
LONG TIME COMING
The woman who falsely accused Brian Banks of raping her is being sued by the school district, which is hoping to recoup the money.
A woman who falsely accused Long Beach Poly football standout Brian Banks of rape in 2002 was ordered to pay 2.6 million to the Long Beach Beach Unified School District. Wanetta Gibson sued the district for lax security during the trial and received 750,000 from a 1.5 million settlement. A Los Angeles Superior Court judge ordered her to pay 1.5 million, plus an additional 1.1...
A woman whose false claim of rape sent former prep football star Brian Banks to prison was ordered to pay a $2.6 million judgment in connection with the case. A Los Angeles Superior Court judge on Friday ordered Wanetta Gibson to pay a $1.5 million, plus an additional $1.1 million in fees, including for making a false claim and court-related costs, the Long Beach Press Telegram reported...
The Atlanta Falcons have signed cornerback Robert Alford, a second-round pick from Southeastern Louisiana. Alford was the second of two cornerbacks selected by the Falcons in the draft. First-round pick Desmond Trufant remains unsigned. Alford had 10 interceptions and started 31 games at Southeastern Louisiana. He also returned punts and kickoffs in 2012, taking advantage of his...
((HT: CNN)) Wanetta Gibson accused Brian Banks of raping her as they were both in high school at Long Beach Poly in 2002. Banks was the high school football star who, seemingly, had his life in front of him at the time. Banks was convicted, only to be released ten years later after years of appeals, and found out that the allegations Gibson made on rape and kidnapping after...
Rejoice Falcons fans, another draft pick is signed, sealed, delivered and ready for camp. Our last article was about first round pick Desmond Trufant and this one is about the man with who he will be forever tied, second round pick Robert Alford.  On Friday, the Falcons came to terms with the speedy Alford on a four-year deal. At OTA's, Alford has been getting reps...
According to Jason La Canfora of CBS Sports, free agent defensive lineman Richard Seymour told him that after talking with the Atlanta Falcons, they were able to agree on a contract. Falcons were trying to sign DL Richard Seymour but he tells me they couldn't agree on contract terms. "I thank them for their efforts." — Jason La Canfora (@JasonLaCanfora) June 16, 2013...
NFL News

Delivered to your inbox

You'll also receive Yardbarker's daily Top 10, featuring the best sports stories from around the web. Customize your newsletter to get articles on your favorite sports and teams. And the best part? It's free!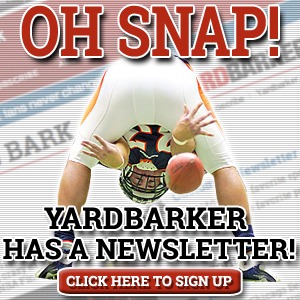 Latest Rumors
The Backyard

Today's Best Stuff

For Bloggers

Join the Yardbarker Network for more promotion, traffic, and money.

Company Info

Help

What is Yardbarker?

Yardbarker is the largest network of sports blogs and pro athlete blogs on the web. This site is the hub of the Yardbarker Network, where our editors and algorithms curate the best sports content from our network and beyond.